|
Overview
In 2009, the Institut Pasteur, the world leading biomedical research institute founded by Louis Pasteur in 1887, inaugurated the Pasteur Paris-University (PPU) international doctoral program in collaboration with several major Parisian science universities for students holding a Master degree (or equivalent) from a university outside of France and who have not worked or resided in France for more than 12 months in the 3 years prior to their recruitment.
PPU at a glance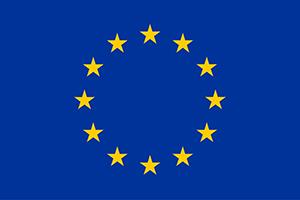 This project has received funding from the European Union's Horizon 2020 research and innovation programme under the Marie Sklodowska-Curie grant agreement N°665807
Students conduct their research in one of the 144 laboratories of the Institut Pasteur that offers cutting edge training in a large variety of topics covering Molecular and Cellular Biology, Genetics, Immunology, Microbiology, Genomics, Bioinformatics, Structural Biology, Enzymology and Metabolism, Biological Chemistry, Virology, Parasitology, Medical Mycology, Epidemiology, Infectiology, Imaging, Neurosciences, Developmental Biology and Systems Biology. They have access to a stimulating technological environment to carry out their research project. This includes opportunities to conduct technological and methodological co-developments on high-end equipment under the supervision/in partnership with technology platforms or service and research units (UTechS). In addition, PPU students will receive specific courses on soft skills, as Oral Presentation, Journal Club, Workshop on Ethics, French Lessons. (Educational program)
Students are part of the Pasteurian community with whom they share their passion for science or technology, and their wish to contribute to the prevention and treatment of diseases. Students are immersed in an exciting, dynamic and interactive research environment including access to a large variety of technology platforms with state-of-the art expertise and equipment.
They can extend their knowledge by attending specialized courses and benefit from a vast seminar program attracting major speakers from all over the world. At the end of their studies (typically three years), students defend their PhD according to European guidelines.
The call opens in September and students are selected on a competitive basis. Candidates are first selected by host laboratories, then their applications are presented to a had hoc selection committee by mid-December. Candidates who are short listed by the selection committee are then interviewed early February, with results communicated by mid-February. Selected students are enrolled in the following October for a three-year contract.
Students selected for the PPU program receive a salary from Institut Pasteur including a benefits package (health insurance, unemployment insurance and retirement plan). The program beneficiates from financial support by Institut Pasteur, the European Community, partner institutions, governmental agencies and/or private foundations.
Assistance with administrative issues and with finding accommodation in student residences, including the Cité Internationale Universitaire de Paris, will also be available (Financial support and benefits).
The current call for enrollment in October 2023 is now closed.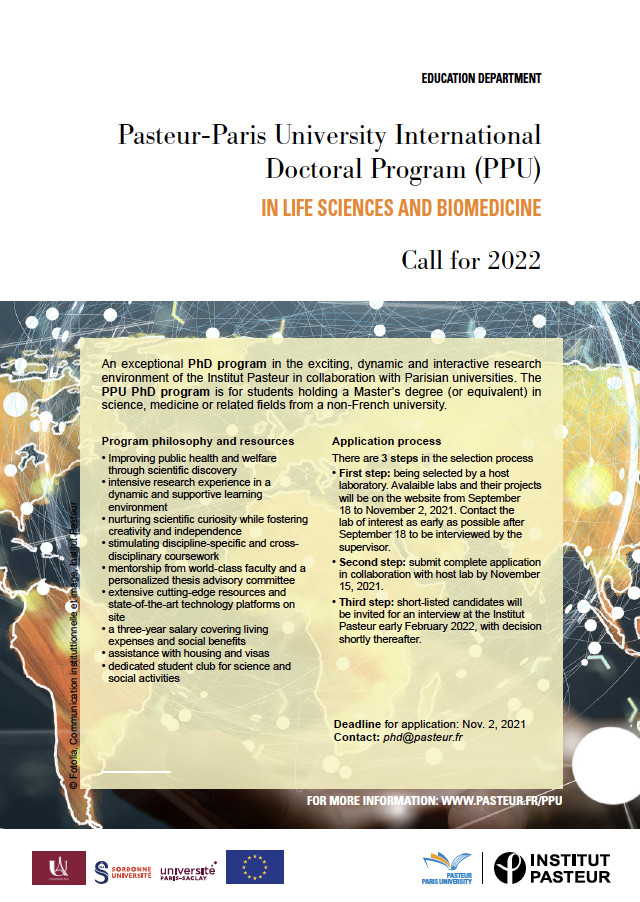 PPU and PPU-Satellite Programs
From mid-September to the end of October, candidates can apply in parallel to up to 4 projects from six PPU programs: the PPU program and the PPU-Satellite programs: PPU-IMAGINE, PPU-INCEPTION, PPU-OXFORD, PPU-Research & Technology and PPU-EID and contact more than one supervisor.
Please note that to carry on with the selection process ("joint application") after November each year, candidates must choose one single project and program among the six.
The research projects (PPU, PPU-INCEPTION, PPU-Oxford, PPU-Research & Technology and PPU-EID) are posted on the application website. You will have to create an account (link to the platform) in order to visualize the projects and to apply.
Pease note that no application through email will be accepted.
The selection of the PPU-IMAGINE program is independently organized by Institut Imagine, while the other four programs (PPU, PPU-INCEPTION, PPU-OXFORD and PPU-EID) share the same selection process organized by Institut Pasteur. The PPU-Research & Technology selection process is organized by Institut Pasteur, but follows a specific process detailed in:
https://www.pasteur.fr/en/ppu/RT
Furthermore, IP has a seventh PPU program, named PPU-CNBG exclusively reserved to CNBG employees. PPU-CNBG features a distinct selection process including a first selection step made by CNBG, followed by a specific selection path put in place at Institut Pasteur.
PhD students enrolled in the PPU, PPU-INCEPTION, PPU-OXFORD, PPU-Research & Technology and PPU-EID programs will benefit from Institut Pasteur working contracts (for more details see below "FINANCIAL SUPPORT AND BENEFITS"). The PPU-IMAGINE PhD students will benefit from Institut Imagine working contracts and PPU-CNBG PhD students maintain their CNBG working contracts.
---
---
China National Biotec Group (CNBG) is a subsidiary of the China National Pharmaceutical Group Corporation (SINOPHARM). Its development is part of the history of Chinese biological product industry, and it greatly contributed to China's endeavor to eradicate or reduce the incidence of various severe infectious diseases. By manufacturing and supplying over 200 types of biological products for disease prevention and for therapeutic and diagnostic use (including all vaccines for Chinese EPI program), CNBG plays a major role in safeguarding the health of the world's largest population.
The partnership between Institut Pasteur (IP) and China National Biotec Group (CNBG) is dedicated to foster R&D industrial partnerships that translate science into outcomes beneficial to patients with disease and to disease prevention. Through an interdisciplinary and comprehensive cooperation, Institut Pasteur and CNBG join forces to develop, promote and facilitate research/training of young Chinese scientists through a three-year PhD program that takes place on the Institut Pasteur campus. The Pasteur-Paris University Program PPU-CNBG provides academic and professional training to highly motivated CNBG employees who are involved in cutting-edge projects developed on the campus.
---
Institut Imagine is Europe's leading center for research, care and teaching on genetic diseases, and its mission is to understand and cure them. The Institute brings together 1000 of the best doctors, researchers and healthcare personnel in an architecture that creates synergies. It is this unprecedented continuum of expertise, combined with proximity to patients, that allows Imagine to accelerate discoveries and their applications for the benefit of patients.
At Imagine, patients with genetic diseases are at the heart of a virtuous circle. Created by the Institute's founders, this circle begins with the patient and finishes by curing the patient or at least relieving his/her suffering. Imagine brings together all the skills and expertise necessary to accelerate research, develop innovative care, and to generate synergies and conditions to drive innovation in one building.
Imagine's goal is to change the lives of families affected by genetic diseases. To achieve this goal, Imagine focuses on four major areas: research, innovative care, education, and promotion.
Through the training of future doctors and researchers and continuous training of doctors and health professionals, Institut Imagine promotes expertise in both research and medicine, which makes it unique.
Students of the PPU-IMAGINE program will work daily in laboratories of Institut Imagine and will participate in PPU activities at Institut Pasteur.
To see and apply to the projects proposed by the IMAGINE doctoral program, please use the link below:
 https://www.institutimagine.org/en/international-doctoral-program-856
---
Some of the projects of the PPU program will be sponsored via the «INCEPTION program» in the following scientific fields: Phylodynamics; Sequence analysis; Metagenomics; Systems biology; Deep learning; Databases; Precision medicine. Students of the PPU-INCEPTION program will work daily in Institut Pasteur laboratories and will participate to the PPU activities at Institut Pasteur. A thesis co-supervision is mandatory.
PPU-INCEPTION projects are listed within the PPU projects and labelled INCEPTION.
---
PPU-OXFORD


Projects in the area of Antimicrobial Resistance at the interface with Biochemistry will benefit from a collaboration between the Institut Pasteur and the Chemistry Department of  Oxford University and will be part of the « PPU-OXFORD program ». 
PPU-OXFORD students will have the possibility to spend up to three months of their PhD in the Chemistry Department of Oxford University. Students of the PPU-OXFORD program will work daily in laboratories of Institut Pasteur, and will follow the activities proposed by the PPU program.
PPU-OXFORD projects are listed within the PPU projects and labelled OXFORD.
---
This program will foster scientific projects involving the development of a new technology or methodology to answer a biological question with impact on human health. PhD students will work on collaborative projects between a laboratory and a technology platform or technology service unit (UTechS) and will spend a significant amount of their time in the partner technology platform or UTechS. Students should hold a Master degree or an equivalent university degree in science, medicine or related fields delivered by a university located inside or outside of France, by the time that the students begin the program. Selected students will receive a high level of multidisciplinary training both in biology and technology for life sciences.
PPU-Research & Technology projects are t listed within the PPU projects and labelled R&T.
https://www.pasteur.fr/en/ppu/RT
---