With early and rigorous treatment, some so-called "controller" patients are able to keep their viral load low enough to not suffer from AIDS. These are inspiring cases for research, not to mention the very rare patients who have already been completely cured of HIV.

This article is the fourth of a series dedicated to the hopes of HIV/AIDS research, on the occasion of the 40th anniversary of the identification of the virus.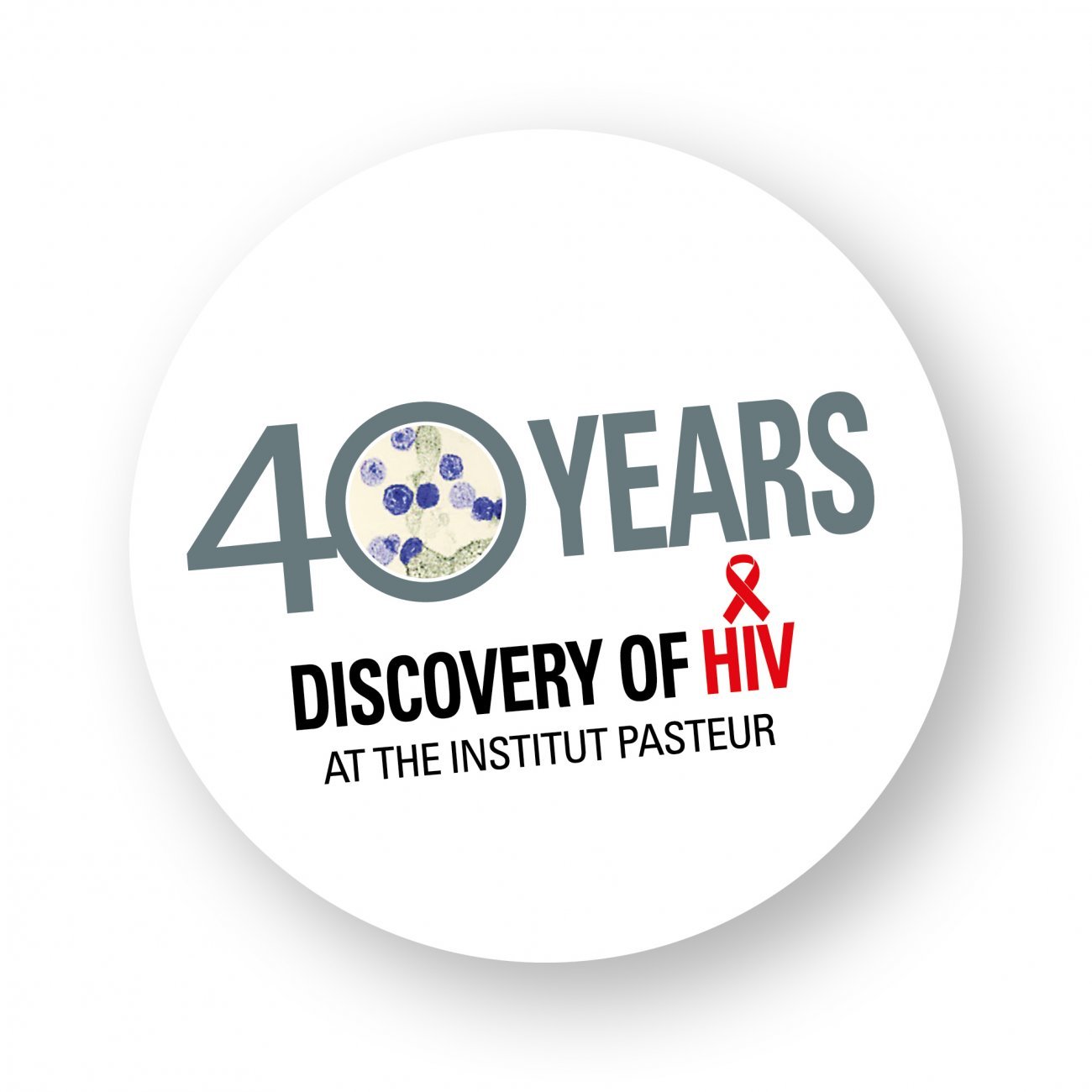 The Berlin, London and Düsseldorf patients, «natural controllers» and «post-treatment controllers» all have one thing in common: they are all capable, in one way or another, of dealing with HIV without antiretroviral therapy. They all represent unique models to help scientists understand how the immune system is able to combat the virus, curb its progression or prevent viral reservoirs from being reactivated once treatment has been discontinued. They are an irreplaceable source of inspiration for improving future treatments, and they are now also serving as a springboard for promising new clinical trials, after four decades of observation and research at the Institut Pasteur.  
The Düsseldorf patient  
After the Berlin patient in 2009 and the London patient in 2019, the IciStem consortium, which includes Asier Sáez-Cirión's team at the Institut Pasteur, presented a new case of probable HIV cure following a bone marrow transplant from a donor with the CCR5-delta 32 genetic mutation, known to provide natural protection against HIV. The man, treated in Düsseldorf, received a stem cell transplant to treat leukemia, then stopped his antiretroviral therapy for HIV under supervision. Four years later, no trace of HIV virus can be detected in his body. 
Strong resistance conferred by mutations  
«My very first research at the Institut Pasteur, 20 years ago now, involved people who were frequently exposed to HIV (sex workers or drug users with high-risk behaviors) but who had never been infected,» recalls Asier Sáez-Cirión, Head of the Institut Pasteur's Viral Reservoirs and Immune Control Unit. «This led us to identify some specific mutations that made immune cells resistant to infection.» Some individuals are naturally resistant to HIV because of mutations, the most well known being delta 32, which alters the surface coreceptor CCR5 in CD4 cells and macrophages and prevents the virus from entering these cells (the mutation is found in around 1% of the population).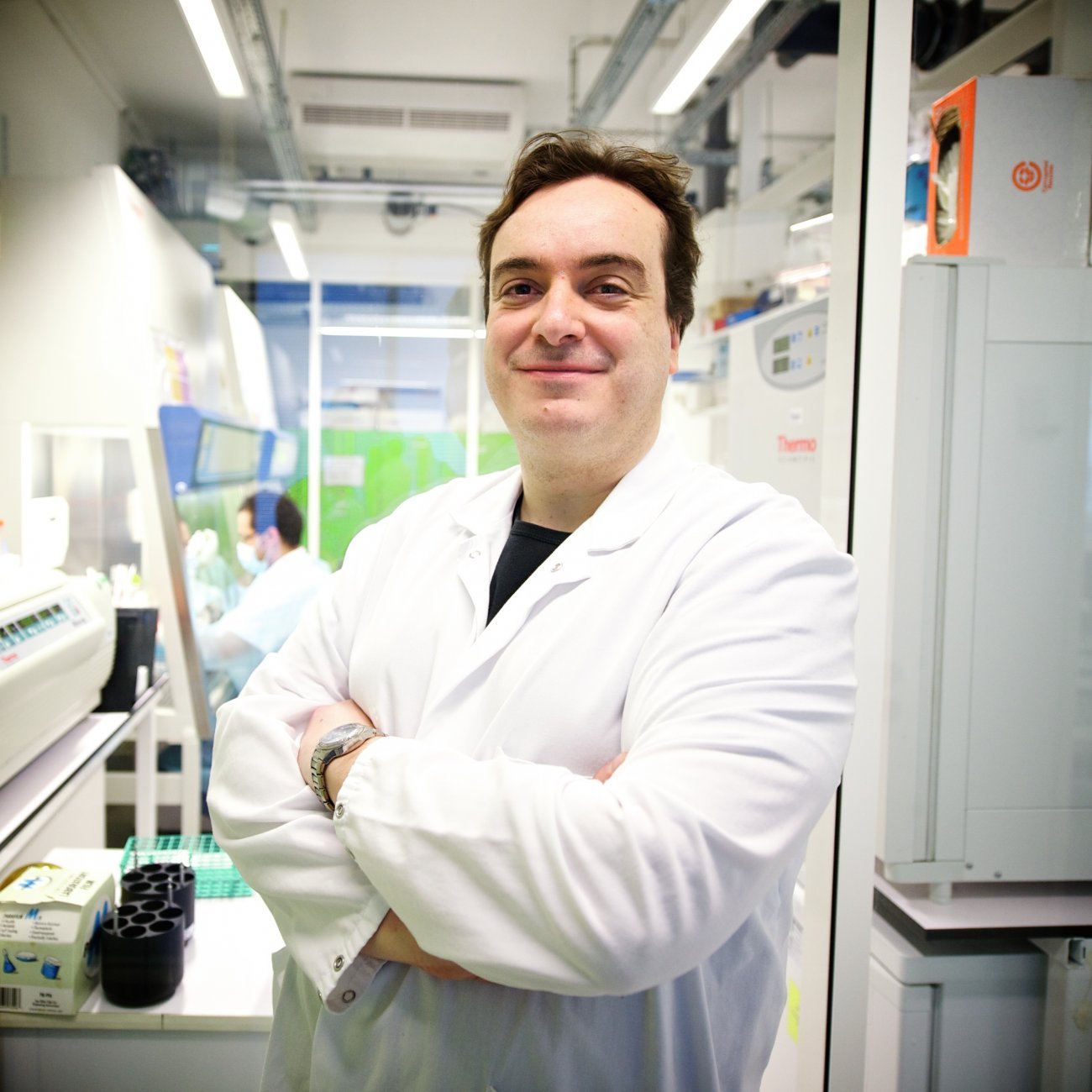 Asier Sáez-Cirión, head of the Viral Reservoirs and Immune Control Unit at the Institut Pasteur 
This mutation has also led to some individuals with HIV who developed leukemia being «cured of HIV» after receiving a bone marrow transplant. This is because the cells from the bone marrow donor that replaced those of the person receiving the transplant carried the CCR5-delta 32 mutation, enabling the recipient to develop resistance to the virus. There have so far been five persons who have gone into HIV remission after receiving bone marrow transplants: the Berlin patient (who had been in HIV remission for more than ten years when he died following a leukemia relapse), the London patient, the Düsseldorf patient, the New York patient and the City of Hope patient. They are inspiring examples, but it is important to remember that they are very special cases. «Bone marrow transplants are high risk, complicated procedures and are not suitable for the 40 million people living with HIV,» concludes Asier Sáez-Cirión. 
Cure VS Remission
The term remission is used when HIV infection is controlled in the absence of antiretroviral therapy but there may still be some infected cells that could be reactivated. The term cure is used when all the infected cells in the body have been eliminated, which is currently impossible to prove beyond doubt (we cannot analyze every single cell in the immune system!). 
Remarkable CD8 cells that attack HIV  
Asier Sáez-Cirión's team focuses on another group of people: «natural controllers.» These people are not resistant to the virus but, as their name suggests, they are able to spontaneously control viral replication and maintain a very low, often undetectable viral load in the absence of antiretroviral therapy. We now know that the CD4 cells of these individuals, who represent less than 0.5% of people living with HIV, are slightly less susceptible to HIV infection. Recent research by Lisa Chakrabarti from the Institut Pasteur's Virus and Immunity Unit suggests that the ability of these rare «natural controllers» to respond effectively to infection can be explained by mutations that reduce CCR5 surface expression in CD4 T cells, limiting HIV entry. In other cases, the CD4 T cells of controllers are highly sensitive in detecting HIV antigens, resulting in an enhanced antiviral response. These extremely sensitive CD4 T cells secrete a number of chemokines that induce CCR5 receptor internalization, which again makes the cells less able to be infected with HIV.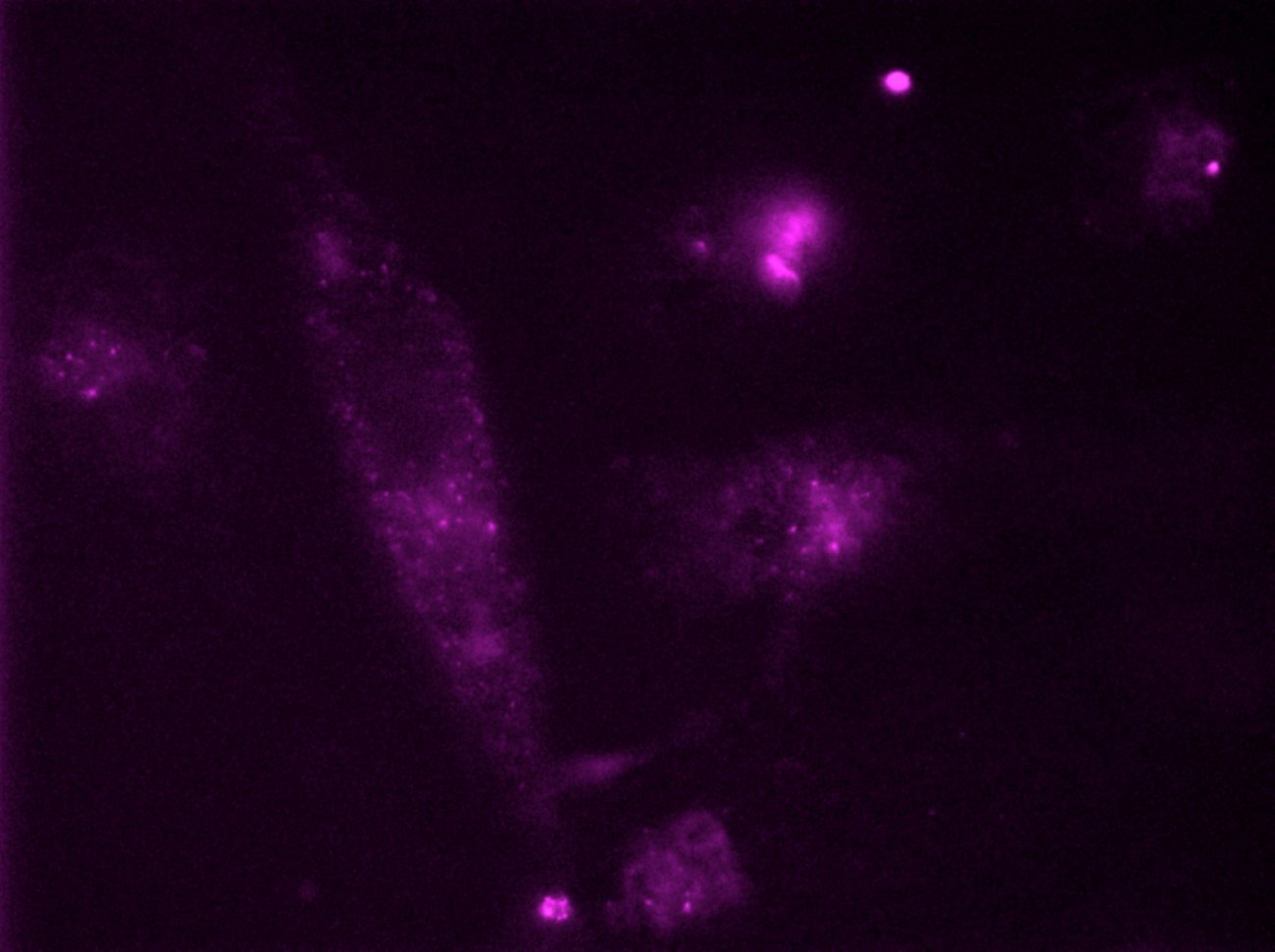 CD4 cells like macrophages can carry mutations in the CCR5 coreceptor which make them resistant to HIV. Here fluorescence imaging shows CCR5, a cellular coreceptor for HIV, expressed at the macrophage surface. 
CD8 cells also seem to play a central role in controlling HIV in the absence of treatment. «The research we have conducted on the CODEX and PRIMO cohorts has shown that the CD8 cells of «natural controllers» are more capable of recognizing and eliminating infected cells because their memory potential and cytotoxic capacity are much better than average,» explains Asier. After identifying the highly specific molecular profile of these cells, the scientists tried to reprogram the CD8 cells of non-controllers so that they would acquire the same characteristics as controllers' CD8 cells. This process, implemented successfully in vitro in 2022, is currently being tested in an animal model for HIV/AIDS. «The long-term goal is to use this strategy as part of cell therapy to achieve remission of HIV infection. This would involve isolating non-controllers' cells, reprogramming them ex vivo, and re-injecting them before potentially discontinuing treatment,» comments Asier Sáez-Cirión. «We are also exploring the possibility of directly modifying CD8 cells in vivo using immunotherapies.»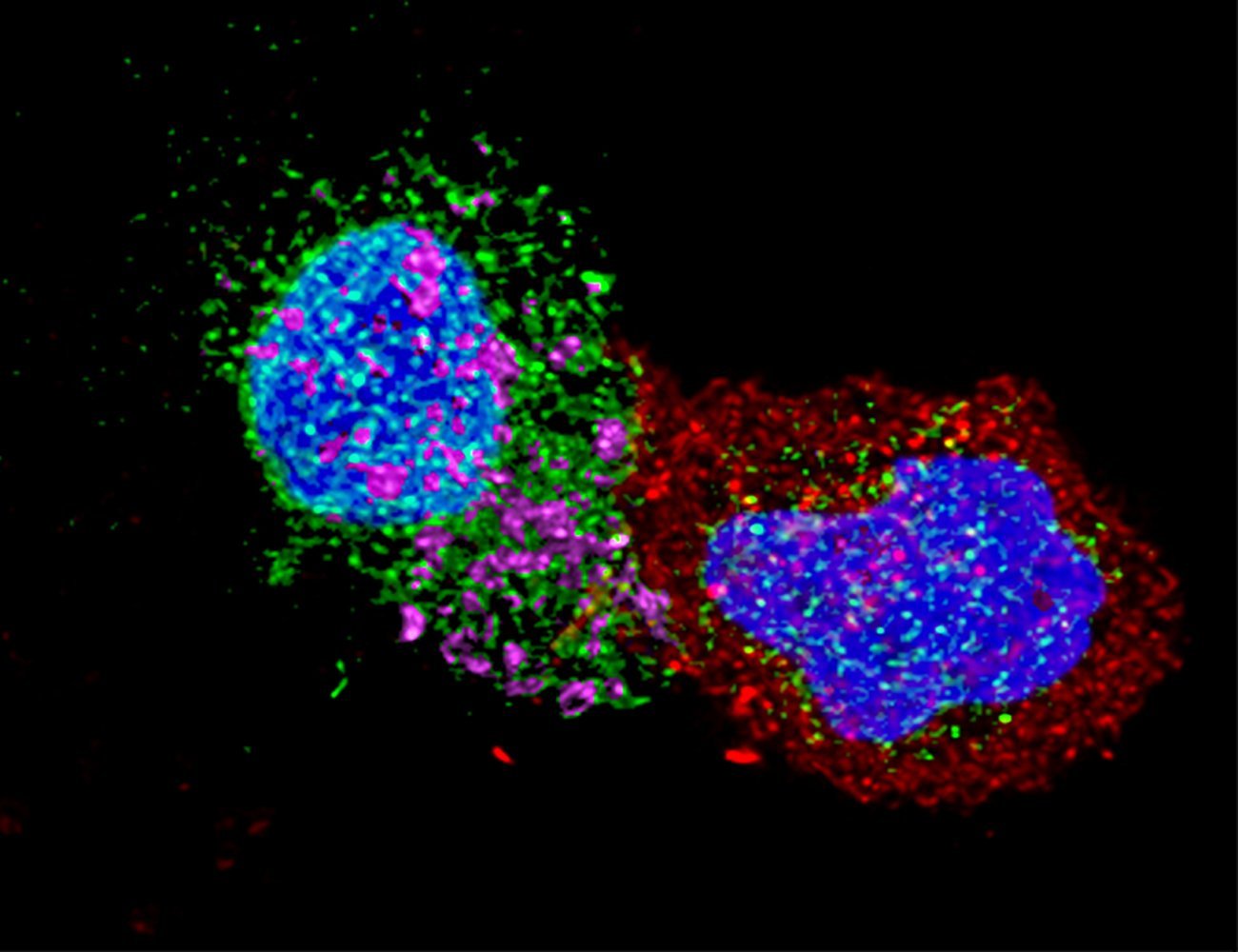 In controllers, CD8 cells play a key role in controlling infection. Here we see a CD8 cell (in red) coming into contact with a CD4 cell infected with HIV (in green) and preparing to destroy it by releasing granzyme (in pink). 
The importance of early treatment  
Other avenues are also being explored in parallel in a final group of people known as «post-treatment controllers.» The VISCONTI cohort is composed of a number of these individuals, who are able to control viral infection for years or even decades after discontinuing treatment, achieving sustained HIV remission. What they have in common is that virtually all of them began their antiretroviral therapy at a very early stage, in the first few weeks after infection. The team led by Asier Sáez-Cirión therefore decided to investigate the impact of early treatment on viral control in rhesus macaques. «We observed that early treatment has various beneficial effects, one of which is to give CD8 cells the same memory characteristics as the CD8 cells of «natural controllers,» significantly boosting their antiretroviral potential after discontinuation of treatment,» says the scientist. «This is yet further evidence that we are on the right track with our research on CD8 memory cells.»  
Tenth anniversary of the VISCONTI cohort 
The VISCONTI cohort (Viro-Immunological Sustained Control after Treatment Interruption), described in 2013, is composed of 30 people, most of whom received early antiretroviral therapy and have been able to control their viremia when their treatment has been discontinued, some for more than 20 years. The VISCONTI study has provided proof of concept that sustained remission from infection is possible for people living with HIV-1. It is the world's largest cohort of long-term «post-treatment controllers.» 
Following these encouraging results, a clinical trial (RHIVIERA02) will begin in 2023, as part of the ANRS RHIVIERA program led with the Paris Public Hospital Network (AP-HP) in collaboration with Hugo Mouquet's team, in a group of 70 individuals with early diagnosis of HIV infection. «We will offer them conventional antiretroviral therapy and also immunotherapy combining two broadly neutralizing antibodies (bNAbs). The bNAbs should help reduce the quantity of viral particles in circulation, help NK cells to eliminate infected cells and therefore reduce the reservoir, and finally boost their CD8 cells and their anti-HIV antibodies,» explains Asier. And after one year, the treatment will be discontinued. «We think that the participants will better control the virus after discontinuing treatment and may become «post-treatment controllers,» says Asier Sáez-Cirión. «This raises the hope of long-term remission for people living with HIV, but in any case early treatment is always beneficial in epidemiological terms as it prevents the virus from spreading.»  
And the discoveries keep coming. Institut Pasteur scientists have identified something else that several of the «post-treatment controllers» in the VISCONTI cohort have in common, namely an immunogenetic footprint linked to the presence of particular NK cells. Another clinical trial (RHIVIERA01) has started in 2023 to explore this aspect as part of the RHIVIERA program. Around 70 people from the PRIMO cohort, who started treatment during primary infection and carry this specific immunogenetic footprint, will discontinue their treatment to assess their ability to control viremia. «If the result is confirmed, for the first time we will have a predictive marker for the chance of remission from HIV infection,» says Asier Sáez-Cirión. «It will also confirm the important role of NK cells and guide us to new avenues for immunotherapy.»