Antibiotic resistance is a major public health issue. Understanding how resistance works and how bacteria become resistant is crucial in helping us maintain the effectiveness of antibiotics against bacteria.
Antibiotics are drugs used to fight infections caused by bacteria. They have saved and continue to save millions of lives every year, but their effectiveness is threatened by the ability of bacteria to adapt and resist treatment. This phenomenon is known as antibiotic or antibacterial resistance. "Antibiotic resistance refers both to a trend that has been in existence since we have been using antibiotics, and also to all the mechanisms that bacteria use to resist antibiotic therapy," explains Didier Mazel, Head of the Institut Pasteur's Bacterial Genome Plasticity Unit.
How does resistance work?
There are several different resistance mechanisms, all of which can cause bacteria to become insensitive to treatment. Most of the time, bacteria alter or destroy either the antibiotic itself or the target molecule that the antibiotic usually acts on, in both cases rendering the antibiotic ineffective. There are also other less effective forms of resistance, such as efflux pumps, which expel antibiotics outside the bacteria.
"Monitoring antibiotic resistance involves measuring the frequency of strains that are sensitive or resistant to a given antibiotic – in other words identifying the proportion of bacteria that have become insensitive to that antibiotic," continues Céline Loot, a scientist in Didier Mazel's unit.
How do bacteria become resistant?
When faced with an antibiotic, bacteria evolve – resistant strains reproduce more effectively and ultimately become dominant.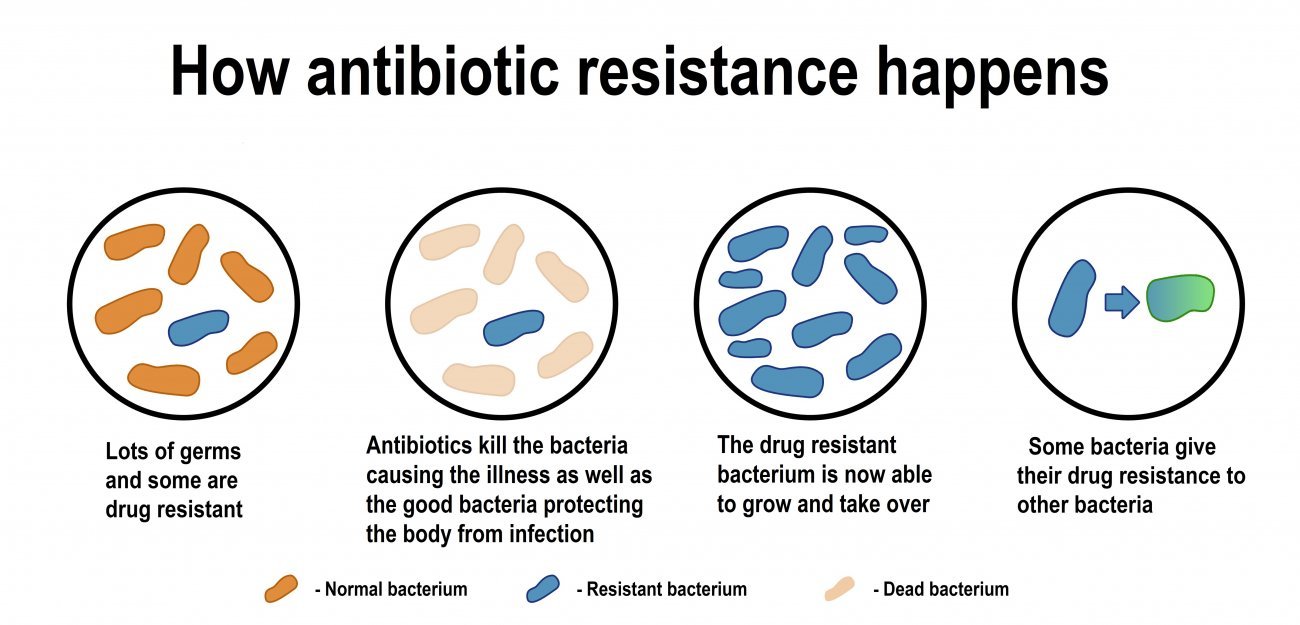 Copyright: AdobeStock
But new forms of resistance spread much more quickly via what are known as "horizontal transfer" mechanisms, in which resistance spreads from one strain to another rather than from bacteria to their descendants.
Conjugation is the transfer of small pieces of genetic material, known as plasmids, to other bacteria. These plasmids can contain resistance-conferring genes. "Since plasmids can spread from one bacterial genus to an entirely different one, conjugation is the most significant resistance transfer mechanism and the one that we most want to be able to control," explains Céline Loot.
Natural transformation occurs when bacteria take up DNA that is present in their environment.
Transduction is the process by which genetic material is transferred between bacteria and viruses that infect them, but this mechanism plays only a minor role in the acquisition of resistance.
"Anything that stresses bacteria facilitates horizontal transfers," warns Didier Mazel. "This is the case with even small concentrations of antibiotics, like in wastewater, where traces are found. But it is much more of a problem where there are higher concentrations of bacteria, like in biofilms, communities of cells that form on solid surfaces such as medical equipment."
Tackling antibiotic resistance – a public health challenge
When it comes to combating antibiotic resistance, "the most effective tool remains prevention," emphasizes Céline Loot. "The main hot spots of resistance are currently in South-East Asia, where there is widespread use of antibiotics without medical prescriptions. This needs to be reduced."
Alternatives to current antibiotics
"We are looking for new molecules that we can use sparingly to prevent the emergence of further resistance," she continues. Scientists are also developing new forms of treatment, "like bacteriophages, or making bacteria sensitive to antibiotics again. We also want to prevent horizontal transfers to minimize the spread of resistance. We are becoming very creative in our search for solutions!" says Didier Mazel.
Basic research continues to be necessary because it generates knowledge that can be used to develop new therapeutic approaches.
ESKAPEE: seven pathogens that need to be closely monitored
Among the many bacteria that are developing antibiotic resistance, a group of seven pathogens known as ESKAPEE bacteria represent a serious threat. WHO believes that these resistant bacteria are the biggest risk for public health, and they are the focus of much research. ESKAPEE bacteria are responsible for several hospital-acquired infections, including lung, urinary and postoperative infections, and they sometimes also cause septicemia in immunocompromised patients.
Enterococcus faecium,
Staphylococcus aureus,
Klebsiella pneumoniae,
Acinetobacter baumannii,
Pseudomonas aeruginosa,
Enterobacter spp.,
Escherichia coli.