Launched in 2014, the MediLabSecure project is about to be completed. A global conference organized at the Institut Pasteur in Paris on 25-27th June 2018, will gather more than 100 delegates from the 19 participant countries. An occasion to take stock of the project achievements and engage a global reflexion on the possible next step.
"On a regional level, the MediLabSecure network has allowed us to share information and request support from other countries in the network," says Rita Feghali from Rafik Hariri University Hospital in Beirut. "Implementing new techniques and procedures means that we now have a complete set-up in our lab for diagnosing important viral diseases in Lebanon."
Indeed, implementing a "One Health" approach around the Mediterranean and Black Sea Regions, MediLabSecure has built for the past 4 years a unic multidisciplinary network in 19 non-EU countries and in the overall region to strengthen through capacity building the preparedness and response to emerging viral infections, with a particular focus on arboviral diseases.
The Mediterranean and Black Sea regions are notorious for being "hot spots" for arbovirus infections. The multidisciplinary interactions favored between human and animal virologists, medical entomologists and public health referents within the network have paved the way to better address the challenge of emerging health threats.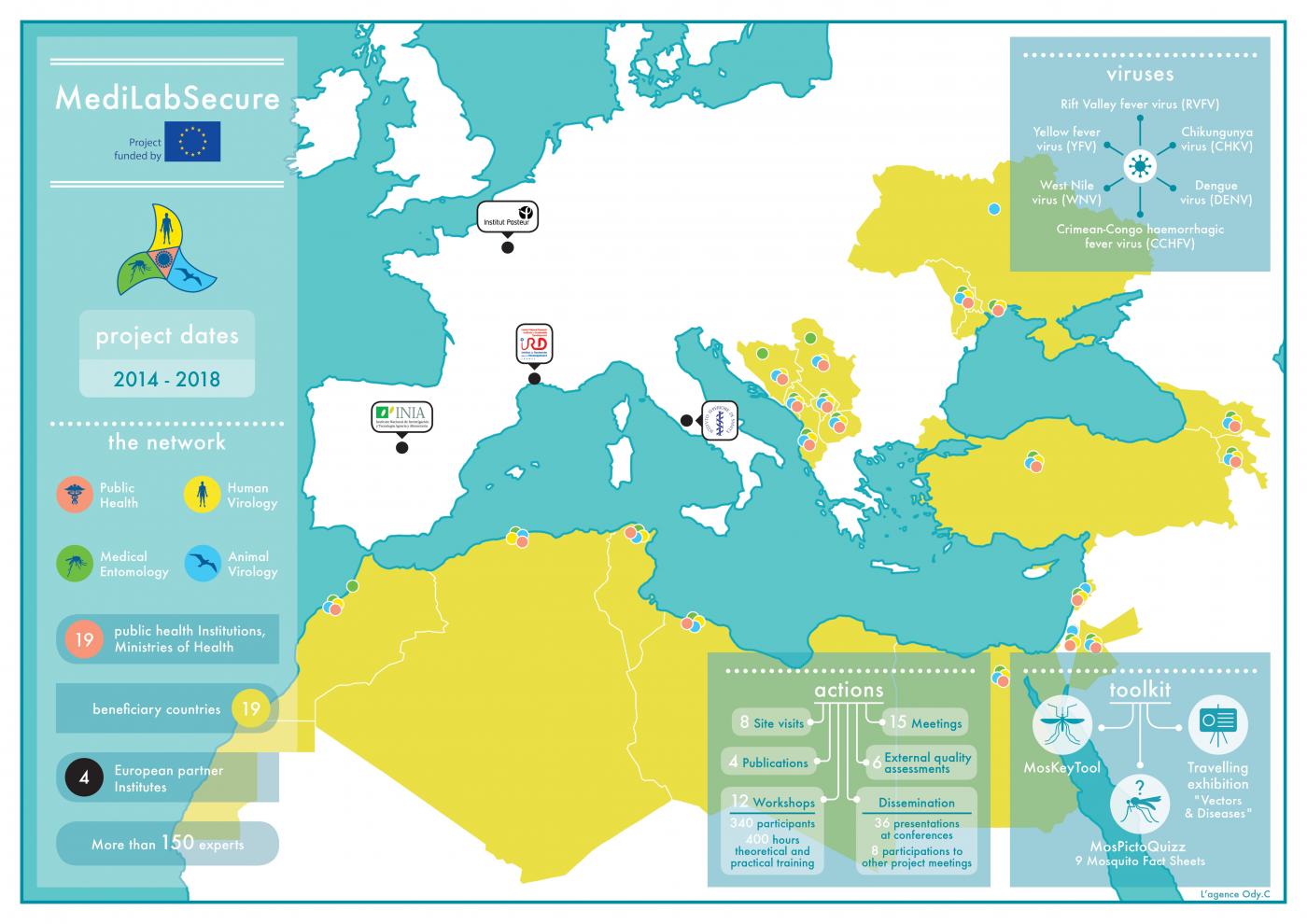 During the 3 days conference in Paris, all the partners and several Institutes from each working group within the MediLabSecure will share their experience and discuss the impact of the project at national and regional level.
These testimonials highlight the opportunity in the future to address ways of improvement, and possible evolutions to broaden the scope of MediLabSecure project and identify new needs.
Coordinated by the Institut Pasteur alongside with Institut de Recherche pour le Développement (IRD) in France, Instituto Nacional de Tecnologia Agraria y Alimentaria (INIA) in Spain and Istituto Superiore di Sanità (ISS) in Italy, Medilabsecure  has become a flagship projects to reinforce health security against arboviral diseases in the Mediterranean and Black Sea regions.
Read the complete conference programme here.
---
The MediLabSecure project is supported by the European Commission