PCR tests are currently the gold standard for detecting SARS-CoV-2. These tests are reliable, but their complexity makes them difficult to use for point-of-care testing (POCT), in other words testing outside the laboratory. Scientists from the Institut Pasteur and ESPCI Paris-PSL have developed COVIDISC, a new portable device for this purpose.  
Since 2014, Institut Pasteur scientists have been working with a team from ESPCI Paris on a project using molecular biology to develop a diagnostic test that detects viral RNA by leveraging the capillary action of the porous substrate in which the fluids are managed. This collaborative multidisciplinary project, which draws on expertise in engineering, physics and biology, is supported by the City of Paris, together with the Fondation Bettencourt-Schueller, the ESPCI Paris Funds and the Greater Paris region.
The team has now applied its research to COVID-19 diagnosis. The device they have produced, in the form of a small box, is named COVIDISC. It is inexpensive, simple and portable. It can be used to extract RNA, amplify it via a technique known as RT-LAMP (loop-mediated isothermal amplification) and visualize the results directly on the box using a very low-cost mechanism. The box contains two reaction discs: one becomes fluorescent if the result is positive, and the other is a control which becomes fluorescent to confirm that the reaction is valid. The results of COVIDISC prototype testing on patient samples show a level of efficacy in detecting the virus that is as reliable as detection using the standard RT-qPCR test.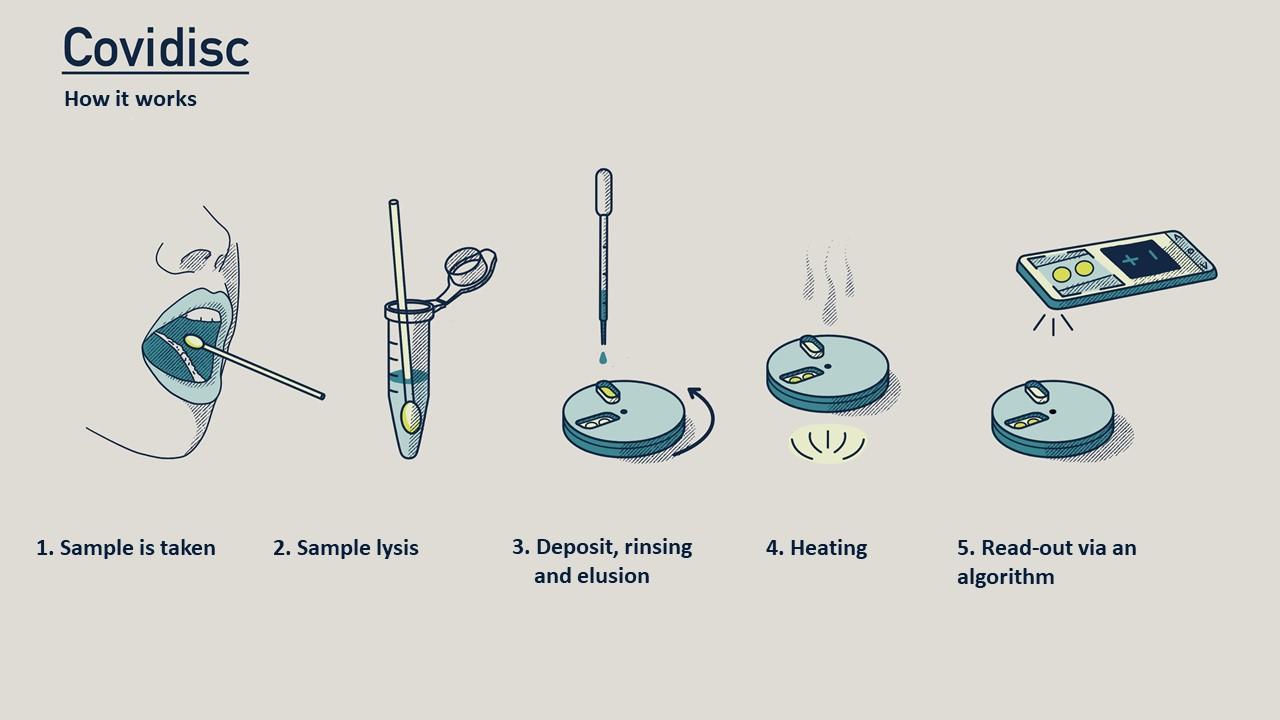 How to use COVIDISC. Credits: Lisa Dehove/Institut Pasteur/ESPCI
COVIDISC could make it easier to diagnose COVID-19, for example at a doctor's surgery, in the workplace or at a pharmacy, thereby facilitating pandemic management. It could be used instead of antigen tests, which also detect the virus but offer a level of sensitivity that leaves patients with a negative result in doubt as to whether they might actually be carrying the disease. The technology could also be used to detect other pathogens in future. The teams are now working to find partners to produce the device at scale and bring it to market.
Source :
Performing point-of-care molecular testing for SARS-CoV-2 with RNA extraction and isothermal amplification, PlosOne, January 11, 2021
Pierre Garneret1*, Etienne Coz1*, Elian Martin1, Jean-Claude Manuguerra2, Elodie Brient-Litzler2, Vincent Enouf2 , Daniel Felipe Gonza´lez Obando2 , JeanChristophe Olivo-Marin2 , Fabrice Monti1 , Sylvie van der Werf2, Jessica Vanhomwegen2 , Patrick Tabeling1*
1 ESPCI PSL, CBI, IPGG, Paris, France,
2 Institut Pasteur, Paris Cedex, France
* These authors contributed equally to this work.
This study is part of the priority scientific area Emerging infectious diseases of the Institut Pasteur's strategic plan for 2019-2023.