Researchers at the Institut Pasteur (Paris) and Inserm* have successfully filmed the infection of human cells by the Zika virus, using video microscopy. Significant morphological changes to the cell were observed, whereas the cytopathic effects of the Zika virus were hitherto poorly characterized. This allows the virus to multiply before the cell implodes.
*This work was supported by grants from Institut Pasteur, ANR, Labex IBEID and Vaccine Research Institute.
"We are studying the mechanisms of Zika virus replication," explains Olivier Schwartz, head of the Virus and Immunity Unit at the Institut Pasteur (Paris). "And we are interested in restriction factors, cellular proteins with antiviral activity whose role is to protect the cell against the infection by several viruses." Among the restriction factors studied, the IFITM family of proteins is a set of antiviral proteins (induced by type 1 interferon) that reduce the entry of the virus into the cell by preventing viral fusion. "IFTM3 potently protects the cells from Zika virus. This protection helps explain why, in most of individuals, the infection is asymptomatic or poorly symptomatic and self-resolves rapidly". The result is all the more important because much remains to be understood about the mechanisms of innate immunity.
The cytopathic effect characterized by video microscopy
"We also studied the cytopathic effect of the virus, that is to say the morphological changes of the cell, to understand what happens once the virus replicates in the cell," says Olivier Schwartz. "And we have been able to describe a phenomenon poorly studied, using video microscopy (see video below), electron microscopy and other techniques. We observed that the infected cell reacts by forming massive intracellular vacuoles which leads to the death of the cell." Moreover, this phenomenon of cellular destruction is mainly visible in the absence of the protein IFITM3. These observations were made in the cells naturally targeted by the virus, including epithelial cells, fibroblasts of the skin and astrocytes. These results help understand how Zika virus replicates and the protective innate response of the host.
Researchers from the Institut Pasteur (Virus and Immunity Unit) filmed the Zika virus, which induces massive vacuolation followed by "implosive" (red-colored) cell death in human epithelial cells (green-colored). This is a phenomenon that is exacerbated when levels of IFITM3 are low. (IFITM is a family of antiviral proteins induced by type 1 interferon.) (Credit: Institut Pasteur).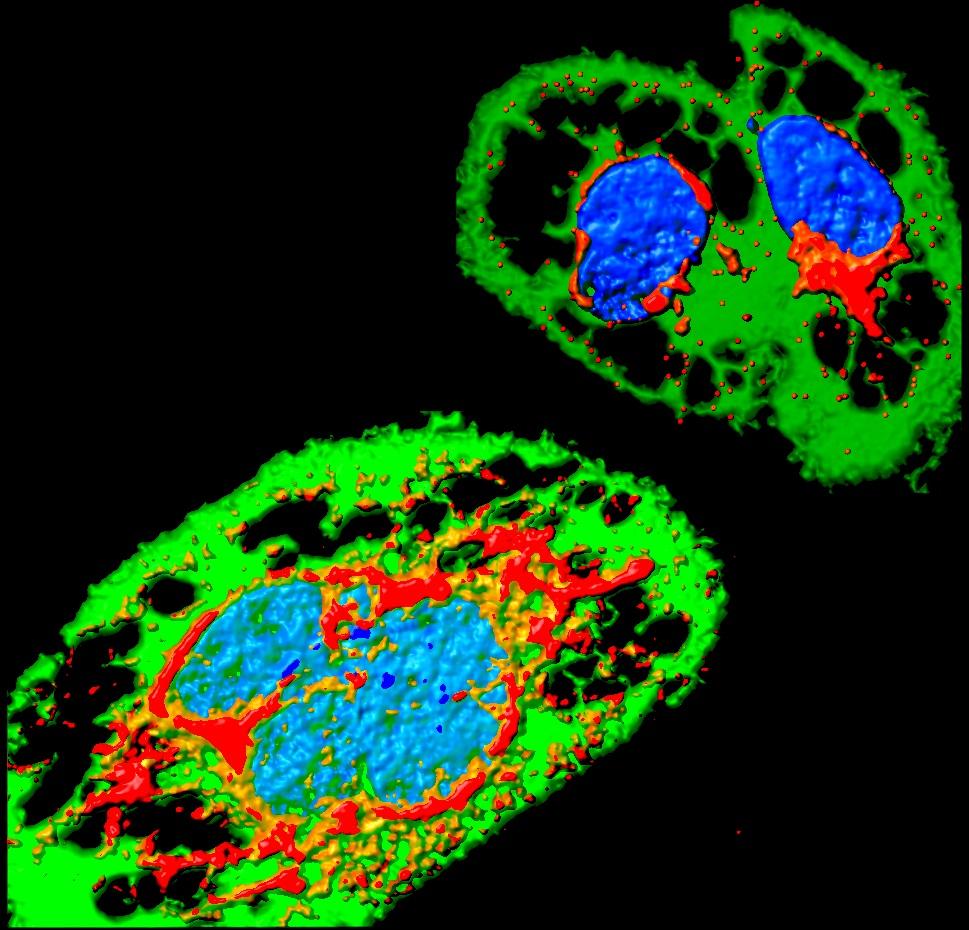 Cell infected with Zika virus (cytopathic effect), with massive vacuoles (holes). In red: viral protein. In green: cell. In blue: nucleus. Immunofluorescence microscopy. (Credit: Institut Pasteur)
Source
Zika virus induces massive cytoplasmic vacuolization and paraptosis-like death in infected cells., EMBO J., May 4, 2017.
Monel B1, Compton AA2, Bruel T1, Amraoui S1, Burlaud-Gaillard J3, Roy N1, Guivel-Benhassine F1, Porrot F1, Génin P4, Meertens L5, Sinigaglia L6,7, Jouvenet N6,7, Weil R4, Casartelli N1, Demangel C8, Simon-Lorière E9,10, Moris A11, Roingeard P3, Amara A5, Schwartz O2,7.
1 Virus & Immunity Unit, Institut Pasteur, Paris, France.
2Virus & Immunity Unit, Institut Pasteur, Paris, France alex.compton@pasteur.fr schwartz@pasteur.fr.
3 INSERM U966 & Platefome IBiSA de Microscopie Electronique, Université François Rabelais and CHRU de Tours, Paris, France.
4 Signaling and Pathogenesis Laboratory and CNRS UMR3691, Institut Pasteur, Paris, France.
5 INSERM U944, CNRS 7212 Laboratoire de Pathologie et Virologie Moléculaire, Institut Universitaire d'Hématologie, Hôpital Saint-Louis, Paris, France.
6 Viral Genomics and Vaccination Unit, Institut Pasteur, Paris, France.
7 UMR CNRS 3569, Paris, France.
8 Immunobiology of Infection Unit, Institut Pasteur, Paris, France.
9 Institut Pasteur, Unité de Génétique Fonctionnelle des Maladies Infectieuses, Paris, France.
10 CNRS URA 3012, Paris, France.
11 Sorbonne Universités, UPMC Univ Paris 06, INSERM U1135, CNRS ERL 8255, Center for Immunology and Microbial Infections - CIMI-Paris, Paris, France.