At the Centre Pasteur in Cameroon, the International Four Year Group (G4) on malaria created in 2013 is developping a diagnostic test working with common table salt. Dr. Lawrence Ayong, head of the group explains how this innovative tool works as well as his ambitious research program on malaria.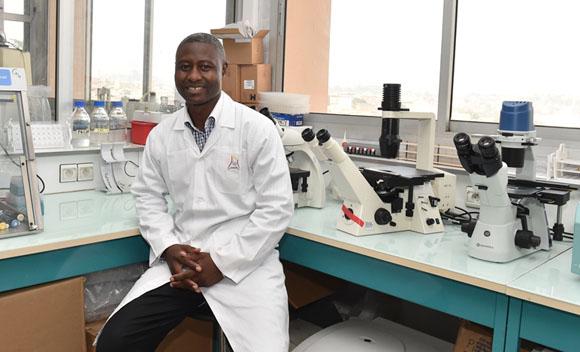 Dr Lawrence Ayong, Responsable du laboratoire de recherche sur le paludisme au Centre Pasteur du Cameroun. © Institut Pasteur/Victor Yene
A lot of efforts have been put in fighting malaria in Cameroon, what is the situation today?
Dramatic progress has indeed been made in the past 15 years in decreasing malaria morbidity and mortality rates in Cameroon. However, the infection remains unacceptably highly prevalent in all the country's ten regions, accounting for over 40% of all medical consultations and 40% deaths among children under the age of five. We estimate that between 60-80% of all residents are healthy carriers of the malaria parasite, thereby serving as an important reservoir of the infection. The major question therefore becomes what kind of strategy to adopt in order to tackle those malaria reservoirs?
To this end you are working on a very innovative diagnostic tool?
Yes, we have recently developed a molecular diagnostic tool that is applicable everywhere even in places with no electricity. Our new assay simply relies on the use of a portable heater in which heat energy is generated thanks to a chemical reaction between common salt and an affordable metal alloy. It only necessitates a small amount of blood to work and appears to be more sensitive than the commonly available tests for malaria. We still have many steps to go before the test can be commercialized but we continue working on further simplifying its format.
You have in addition an ambitious research programme…
Our research also strongly focuses on drugs and vaccine candidate discovery, as well as studies on risk factors of malaria severity in Cameroon. We are of course not alone to do this. We have developed and are currently expanding on our network of research collaboration, including in the USA with the Program for Appropriate Technologies in Health and the Emory University School of Medicine, with whom we hope to accelerate towards achieving our research objectives.
You were born and raised in Cameroon but you worked a long time abroad. What brought you back here in 2013?
It is thanks to the Institut Pasteur innovative grant support program commonly known as G4 that I was able to return to my home country and still pursue my research ambitions. Before I came back here there was no active malaria research program at the Centre Pasteur in Cameroon. Since then, we have put in place a functional laboratory, and have developed highly innovative research programs in diverse areas of malaria immunology, molecular epidemiology, drug resistance and drug discovery. Indeed, the board of Directors of the Centre Pasteur in Cameroon has recently decided to create an entire service dedicated to malaria research, which is a great encouragement for me and my team to continue in our efforts.
--------
Mis à jour le 20/10/2016