The "Pasteur, the experimenter" exhibition officially opened on December 13, 2017 with a ceremony attended by French President, Emmanuel Macron. Organized by Universcience with the support of the Institut Pasteur, it is creating a buzz in the press. You can discover photos of the launch event below. The exhibition is on at the Palais de la découverte (Paris) until August 19, 2018.

©Ph.Levy
No sooner had it opened than the media were all talking about the exhibition Universicence devoted to Louis Pasteur, "the experimenter", at the Palais de la découverte (Paris). These few words say it all!
"This exhibition sets out to reflect both the discoveries and the singular personality of the famous scientist." (Science et Avenir)
"A pioneer of vaccines and a scientific genius." (AFP)
"A great exhibition that appeals to the whole family!" (Onirik)
"An interactive, instructive exhibition (...) that gives pride of place to science." (Sortir à Paris)
"Crystals, microorganisms, infectious diseases, fermentation – the "Pasteur, the experimenter" exhibition explores a wide range of topics." (France Info)
"Exhibition at the Palais de la découverte: Louis Pasteur, a visionary scientist with a start-up spirit." (20 minutes)
"An exhibition that looks back at the remarkable career of a French scientist whose achievements should not be limited merely to the rabies vaccine." (Le Point)
"The exhibition is interactive (...) it allows visitors to recreate the achievements of Louis Pasteur." (Europe 1)
(...)
Exhibition officially opened on December 13, 2017
On December 13, the inauguration ceremony was notably attended by Emmanuel Macron, President of the French Republic, Agnès Buzyn, French Minister for Health, Françoise Nyssen, Minister for Culture, Bruno Maquart, President of Universcience (Cité des sciences et de l'industrie and Palais de la découverte), as well as representatives from the Institut Pasteur, including new President Stewart Cole, Christian Vigouroux, Chairman of the Board of Directors, Maxime Schwartz, scientific curator of the exhibition, and Erik Orsenna, Ambassador for the Institut Pasteur (see photographs below © Ph. Levy).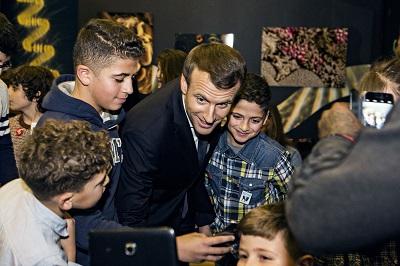 Emmanuel Macron, President of the French Republic, with a group of children on the day of the inauguration of the exhibition. © Ph. Levy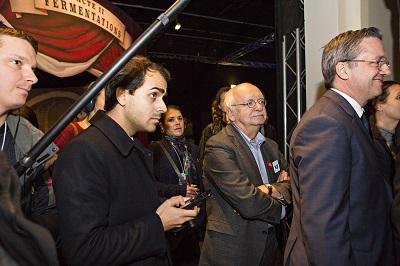 Erik Orsenna, Institut Pasteur ambassador, on the day of the inauguration of the exhibition. © Ph. Levy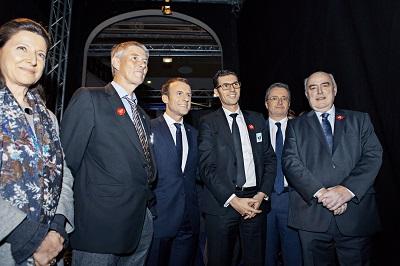 From left: Agnès Buzyn, French Minister for Health, Stewart Cole, President of the Institut Pasteur, and Emmanuel Macron, President of the French Republic. And, on the right, Christian Vigouroux, Chairman of the Institut Pasteur Board of Directors. © Ph. Levy
In their own words…
"This exhibition tells the story of one of France's major figures; it showcases a series of scientific revolutions, a moment in time. The "Pasteur, the experimenter" exhibition is a wonderful example of how we can make science accessible."  Emmanuel Macron, President of the French Republic
"Several of the Institut Pasteur's scientists have contributed to this outstanding exhibition developed by Universcience. Everyone should come and see it!" Christian Vigouroux, Chairman of the Institut Pasteur Board of Directors
"Louis Pasteur was a man of many talents who was able to adapt his efforts to the most unlikely situations.", Stewart Cole, President of the Institut Pasteur
"No, Pasteur was not just the inventor of the rabies vaccine! He was a chemist, he was interested in fermentation, in infectious diseases..." , Maxime Schwartz, curator of the "Pasteur, the experimenter" exhibition
"This exhibition is a five-act play! It tells the story of Pasteur's battle to improve our understanding of the mechanisms of life." , Erik Orsenna, Ambassador for the Institut Pasteur
"This is an exhibition that makes you want to learn more.", Françoise Nyssen, French Minister for Culture
"[Louis Pasteur] adopted a scientific approach that had a real impact on people's lives.", Agnès Buzyn, French Minister for Health
"The extraordinary thing about this exhibition is that with digital techniques we can recreate Pasteur's experiments ourselves!" , Joël Derosnay, adviser to Bruno Maquart, President of Universcience
"We were given a huge amount of creative freedom for the exhibition films." Mathieu Lemarié, artist and director
"We made an animated film with wool projected onto a sheep sculpture." Pénélope de Bozzi, artist and director