On July 22, 2021, the Institut Pasteur and Université de Paris signed an association agreement. The agreement was signed in the Salle des Actes at the Institut Pasteur, a place that is steeped in history. The two institutions have a shared scientific ambition to contribute to progress in human health.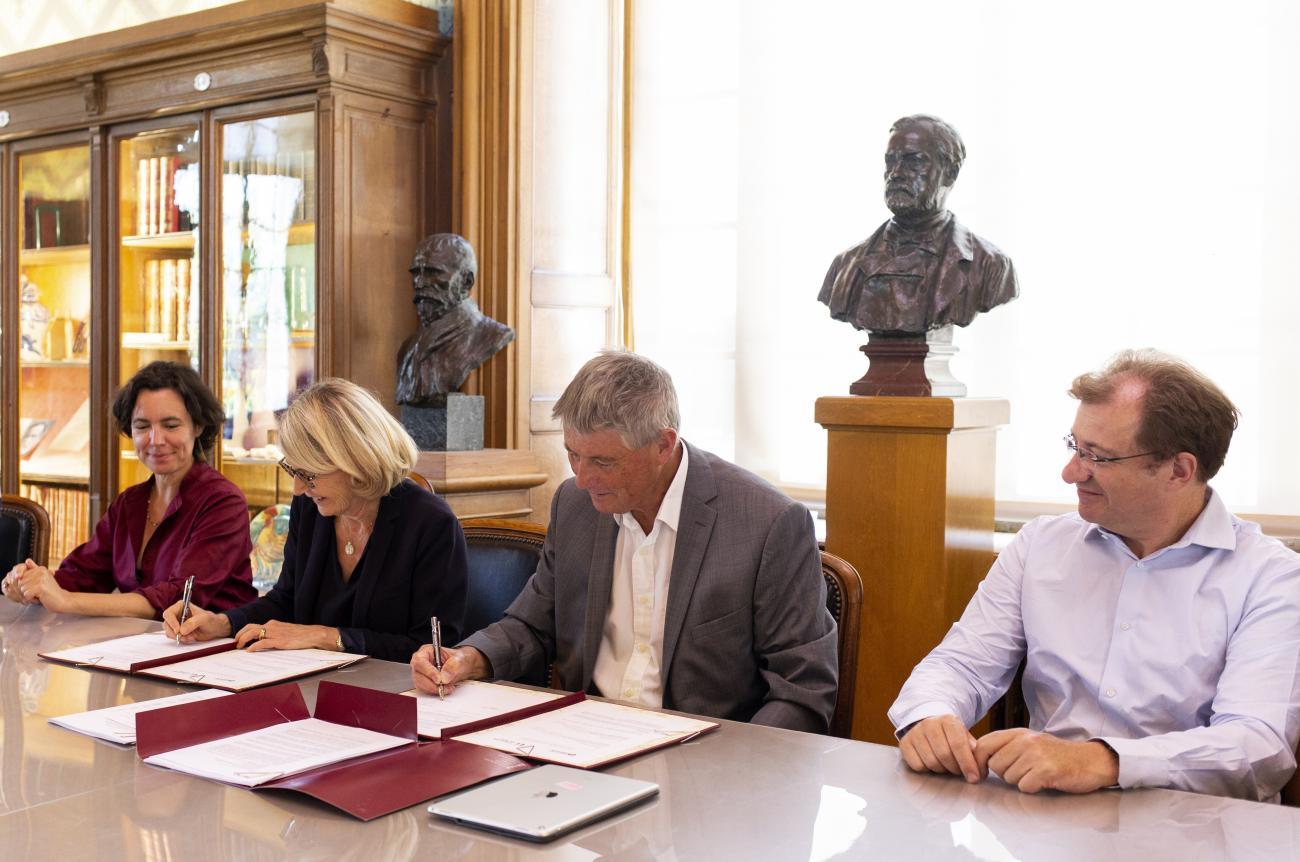 Signing of the association agreement in the Salle des Actes. Credit: Institut Pasteur/Thomas Lang – Ceremony and photographs organized in full compliance with health guidelines.
The Institut Pasteur and Université de Paris have a shared mission to serve human health. The association between the two institutions, announced on June 30, 2021, will extend their existing partnership, strengthen synergies between basic and clinical research, facilitate the shared use of technological platforms, open up new possibilities for research funding, and offer scientists, PhD students and post-doctoral fellows more opportunities for mobility. The fields of biology and emerging infectious diseases, antimicrobial resistance and vaccinology have been identified as the first priorities for future projects and core programs.
Read the press release about the partnership between Université de Paris and the Institut Pasteur
On July 22, 2021, the Institut Pasteur's teams were delighted to welcome a delegation from the Université de Paris management team to the Salle des Actes, Louis Pasteur's former library, which hosted the inauguration ceremony for the Institut Pasteur back on November 14, 1888. The Salle des Actes is now a reception room decorated by contemporary artist Hervé Di Rosa.
The ceremony, held in full compliance with applicable hygiene and distancing measures given the current health context, was an opportunity to reaffirm the aim of the two institutions to work closely together.
"We intend to strengthen existing synergies in our shared fields of excellence and develop new cooperation in fields in which one partner can benefit from the expertise of the other," said Stewart Cole, President of the Institut Pasteur, who reiterated the shared benefits of this partnership:
strengthening synergy between basic and clinical research;
deepening the Institut Pasteur's links with the teaching hospital community, since Université de Paris is associated with some of France's leading hospitals;
developing a policy of convergence in the area of European and international relations, especially for partnerships with southern hemisphere countries, in large part as a result of the Institut Pasteur and Pasteur Network, which has 33 members in 25 countries;
facilitating the shared use of technological platforms and offering greater mobility to scientists;
consolidating the business model through PhD contracts, Université de Paris IdEx,* LabEx** and calls for proposals under the Investing in the Future (PIA***) program.
Following on from the signing of the association agreement, several operational meetings will be held from September onwards.
---
* IdEx (Excellence Initiatives )
** LabEx (Laboratories of Excellence )
*** PIA (Investing in the Future program )