The European project DURABLE, led by the Institut Pasteur, has been launched in February, 2023. DURABLE means Delivering a Unified Research Alliance of Biomedical and public health Laboratories against Epidemics. It is a network whose main objective is to develop a one-stop shop for emerging disease laboratory preparedness. This 4-year large-scale project will help to build stronger, more resilient and more accessible health systems.
With infectious disease epidemics on the increase, a strong network of world-class basic and translational research institutes is needed to respond to health threats. The unique DURABLE consortium of European research and public health laboratories has been funded under the EU4Health European program with €25 million (including €20 million from the European Union) over four years (2023-2027). In addition to developping a one-stop shop, this project will establish a sustainable network of laboratories and research institutes that can address the barriers of better preparedness, and provide alerts, real-time scientific data and integrated analyses to European authorities, such as HERA and ECDC.
Coordinated by Dr. Jean-Claude Manuguerra, head of the Environment and Infectious Risks Unit within the Department of Global Health at the Institut Pasteur (Paris, France), with Professor Marion Koopmans (Erasmus Medical Center, the Netherlands) and Roberto Bruzzone (HKU-Pasteur Reasearch Pole), DURABLE will also:
Develop and use both non-targeted and targeted methods for identification of known and new threats;
Coordinate, integrate, analyse and share the output for rapid and direct use in public health decision making;
Develop targeted studies to guide further evidence gathering in response to alerts.
The Pasteur Network is a DURABLE project partner. The Pasteur Network teams will lend their expertise to devising a suitable training program to harmonize knowledge within the consortium and its wider network. The program will promote interactions between laboratories and notably help improve knowledge of biosafety measures in crisis situations, diagnostic methods and sequencing, as well as include hands-on activities in preparation for pandemics.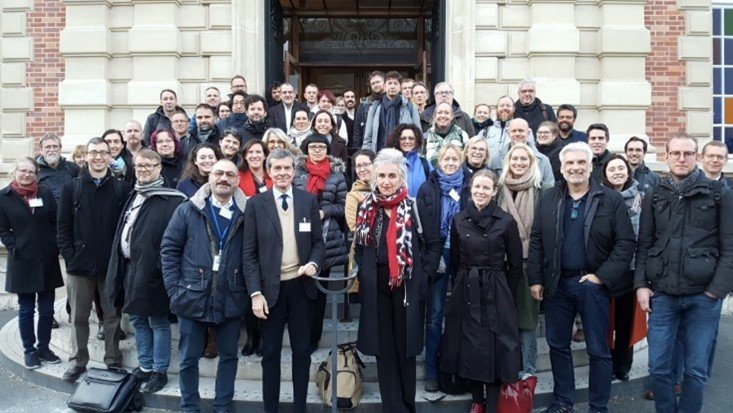 The kick-off meeting of DURABLE, held in Paris (Feb. 28-Mar. 1) in the presence of Dr. Wolfgang Phillip, Deputy Director General of HERA, was the first of many occasions during which researchers and experts will be able to get together and meet European institutions in a one health approach to address the barriers of better preparedness through research and provide real-time scientific data and integrated analyses to HERA.