A team from the Institut Pasteur has described a novel bacterial species in the Corynebacteriaceae family, capable of causing diphtheria. The identification of this distinct species will pave the way for improved surveillance and disease prevention.
Diphtheria, a disease that in the past was often fatal, continues to be closely monitored even as widespread vaccination programs are in place. Although diphtheria is most often caused by Corynebacterium diphtheriae bacteria, scientists from the Institut Pasteur recently identified a novel bacterial species that is also responsible for the disease, which they have named Corynebacterium ramonii. This species was previously considered to be the same as another bacterium, C. ulcerans, which also causes diphtheria. "So to be clear, this is not an emerging Corynebacterium species," explains Sylvain Brisse, Head of the Biodiversity and Epidemiology of Bacterial Pathogens Unit and the National Reference Center (CNR) for Diphtheria at the Institut Pasteur. "It is a newly described species which is genetically distinct from C. ulcerans, but we have records of infection with this species going back to the 1950s."
Improving knowledge of Corynebacterium species for more effective surveillance
Clarifying the taxonomy of bacterial species can lead to better surveillance. "We believe that human-to-human transmission is likely for this species, unlike C. ulcerans, which it was previously identified as and is transmitted through contact with animals," explains Chiara Crestani, who led the analyses for the novel species. Although the bacterium is rare, clear identification is important to prevent the emergence of future outbreaks. But the scientists are quick to offer reassurance: "The diphtheria toxin produced by C. ramonii is very similar to the toxin targeted by the diphtheria vaccine, so the protection conferred by vaccination also covers this novel species." Similarly, the scientists have little reason to believe that infection with this novel bacterium will cause symptoms that differ from the usual diphtheria symptoms, and it does not seem to be resistant to antibiotics.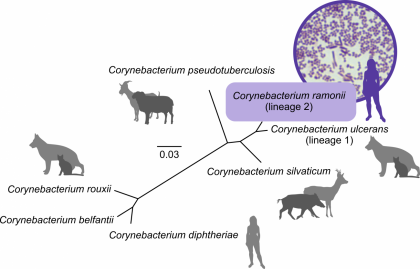 Caption: Corynebacterium ramonii, a novel bacterial species that can cause diphtheria; previously considered as C. ulcerans lineage 2. This is not an emerging Corynebacterium species; it has been causing infections since at least the 1950s but was previously identified as C. ulcerans, to which it is very similar. - (c) Institut Pasteur / Chiara Crestani
A tribute to Gaston Ramon
This description of a novel species continues the work already carried out to clarify the taxonomy of Corynebacterium species: "In previous research we had already distinguished the species C. rouxii and C. belfantii, which were previously identified as C. diphtheriae," explains Sylvain Brisse.
This time, the scientists chose to pay tribute to Gaston Ramon, an Institut Pasteur scientist who trained at the Veterinary School of Alfort and developed the diphtheria and tetanus vaccines from 1923 onwards. These vaccines saved millions of lives from the 1950s onwards. Exactly a century after Gaston Ramon's research, the Institut Pasteur is pursuing his commitment to surveillance and public health in the area of diphtheria, in particular through the work of the National Reference Center for Diphtheria.
---
Source : Corynebacterium ramonii sp. nov., a novel toxigenic member of the Corynebacterium diphtheriae species complex, Research in Microbiology, 14 septembre 2023
https://doi.org/10.1016/j.resmic.2023.104113