The latter include two vaccine candidates based on synthetic carbohydrates which are among the first vaccines based on this technology. The Shigella flexneri 2a vaccine candidate developed by Laurence Mulard, Armelle Phalipon, and Philippe Sansonetti has recently completed a Phase I trial with highly promising results. Phase II clinical trials and the development of multivalent vaccine that will be required for broad protection in endemic countries are now being supported by the Bill & Melinda Gates Foundation (BMGF). Furthermore, a therapeutic breast cancer vaccine, developed by Sylvie Bay and Claude Leclerc, is in Phase I trials.
The advanced licensed candidates include the measles-vectored (MV) chikungunya vaccine (Reisinger et al., Lancet 2018), developed by the team of Frédéric Tangy and licensed to Themis Bioscience. This is the most advanced chikungunya vaccine globally and Themis is preparing for Phase III trials with funding from the Coalition for Epidemic Preparedness Innovations (CEPI). In addition, the measles-vectored Lassa (developed by Sylvain Baize) and Zika vaccines are supported by funding from CEPI and the EU Horizon 2020 to go to Phase II and Phase I trials, respectively. The lentiviral technology developed by Pierre Charneau is under clinical for a therapeutic HIV vaccine, licensed to Theravectys, and has completed Phase I trials. lentiviral-vectored therapeutic HIV vaccine, developed by the team of Pierre Charneau and licensed to Theravectys, which has completed a Phase I trial.
In addition, Institut Pasteur is developing a rich pipeline of vaccine candidates in various fields, as shown in the graph below. For several of these fields, multiple approaches are being taken in the early stage.
Pipeline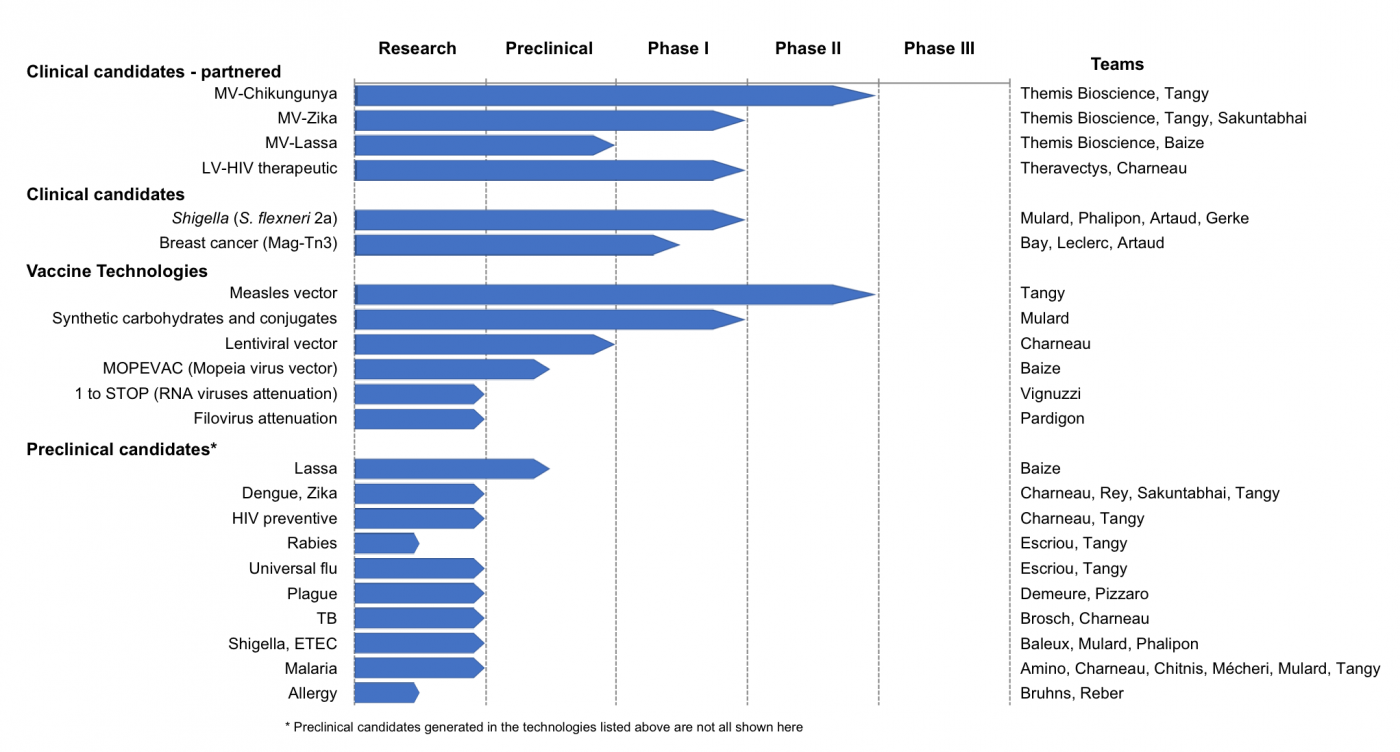 Teams and Projects
Rogerio Amino - Malaria Infection & Immunity
Our group is interested in the identification and combination of conserved antigens expressed by pre-erythrocytic stages of malaria parasites. Functional screening of 55 antigens using a rodent malaria model allowed the identification of 4 antigens that when combined induced a sterilizing CD8+ T cell response. Screening of antigens eliciting a protective humoral response is being performed to complement the set of protective antigens. Ultimately the chimerization of their protective domains is envisaged to combine all these antigens.
Sylvain Baize - Biology of Viral Emerging Infections
We have developed two different vaccine approaches against Lassa fever and other viral hemorrhagic fevers due to arenaviruses. We have established a live-attenuated vaccine platform based on a hyper-attenuated Mopeia virus expressing the glycoproteins of pathogenic arenaviruses. 
Roland Brosch - Integrated Mycobacterial Pathogenomics
Pierre Bruhns (with Laurent Reber) - Antibodies in Therapy and Pathology
Development of a therapeutic anti-IgE vaccine for allergic diseases (Collaboration with NEOVACS, Paris, France). IgE antibodies play a key role in allergic reactions, and therefore represent good therapeutic targets. The objective of the project 'IgE-VACS' is to develop an antihuman IgE vaccine called IgE kinoid, and provide a proof-of-concept of the safety and efficiency of this therapeutic vaccine. The originality relies on using a specific conformation of the IgE heavy chain to induce antagonistic and not agonistic antibodies against IgE, to protect from allergy by preventing IgE binding to its receptor.
Pierre Charneau - Molecular Virology and Vaccinology
Chetan Chitnis - Malaria Parasite Biology and Vaccines
Dr. Chitnis is the inventor of the vaccine candidate, PvDBPII, for P. vivax malaria. PvDBPII is based on the receptor-binding domain, region II, of P. vivax Duffy binding protein, which interacts with the Duffy blood group antigen to mediate merozoite invasion of human reticulocytes. PvDBPII formulated with adjuvant GLA-SE has been shown to be safe and immunogenic in a Phase I clinical trial and will soon be tested in an efficacy trial. This work is performed in collaboration with the International Centre for Genetic Engineering and Biotechnology (ICGEB), New Delhi, India. Dr. Chitnis is also developing subunit vaccines for P. falciparum malaria using measles virus as a delivery platform in collaboration with collaborators, Dr. Frederic Tangy and Dr. Rogerio Amino and protein conjugate vaccines in collaboration with Dr. Sylvie Bay and Dr. Laurence Mulard at Institut Pasteur.
Salah Mécheri - Biology of Host-Parasite Interactions
Role of the histamine releasing factor (HRF) in Plasmodium parasite transmission and disease pathogenesis. In the last decades the development of an efficient anti-malaria vaccine has become the priority in the fight against malaria. Different strategies have been developed such as sub-unit vaccines that have failed to induce sterile and protective immunity in humans, consequently renewing the interest in the whole attenuated parasite approach. Recently, we highlighted the role of the parasite Histamine Releasing Factor (HRF) protein in the modulation of the host immune response. HRF deletion causes a loss of virulence and induces a long-lasting sterile protection in Plasmodium berghei-infected mice after either sporozoites or blood-stage infection, qualifying this mutant as a potential vaccine candidate.
Laurence Mulard, with Sylvie Bay and Françoise Baleux - Chemistry of Biomolecules - Carbohydrates and Bioconjugates
Conjugates for vaccine development in multiple fields, including cancer, Shigella, ETEC, malaria, and immunotherapy.​
Nathalie Pardigon - Environment and Infectious Risks
Armelle Phalipon - Molecular Microbial Pathogenesis
Javier Pizzarro-Cerda, with Christian Demeure and Anne Derbise - Yersinia
We developed a vaccine against plague using a live, irreversibly attenuated Yersinia pseudotuberculosis, producing the Y. pestis capsular antigen F1 (Derbise A. et al. 2015). A single oral dose of this strain named VTnF1 (patented) protects against bubonic or pneumonic forms of plague, caused by wild-type (endemic form) or F1-negative Y. pestis (potential bioterrorist weapon).
We have also developed vaccination against pseudotuberculosis disease in livestock or zoo animals using an avirulent Y. pseudotuberculosis (strain IP32680). Given orally, this strain protects guinea pigs against challenge (Quintard B. et al. 2010).
Félix Rey - Virology
Anavaj Sakuntabhai
There is an urgent need to develop a more efficient dengue vaccine against all four serotypes, can be used in seronegative individuals of all ages and could prevent antibody-dependent enhancement (ADE) phenomenon. We are developing a next generation dengue vaccine containing T-cell epitopes. The NextGen DV could be used as a standalone T-cell based vaccine, or as a booster to an antibody-response based vaccine to prevent potential ADE phenomenon which may occur in dengue seronegative individuals. 
Muhamed-Kheir Taha
Project with an industrial partner
Frédéric Tangy with Nicolas Escriou
The Viral Genomics and Vaccination Unit headed by Dr Frederic Tangy has developed a replicating vaccination vector based on live-attenuated measles vaccine. Several vaccine candidates have already been successfully introduced in clinical trials, such as a chikungunya vaccine now entering phase 3 clinical evaluation, demonstrating the feasibility and potential of this platform. Other candidate vaccines are now being developed against Zika, malaria, HIV, influenza and other respiratory diseases. Our activities extend from the identification of protective antigens, vaccine design up to preclinical/clinical evaluation.
Marco Vignuzzi
Cécile Artaud - Center for Translational Research – Clinical Core
Christiane Gerke - Vaccine Innovation Development/Vaccine Programs