Mouse genetics
Mechanisms of Living Organisms
This five-week intensive laboratory and lecture course covers the analysis of gene function at all levels: the gene and its product, the cell and its interactions, the embryonic tissues and the entire animal.
Practical information
January 7-February 12, 2019 (exam included)
September 15, 2018
Diplomas
Credits for a Master 2 degree Paris Descartes
Credits for a Master 2 degree Sorbonne Université
Credits for a Master 2 degree Paris Diderot
Credits for a Master 2 degree Paris Sud
University diploma Paris Diderot
This course offers a full traing program for advanced graduate and PhD students, as well as post graduate biologists and medical doctors willing to work on medical and experimental Mammalian Genetics.
The theoretical part of this course deals, in particular, with the early embryo biology, pluripotent stem cells, cellular and molecular mechanisms controling embryogenesis and methods to study cell lineage in mouse embryos, gene inactivation and conditional expression systems for transgenes, the role of small RNAs, and genetic analysis of mendelian and complex traits.
The practical part presents methods and techniques used to derive induced pluripotent stem cells (iPS) from differentiated cells, to study behavioral traits and to analyze gene function in embryonic and adult mutants, to map mendelian traits and perform positional cloning, and to identify QTLs. They illustrate the use of RNA interference to silence gene expression.
Student opinion on the Mouse Genetics Course
According to recent opinion surveys, 100% of the students felt that the course fulfilled their expectation, covers the topic, and offers very good or excellent lectures. The general organization and the program were qualified as very good or excellent by all attendees. From free comments: "Effective teaching through an exchange with the students by an active teaching staff. All this orchestrated by very receptive and well recognized experts", "I really enjoyed the course despite the very busy days of study", "A very big thank for this incredibly rich training", "I really appreciated the quality of lectures and practical trainings. I will recommend this course to other students".
---
Candidates must have a good knowledge of basic laboratory techniques to Masters degree level. The course committee will evaluate applications.
---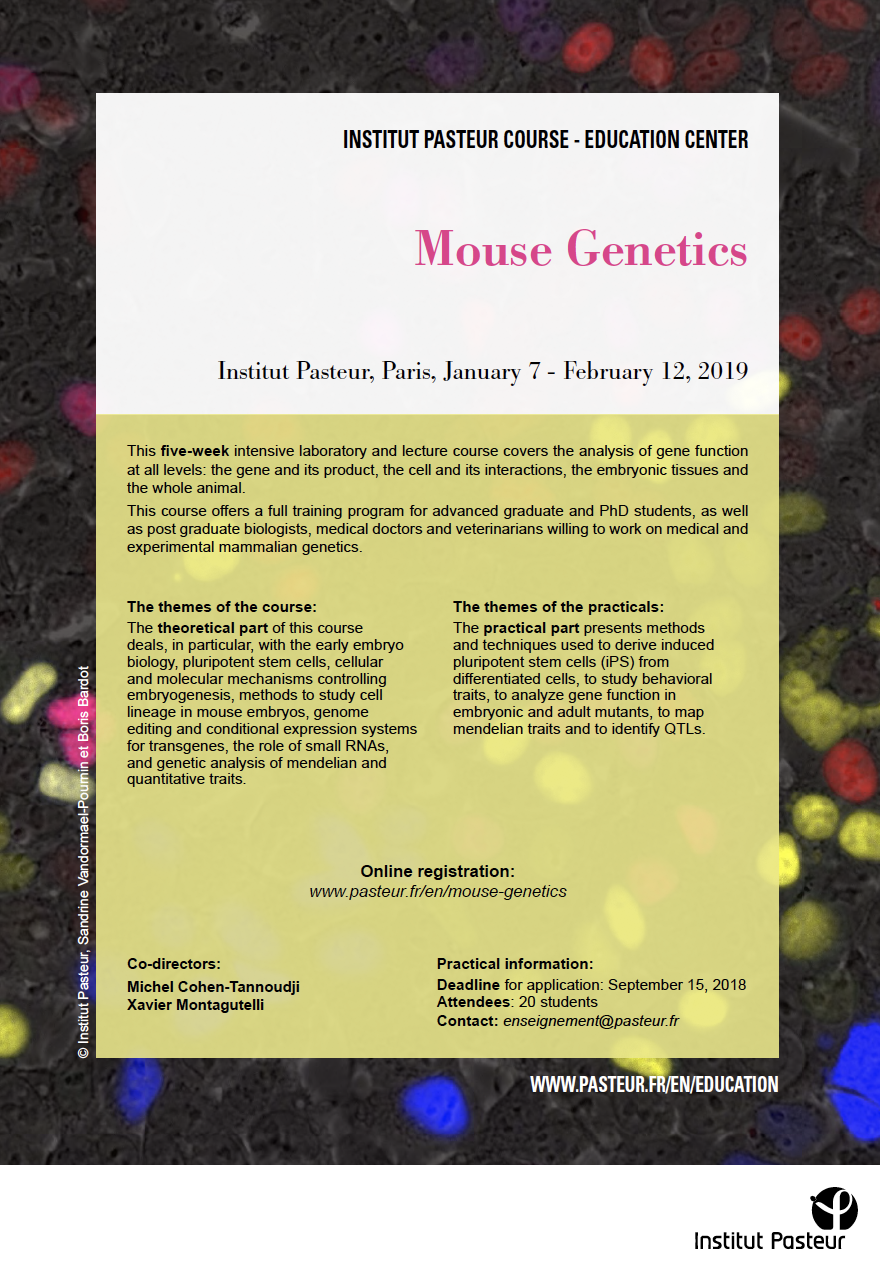 More informations
Director(s)
Co-Directors
---
Xavier Montagutelli
Mouse Functional Genetics Unit
Institut Pasteur
Michel Cohen-Tannoudji
Mouse Functional Genetics Unit
CNRS, URA 2578
Institut Pasteur
Members of the Course committee
J. Artus* (Université Paris Saclay),
M. Cohen-Tannoudji (Institut Pasteur),
A. Lalouette* (Université Paris-Diderot),
M. Lucas-Hourani (Institut Pasteur),
S. Malot (Institut Pasteur),
X. Montagutelli (Institut Pasteur),
V. Ponticelli (Institut Pasteur),
B. Robert (Institut Pasteur),
M. Sala (Institut Pasteur),
L. Tiret ​(ENVA),
F. Toledo* (Sorbonne Université),
H. Waxin (Institut Pasteur).
* University Representatives