In February 2017, Dr Halima Maïnassara is the first woman from Niger to be appointed Director General of the Center for Medical and Health Research (CERMES) in Niamey. Physician, epidemiologist expert in meningitis, she started to work for this public institution, member of the Institut Pasteur International Network, in February 2005 as a field investigator.
Since primary school, Halima Boubacar Maïnassara knew she wanted to become a doctor: "I always said that I wanted to be the person in a blouse that looks after the little ones," says the daughter of a teacher and an educational advisor. Her high school diploma with honors allows her to obtain a scholarship to study abroad. Halima goes to Mali where she graduated in 2004 from the Faculty of Medicine and Pharmacy of Bamako: "I loved the contact with patients, the trust they place in us. The doctor has an important place in society ". Her medical thesis topic focused on sonography, the young doctor then worked in this field in Niamey but also as a physician in medical and surgical emergencies at the National Hospital of the Nigerien capital. CERMES was then looking for doctors to carry out epidemiological investigations ; Halima is hired as a field investigator. "This is how I stepped into research. I really liked this field work. Meanwhile, I consulted for the clinic of the Center [now closed] and thus remained in contact with the patients ".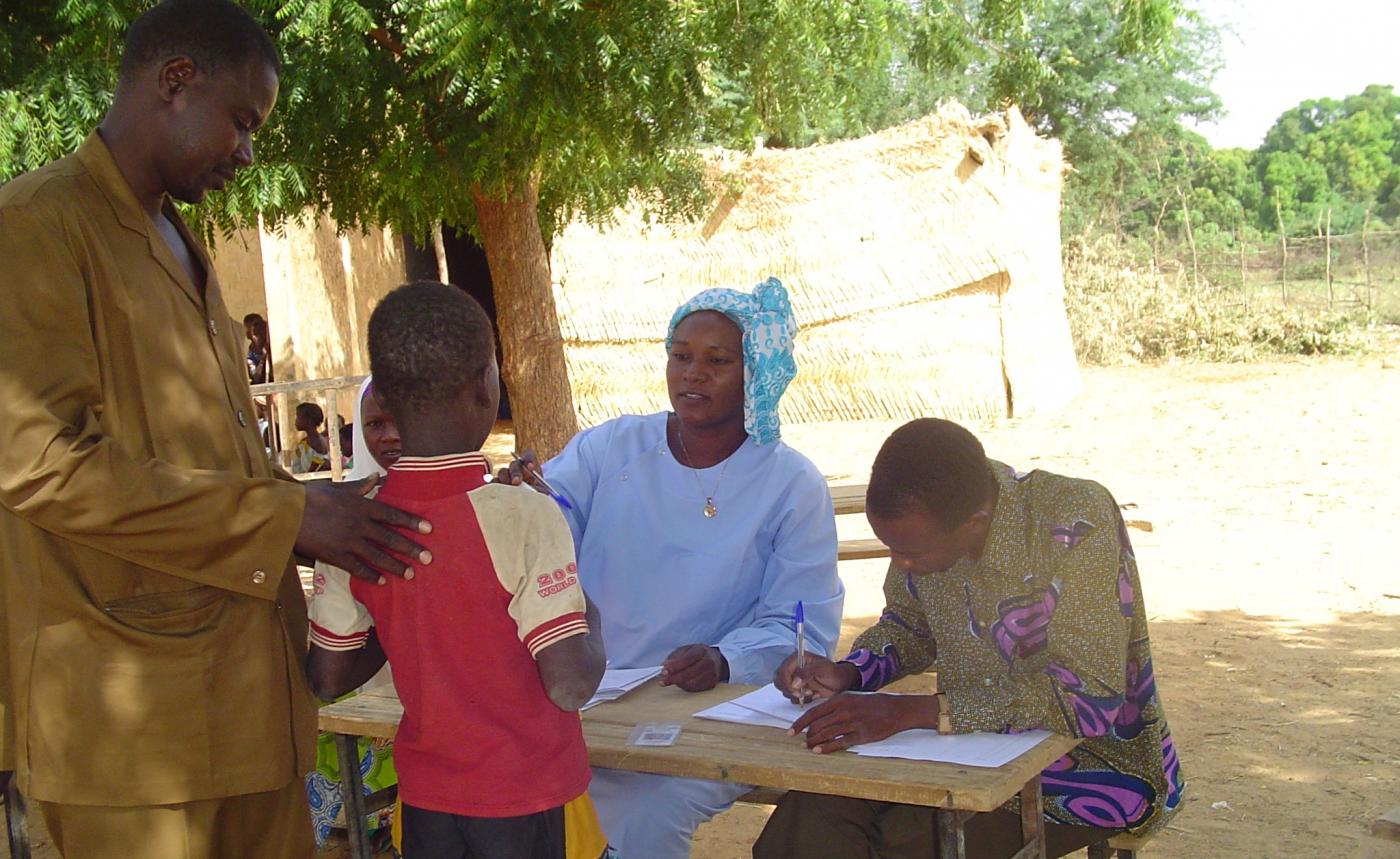 Caption: 2007, Halima Maïnassara participate in a health investigation in the village of Mozagué (Southern Niger) - photo credit CERMES
Halima Maïnassara then completed her studies: distance courses allow her to obtain an Inter-University degree in statistics applied to medicine at the Pierre and Marie Curie University (UPMC) in Paris. In 2008, she is awarded with a fellowship  from the French government and she obtained a Master diploma in « Research in Statistics for Health Sciences – Epidemiology » and a postgraduate degree in Public Health Practice in Developing Countries from the University of Montpellier. At the Institut Pasteur, she obtained a degree in Clinical Trials and Infectious and Tropical Diseases. From 2012, Halima, mother of three children aged 19 years, 14 years and 7 years, multiplies the round trips between Niamey and Paris to prepare her science thesis. In 2017, she obtained a PhD in Public Health, option Epidemiology and Biomedical Information Sciences, at UPMC.
2017, is a key year in the career of Halima Maïnassara, she is appointed director of CERMES (see below). Halima Maïnassara did not imagine taking the lead of this institution: « when the call for applications opened, I was busy with my thesis. But I was encouraged to apply and I took my chance». The meningitis specialist becomes the first Nigerien woman Director of CERMES.
Her priorities? Meningitis, of course: "This is an historical focus of the institution still relevant because there are meningitis epidemics every year in Niger and decision makers expect a lot of researchers," said Halima - every epidemic season, the biological analyzes of the CERMES help to identify the causative organism and find the appropriate vaccine. But adds the director, "I think we must not be limited to infectious diseases. Of course, this remains a major problem but we must be opened. We also have public health issues such like hypertension or diabetes that deserve to be investigated in our countrie." Another central topic: "mother-child health, which again is not limited to infectious diseases, is one of my ambitions". To carry out her projects, Halima Maïnassara knows she can rely on the Institut Pasteur International Network: "within the Network, you do not feel alone, you are in a group. We cooperate a lot of joint projects, we share ideas and values. It's a huge force! ".
---
Dr Halima Boubacar Maïnassara, Director General, CERMES
1975: birth in Niamey (Niger)
2004: Doctorate in Medicine (Bamako, Mali)
2009: Master  « Research in Statistics for Health Sciences – Epidemiology » (University of Montpellier, France)
2017: PhD in Public Health, option Epidemiology and Information Sciences Biomedical, (Paris, Pierre and Marie Curie University)
Since February 2017: Director General of CERMES
---
The CERMES in brief
Under the supervision of the Ministry of Public Health, it is the only public health research center in Niger. Member of the Institut Pasteur International Network since 2002, CERMES was initially dedicated to research on meningitis and schistosomiasis. It then enlarged it research focus to malaria and the relationship between infectious diseases, environment and climate. The CERMES also houses the training Center Pierre and Anne-Marie Moussa (CFPAM).
Inaugurated in 2012, it serves as a training center for professionals and students in the field of health sciences in Niger. Finally, CERMES is a major player in Nigerien public health by participating in the surveillance of diseases. It is a national reference laboratory for resistance to antimalarials, influenza, cholera and meningitis.