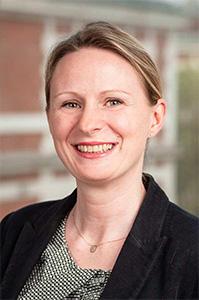 Camille Tribout,
Head of Office
The Industrial Agreements Office (SAI) is responsible for all aspects of post-contract management and is the point of contact once a contract has been signed. An Alliance management is also in place with the strategic partners. In addition, the Industrial Agreements Office is responsible for: financial flows resulting from transfer of technology; coordination with patents' co-owners; financial flows with inventors.
See More « Industry partnerships » and « Post-contract Management »
Download the consulting agreement document
---
Biography
Camille Tribout, as head of the Industrial Agreements Office, is responsible for managing financial flows resulting from technology transfer and coordinating and developing the Institut Pasteur's relations with co-owners, inventors and industrial partners after the signing of license or collaboration agreements.
After spending ten years managing real estate at La Gestion Foncière in Paris, Camille Tribout decided to redirect her career to the field of health.
With training in both law and management and a Master's in Operational Management from the prestigious ESSEC Business School, she joined the Institut Pasteur in 2011 as Contract Manager.
She spent five years in this role before becoming Head of the Industrial Agreements Office.