Tackling allergies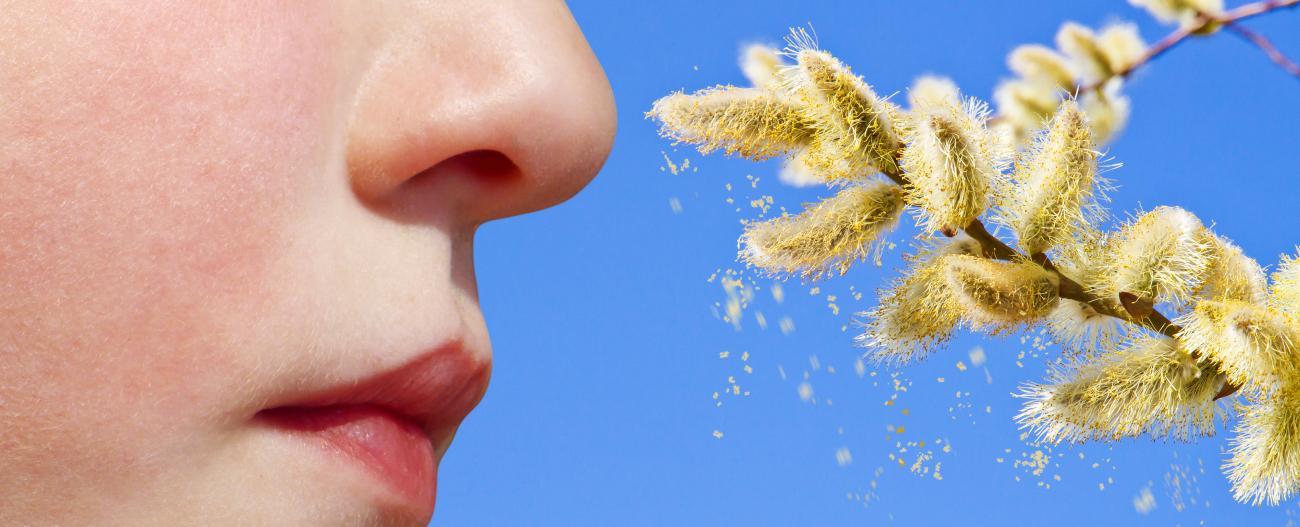 They disrupt the lives of millions of people in France and can have extremely serious complications. More than one in every four people in Europe currently suffer from allergies, and the World Health Organization predicts that by 2050 half of all those living in industrialized countries will be affected. Allergies are caused by a deregulation of the immune system, which "overreacts" to substances in the environment known as "allergens". These allergens can be found in the air (pollen, cat hair, etc.), in food (milk, eggs, peanuts, etc.), in insect venom, in medicines (penicillin, curare, etc.) and in objects we come into contact with (latex, nickel, etc.). The allergies they trigger can lead to a variety of manifestations: cutaneous (hives, dermatitis or eczema), respiratory (rhinitis, asthma attacks or edema) or systemic (anaphylaxis).
A disproportionate immune response
Allergies occur most often in those with a genetic predisposition, with one or more allergy sufferers among their family members. Individuals with allergies have a form of hypersensitivity; they suffer from a pathological exaggeration of the immune response, especially the inflammatory reaction, when they inhale, swallow or touch an allergen. Allergens are molecules that are generally found outside the body. While usually harmless, they are perceived differently by the defense system (the immune system) of allergy sufferers. A few days after first coming into contact with an allergen, their body produces specific antibodies – often immunoglobulin E (IgE) – to protect against it. This first stage, known as "sensitization", does not result in any symptoms but enables the IgE antibodies to bind to the surface of some immunity cells (basophils and mast cells, see diagram). When the body subsequently comes into contact with the same (or a very similar) allergen, these cells, "armed" with IgE at their surface, bind to the allergen, releasing a substance known as histamine together with several mediators of inflammation and the immune response, which result in an inflammatory allergic reaction.
The primary mechanism of allergies
A few days after the body first comes into contact with an allergen, it produces specific antibodies to protect against it, known as IgE (immunoglobulin E) antibodies, which bind to the surface of mast cells. This first stage, known as "sensitization", does not give rise to any symptoms.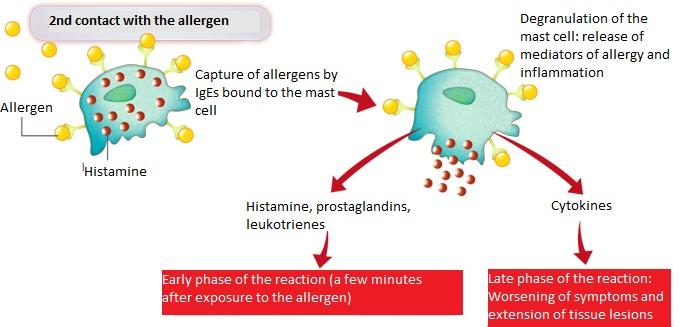 Wide-ranging symptoms
The resulting symptoms depend on the type of allergen and where in the body the reaction occurs (nose, eyes, skin, throat, etc.). An allergy to mites, pollen or animal hair generally leads to one or more of the following symptoms: rhinitis, asthma, eczema and conjunctivitis. A food allergy – often to milk, eggs, peanuts, soy, walnuts, fish or seafood, which contain the most common allergens – tends to trigger hives or digestive symptoms (colic in infants). But a respiratory allergy can sometimes lead to hives or digestive symptoms, and a food allergy can result in sneezing or an asthma attack – which makes diagnosis tricky. 
Diagnosing allergies, often a difficult task (See the interview below), involves taking patients' history to find out about their environment and lifestyle, performing skin tests to bring them into contact with allergens and gage their reaction, and collecting blood samples to detect IgE antibodies.
Interview with:
Doctor Nhân Pham Thi
Head of the Allergy Clinic at the Institut Pasteur Medical Center.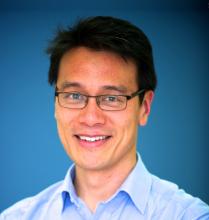 if isset(($content['field_pg_citation']) : ?>
When it comes to allergies, the diagnostic delay can sometimes be very long.
endif; ?>
On average, people with allergies wait for seven years before consulting a specialist. Why is this?
It is true that when it comes to allergies, the diagnostic delay can sometimes be very long. The cause and effect relationship between certain symptoms and an allergy is not always clear – we can have a permanently runny nose without suspecting that it might be caused by a mite allergy. Apart from anaphylactic shock, the most violent and obvious allergic reaction which inevitably leads to a diagnosis, the existence of chronic contact with an allergen is sometimes not obvious at all, especially in the case of contact allergies or food intolerances. That partly explains the diagnostic delay – but it is not the only reason. It is also difficult to book an appointment with an allergy specialist because there are not enough of us! The addition of allergology as a specialty in French university hospitals last year was a step in the right direction, but we are still lagging far behind our European neighbors.
Once patients have made an appointment, is it difficult to identify what is causing their allergy?
It's a case for Sherlock Holmes! We spend a long time asking our patients questions. When you reconstruct the "reaction scene", there is never just one single factor involved – you need to establish the patient's history and find out about his or her environment and lifestyle. This then guides us towards the tests that can be performed to pinpoint the potential allergen or allergens – painless skin tests that involve placing small drops of allergens on the skin. The standard battery contains a dozen common allergens, and more precise tests can also be performed. We can test for up to around thirty allergens.
Are the treatments effective?
Fortunately we have a range of treatments that can reduce the symptoms of patients with allergies, and sometimes, with allergen immunotherapy, even cure them. I would also point out that one of the major issues in allergology is the treatment of asthma, a condition that has a major impact on public health and represents a significant economic burden. Most cases of this chronic, very common condition – which can be severe and potentially fatal – are allergy-induced. In allergic asthma patients, attacks are mainly triggered by specific allergens, as well as viral infections.
You are involved in research carried out on the Institut Pasteur campus. What is your role?
Our clinic, affiliated to the Institut Pasteur's Center for Translational Science, is currently recruiting patients with allergies to penicillin and wasp stings so that scientists on campus can explore their immune system and make comparisons with the immune system of healthy volunteers*. Specifically, we ask some patients to provide an additional tube during the standard blood tests carried out to measure IgE levels, and to fill out a relatively long questionnaire so that we have detailed information about their environment and lifestyle.
*From the cohort of the Milieu Intérieur project, coordinated at the Institut Pasteur. The aim of the project is to characterize the healthy immune system based on 1,000 people in "good health".
As a physician specializing in allergies, what do you hope will be the outcome of this allergy research?
I hope it will improve patients' quality of life. That will require more precise diagnosis, with diagnostic tests that are less invasive than the standard skin prick or intradermal tests – often difficult for patients –, while also providing more information about patients' reactivity. When it comes to treatment, we are hoping for immunotherapy techniques that are more effective and maybe also more widespread rather than allergen-specific. This requires a better understanding of the interactions between the immune system, the microbiota, allergens and our responses to infection, since allergies are an inappropriate response to an imaginary microbe, with mechanisms that are very similar to those employed in our immune defense against microbes. So the Institut Pasteur is well placed to carry out this research.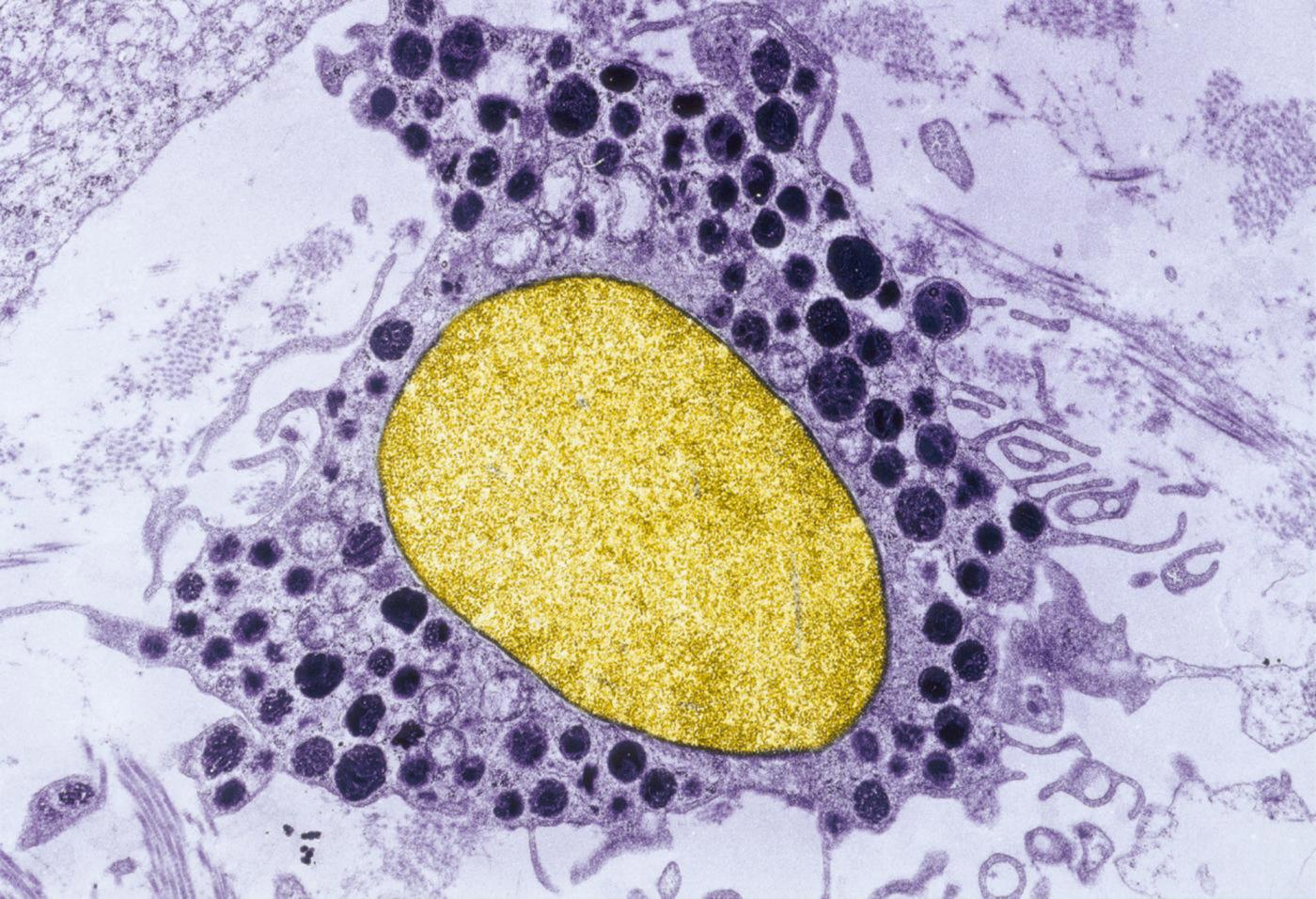 Histamine granules (dark purple) in a mast cell (nucleus in yellow). Copyright: Institut Pasteur
Avoidance is key – but not always possible
Once the allergen has been identified, the first step is avoidance. But while it is quite possible for individuals not to take penicillin if they are allergic to that antibiotic, or to avoid cats if they are allergic to cat hair, they cannot isolate themselves from the pollen in the air they breathe, and it can be hard to guarantee that food does not contain allergens such as peanuts (see below). Peanuts are responsible for one of the most common and also most severe food allergies, which may result in anaphylactic shock – a dangerous, potentially fatal reaction (see below). The only effective treatment is an adrenaline injection; some at-risk patients, such as those with bee or wasp venom allergies, are prescribed with autoinjector pens, which they must keep with them at all times in case of emergency.
Peanut allergy
Peanut allergy on the rise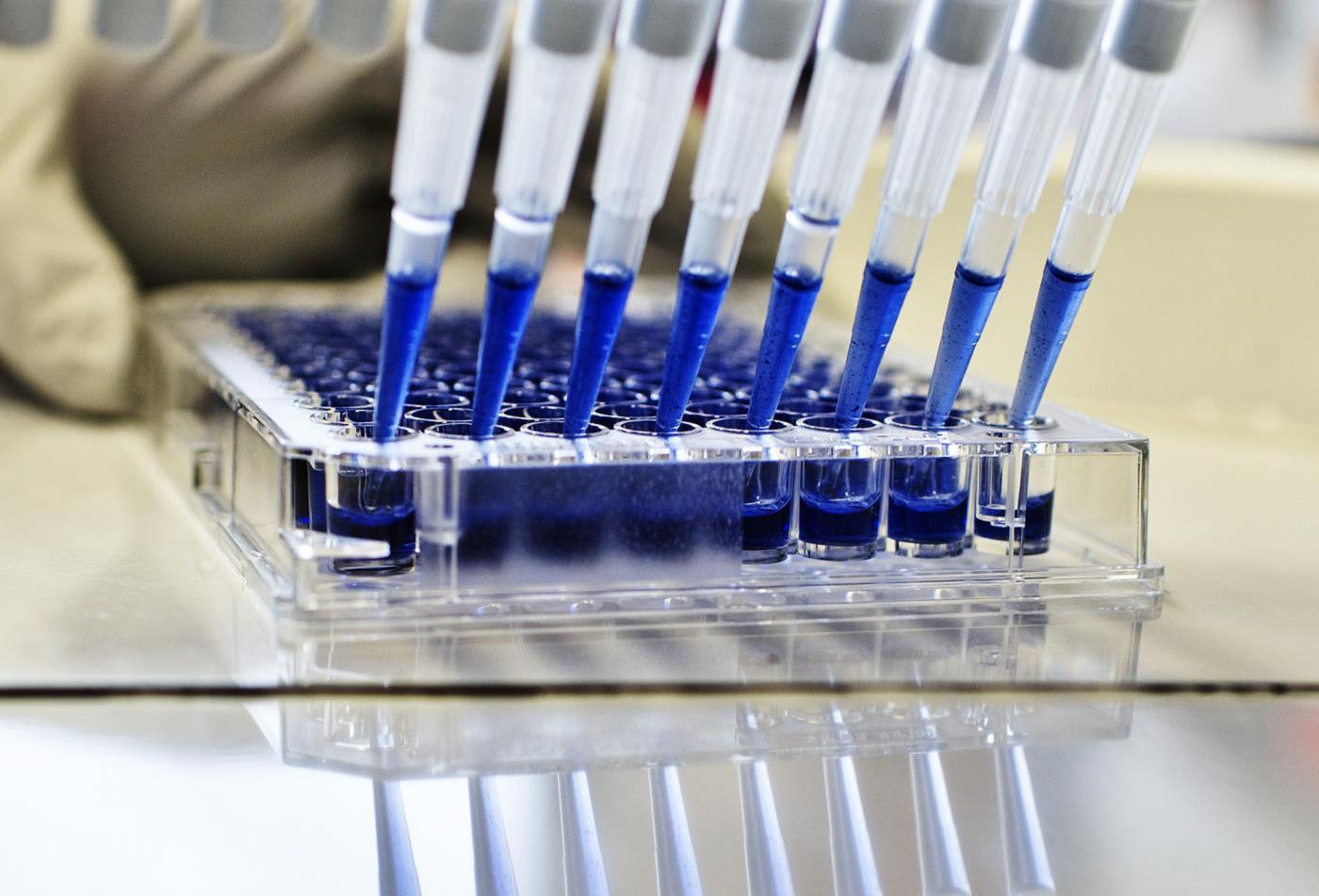 In the Antibodies in Therapy and Pathology Unit (Institut Pasteur), where Laurent Reber works on the risk of anaphylactic shock with peanut allergy. Copyright: Institut Pasteur.
Around 1.3% of Europeans are allergic to peanuts, with some estimates suggesting that 470,000 people in France suffer from this allergy. It is one of the three most common food allergies in infants (after milk and eggs) and one of the most common in adults. Regardless of age, it is the most severe – the risk of anaphylactic shock in individuals with a peanut allergy is much higher than for any other food allergy (seafood, walnuts, etc.). At the Institut Pasteur, Laurent Reber from the Antibodies in Therapy and Pathology Unit is trying to unravel the underlying mechanisms: "Through a partnership with Stanford University in California, which is currently conducting a phase II clinical trial on immunotherapy as a treatment for peanut allergy, we are working on clinical samples from patients – some of whom have been given treatment and some not – and on experimental models, to determine which antibodies in the body are involved in anaphylactic shock caused by peanut allergy. We suspect that in addition to the antibodies already identified in relation to the allergy – IgE antibodies –, other families of "pathological" antibodies such as IgG antibodies are also involved (see also inset p.X). Our research could therefore pave the way for the identification of new therapeutic targets. We are also examining treated patients to identify traces of antibodies that could have a protective role and therefore be used in therapy." This research is highly relevant given the increasing prevalence of this allergy.
Anaphylactic shock
A new mechanism revealed
Anaphylactic shock is the most severe allergic reaction, and it can be fatal. Within minutes or hours of contact with the allergen, the individual experiences a sudden drop in blood pressure, a swelling in the throat that causes feelings of suffocation, and sometimes a skin rash. There is no way of preventing anaphylactic shock, and the only way to alleviate it is with an injection of adrenaline immediately after the onset of symptoms. The risk of developing anaphylactic shock depends on the allergens to which the sufferer is sensitive: 60% of adult deaths caused by anaphylactic shock are triggered by drugs such as penicillin, curare or curare derivatives (contained in anesthetics), 15% by insect venom, and just under 1% by food allergens, primarily peanuts. At the Institut Pasteur, research by Friederike Jönsson and her colleagues in the Antibodies in Therapy and Pathology Unit, directed by Pierre Bruhns, has revealed an alternative mechanism involved in anaphylactic shock. "IgE antibodies are generally blamed for allergic reactions, but we have demonstrated in experimental models that during anaphylaxis, another antibody family, IgG antibodies, may be the main cause of the reaction," explains the scientist. "They cause some immune cells (e.g. neutrophils and macrophages) to release platelet-activating factor (PAF), which causes the same symptoms as those observed by the IgE- and histamine-dependent pathway. In collaboration with the laboratory run by Prof. Sylvie Chollet-Martin at Bichat Hospital and 11 hospitals in the Greater Paris Region, we carried out a clinical study in patients to verify the existence of this alternative pathway in humans. If this new mechanism is confirmed by the current analyses, it could lead to progress in diagnosis, which is currently based solely on measuring IgE levels." Friederike Jönsson has also launched a study with the Institut Pasteur Medical Center (see Interview) on patients with an allergy to wasp stings or penicillin and at risk of anaphylactic shock, to determine the characteristics of their immune system compared with the immune system of healthy individuals.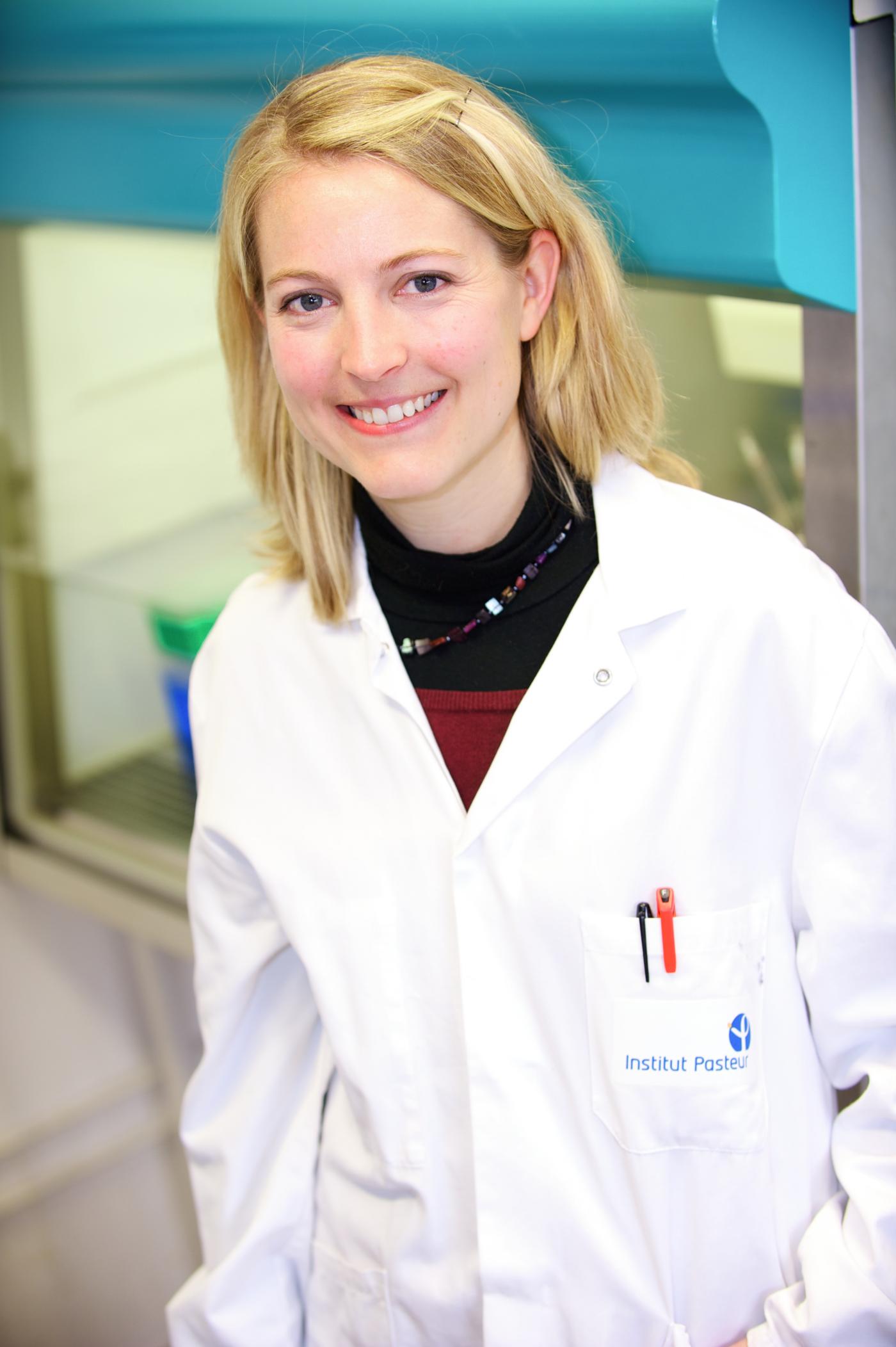 Friederike Jönsson, in the Antibodies in Therapy and Pathology Unit, directed by Pierre Bruhns (Institut Pasteur). Copyright: Institut Pasteur.
From symptomatic treatments to allergen immunotherapy
Apart from the specific case of anaphylactic shock, standard first-line allergy treatments are designed to address the symptoms. As explained above, histamine is the main substance involved in allergic reactions, and "antihistamines" are administered to block it. Medication to treat inflammation, such as corticosteroids, can be prescribed in addition to antihistamines. This treatment combination can significantly reduce symptoms, but they will reappear if the patient comes back into contact with the allergen. For some severe allergies, there is a curative treatment known as allergen immunotherapy or "desensitization". The idea is to teach the body to tolerate the allergen by giving the patient small doses of it (natural pollen extracts, mites, bee venom, etc.), via injection or sublingual delivery, over a period of several weeks or months and sometimes throughout their lifetime. This therapy is effective but can be cumbersome, and it is not yet available for food allergies, though clinical trials are ongoing. Other treatments – which are not without side effects – involve blocking the IgE antibodies that cause the inflammatory reaction*. These are used in serious cases (such as severe asthma).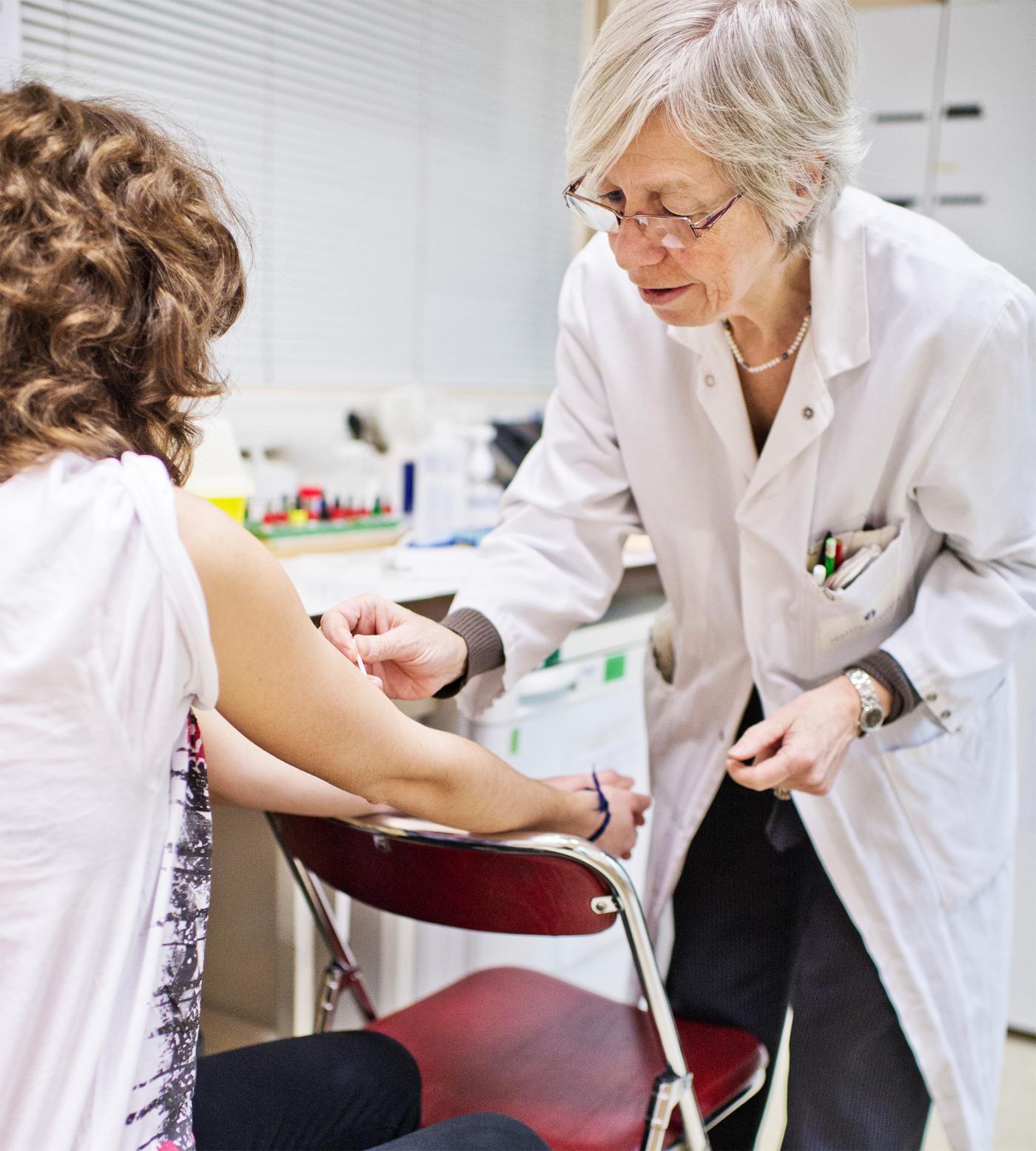 The tests consisting of putting allergens in contact with patients make it possible to evaluate their reactivity. Here, Allergy Consultation at the Institut Pasteur Medical Center. Copyright: William Beaucardet / Institut Pasteur.
Cypress pollen and citrus fruits
Cross-reactivity between cypress pollen and peaches/citrus fruits explained
Some people who have been exposed and sensitized to cypress pollen from a young age go on to develop allergies to citrus fruits and peaches in adulthood. Why is this? An international study coordinated by Pascal Poncet from the Institut Pasteur's Center for Innovation and Technological Research* recently shed light on this "cross-reactivity" by identifying a number of similarities between an allergenic molecule (allergen) in cypress pollen, an allergen in peaches and an allergen in oranges. All three belong to a new family of respiratory and food allergens that can induce severe symptoms in allergic patients. "Once an individual's immune system develops an intolerance to the cypress pollen allergen, it is therefore much more sensitive to these other allergens from the same family which are found in peaches and oranges," explains Pascal Poncet. "These newly characterized allergens could now be included in the battery of tests available to allergy sufferers, thereby improving allergy diagnosis."
*The study was conducted in collaboration with AP-HP (Armand Trousseau Hospital), teams from the University of Chemistry and Technology, Prague (Czech Republic), Hokkaido University (Japan) and the Pneumo-Allergy Unit at La Timone Hospital in Marseille (AP-HM).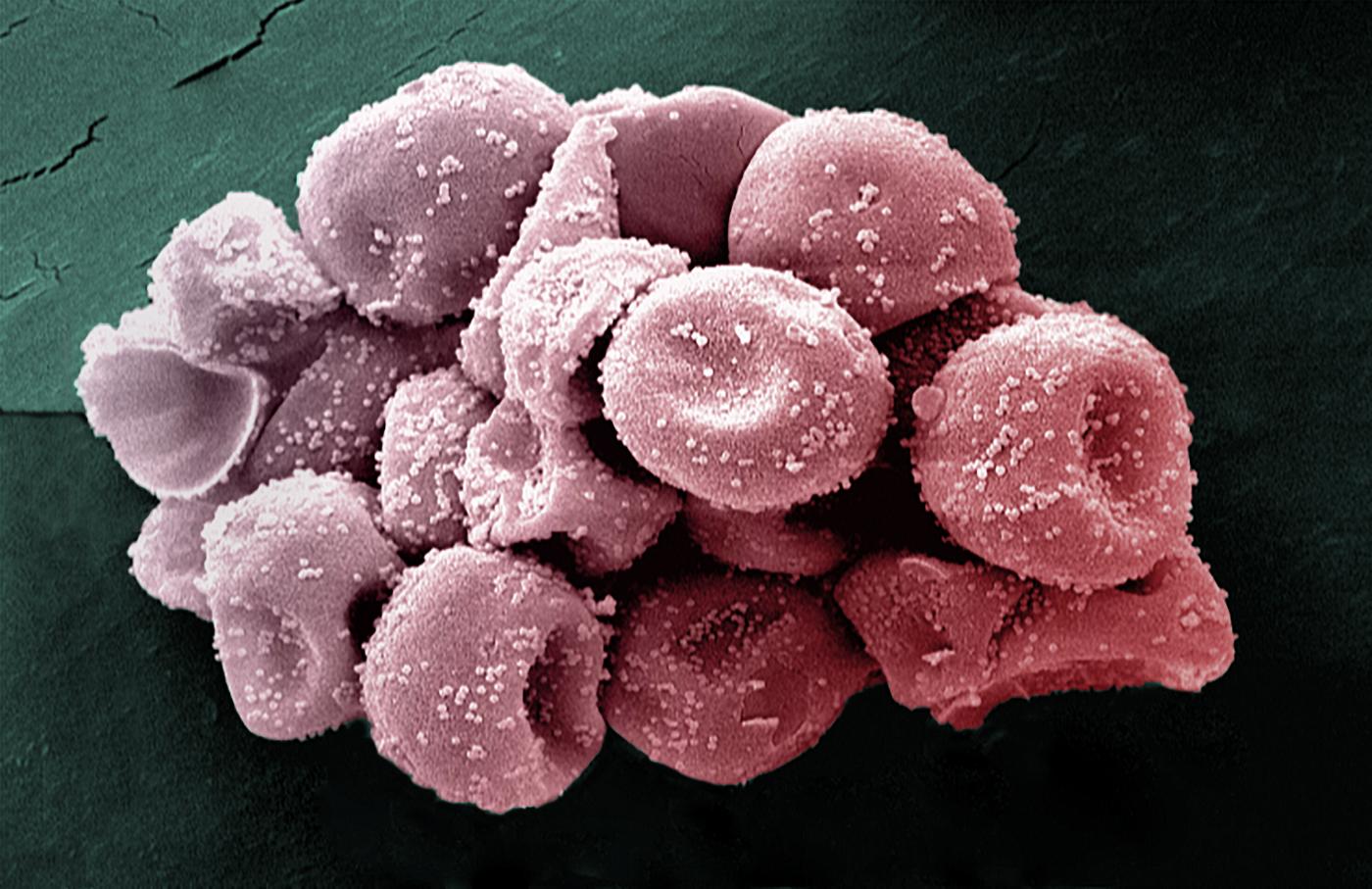 Cypress pollen grains observed by scanning microscopy. ©Youcef Shahali / Colorisation Jean-Marc Panaud, Institut Pasteur.
Allergy and gut flora
The microbiota trail
The team led by Gérard Eberl, Head of the Microenvironment and Immunity Unit at the Institut Pasteur, specializes in research on interactions between our immune system and our microbiota – the hundred thousand billion microbes contained in our body, especially in our gut (the "gut flora"), which live in symbiosis with us. "We have shown how some bacteria in the microbiota specifically block the immune responses involved in allergic reactions," explains the scientist. "So an imbalance in the diversity of an individual's microbiota could encourage allergic responses. This represents an interesting therapeutic avenue to be explored, by mimicking the action of these specific bacteria." Imitating the "anti-allergy" effect of our "friendly" bacteria is another promising strategy for tackling allergies in the future.
Increasing prevalence of allergies
From the hygiene hypothesis to global warming
Laboratory research to develop a detailed understanding of the mechanisms involved in allergies and explore ways of blocking them is raising hopes for future improvements in allergy diagnosis and treatment. And there is a pressing need for progress in this field, since the prevalence and severity of these conditions has risen dramatically in industrialized countries over the past 30 years.
Several theories have been proposed to explain this trend. The "hygiene hypothesis" suggests that progress in hygiene is to blame – despite having improved life expectancy by dramatically reducing the number of deaths from infectious diseases. According to this theory, since our immune system is less exposed to microbes, it finds itself with "nothing to do" and begins to react against the wrong targets, namely allergens. Epidemiological studies seem to back up this hypothesis, for example indicating a lower frequency of allergies in individuals who have had repeated respiratory infections in childhood, or in children living on farms and coming into frequent contact with animals and therefore microbes. Atmospheric pollution, especially ozone and diesel particles (which increase the allergenicity of pollen grains by altering their surface), is also thought to be partly responsible for the rise in frequency and severity of respiratory allergies – as is climate change, which has extended the pollination period and led to changes in the production areas for allergenic pollens. Lifestyle factors also play a part, from passive smoking in children to antibiotic consumption, diet… and even the fashionable craze for ornamental cypresses and birches far from their natural habitat.  
Allergies are an inappropriate response to an imaginary microbe
Orchard grass pollen. Grass allergy factor. Colorized image. © Institut Pasteur
Asian hornet
What are the dangers for humans?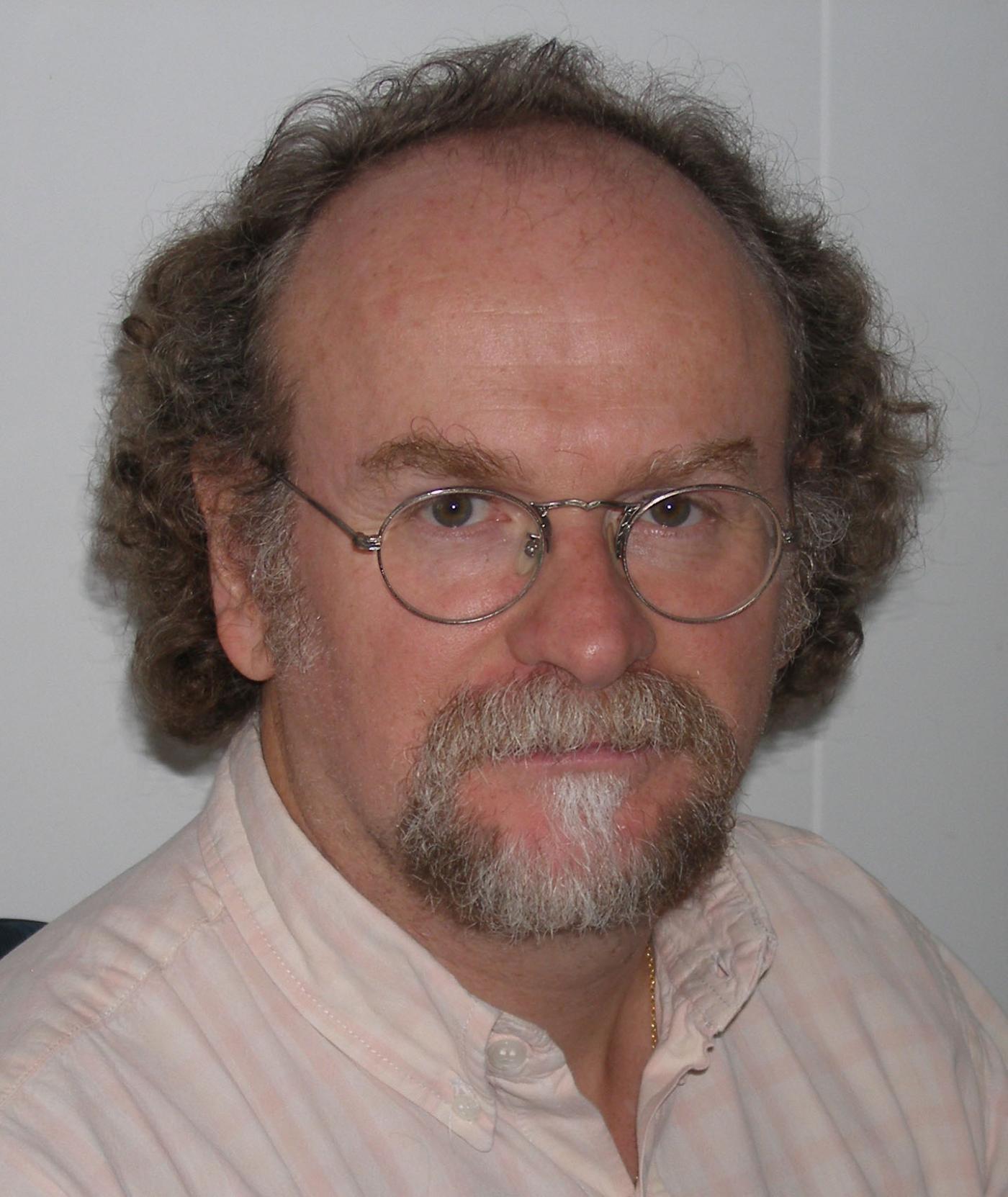 We are currently conducting a study on serum collected from people who have suffered anaphylactic shock after being stung by an Asian hornet, which is sent to us by laboratories and hospitals in southwestern France, where the insect is most widespread.
Pascal PoncetMolecular allergology specialist in the Institut Pasteur's Center for Innovation and Technological Research.
Introduced into France in 2004 via bonsais imported from China, the Asian hornet is currently found in three-quarters of mainland France. It is seen as an invasive species because it attacks hives and kills bees. But do we know how dangerous these hornets are for humans? "We are currently conducting a study on serum collected from people who have suffered anaphylactic shock after being stung by an Asian hornet, which is sent to us by laboratories and hospitals in southwestern France, where the insect is most widespread," explains Pascal Poncet, a molecular allergology specialist in the Institut Pasteur's Center for Innovation and Technological Research. "We want to know more about the impact of the allergens in Asian hornet venom and the immune response (IgE and IgG) in allergic patients, bearing in mind that venom from hymenopterans (European hornets, bees and wasps) contains around twenty different identified allergens. We already know that this venom is highly dangerous for those with an allergy to European hornets, those who suffer from severe reactions such as anaphylactic shock caused in particular by allergens that are common to several hymenoptera species. As well as causing allergies, studies have also shown that Asian hornet venom contains more neurotoxins and toxins that interfere with blood coagulation than the venom of other hymenopterans." So it looks like bees are not the only ones that need to be on their guard for this new pest!
Innate lymphoid cells or ILCs
ILCs, key cells under the microscope
At the Institut Pasteur, the group led by Rachel Golub in the Lymphopoiesis Unit directed by Ana Cumano specializes in research on innate lymphoid cells or ILCs, immune cells that are part of the body's first-line defense mechanism and were discovered just a few years ago. These cells, mainly found in the body's mucosal tissues (in the lungs, gut, skin, etc.), react to distress molecules, aptly known as "alarmins", which are produced when a tissue is damaged. ILCs can then respond, for example by secreting substances to "repair" the tissue. Produced in the bone marrow, ILCs pass into the bloodstream and then migrate to tissues. In the event of an allergy, their migratory capabilities appear to change. "We are launching a study to investigate this phenomenon with respect to food allergies, especially in infants, where the impact of innate immunity is strongest. We hope to identify blood markers that can be used to diagnose allergies at an early stage and indicate their prognosis, for example whether there is a risk of escalation to a severe reaction," explains Rachel Golub. "We are working in collaboration with Créteil Intercommunal Hospital to obtain blood samples from young patients aged from 6 weeks to 6 years old with milk allergies," says Sylvain Meunier, a post-doctoral fellow working on this study. The scientists will establish a "profile" for each ILC in the patients' blood – all the proteins it produces and the substances it secretes –, and compare it with the profile of ILC from "control" patients.
"Sylvain will have to be ready to leap into action as soon as we receive a sample because ILCs are very fragile cells – they can't be conserved and have to be analyzed within 24 hours!" adds Rachel Golub. The results are expected in the next few months.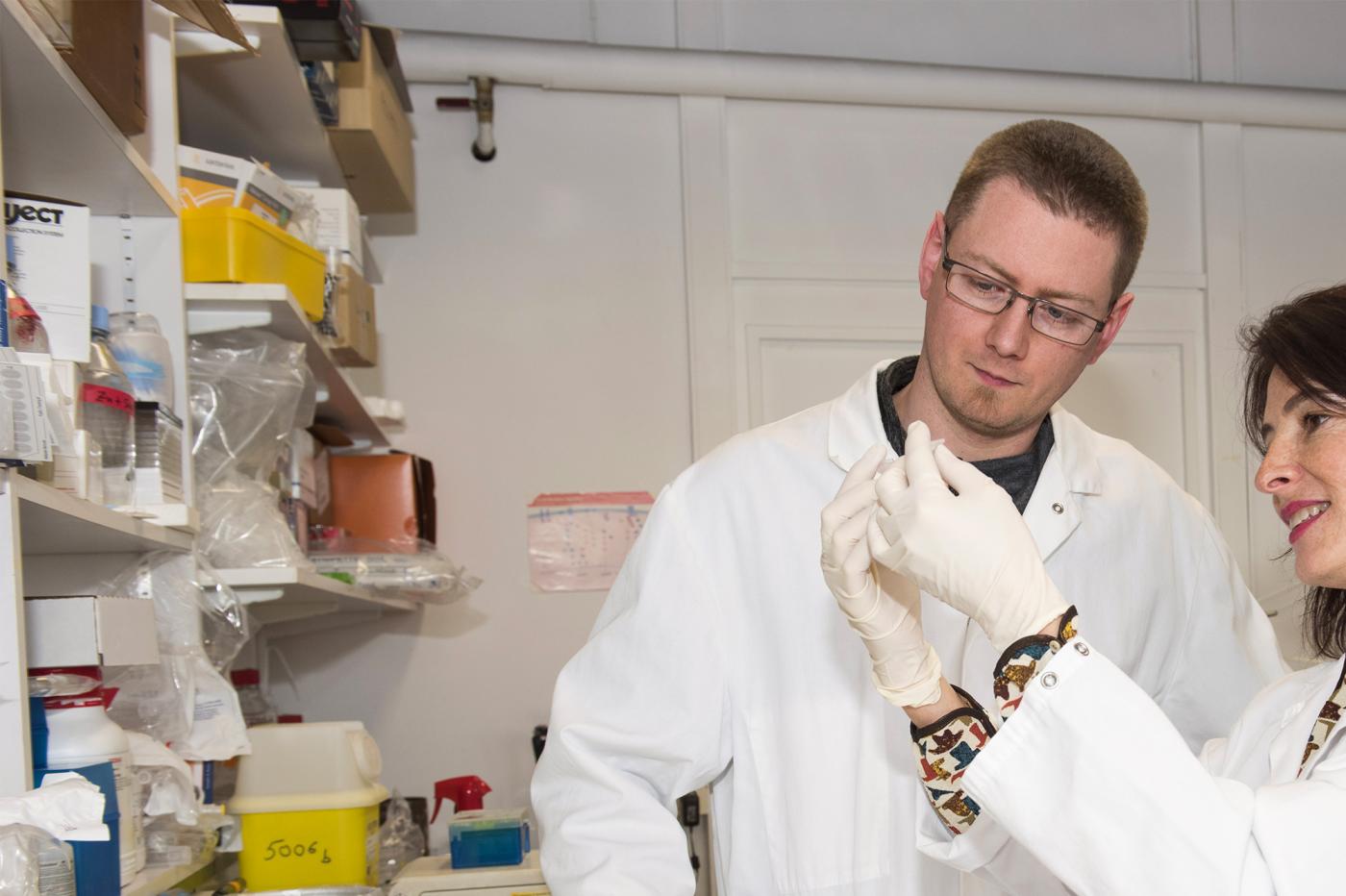 Sylvain Meunier and Rachel Golub, Lymphopoiesis Unit directed by Ana Cumano, at the Institut Pasteur. Copyright: Institut Pasteur.