The Institut Pasteur is addressing the major scientific and health issues facing the world today
Credit : Institut Pasteur, François Gardy
In a world of unprecedented development, the Institut Pasteur needs to make every effort to adapt to the new realities of society and to take advantage of all the possibilities presented by the digital era. It has a responsibility to do so in its capacity as one of the world's leading institutes for scientific research in the area of human health. This is the aim of its Strategic Plan.
Our ambition is to give new impetus to basic research and to increase our impact on health challenges
To detect, prevent and cure diseases, it is vital to understand the incredibly complex dynamics of living systems. Technological progress, the ability to analyze vast quantities of data, advances in imaging quality and the use of conceptual approaches are all contributing to an integrative biology that encompasses every scientific discipline.
Nowadays, alongside the traditional scientific approach, which involves conducting experiments to shed light on specific questions, basic research is able to produce, test and apply scientific hypotheses without any preconceptions.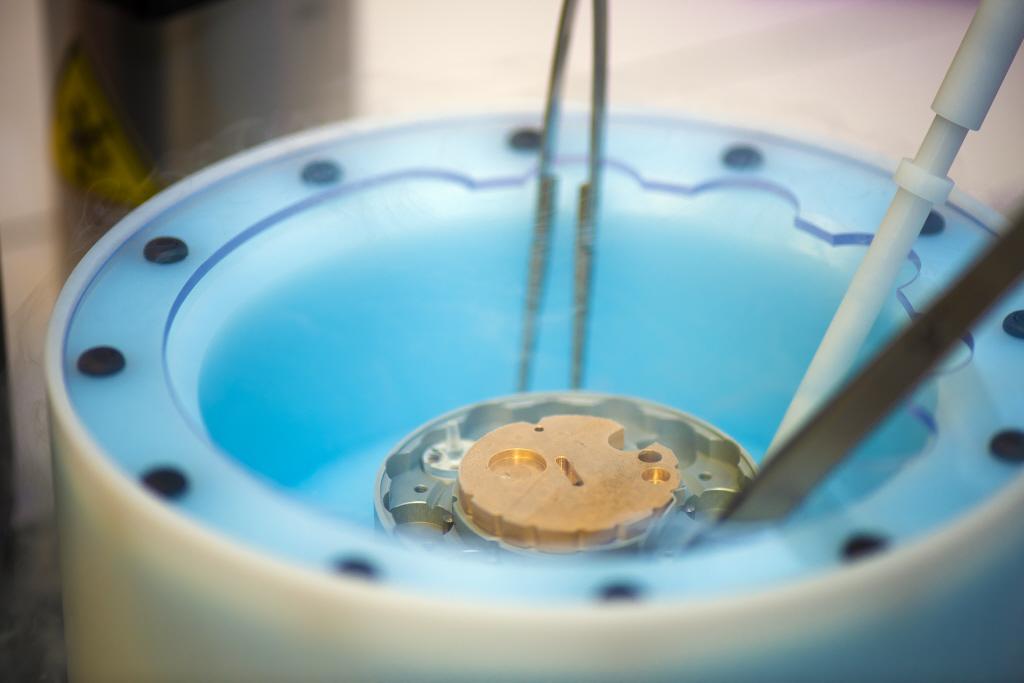 Sample preparation using cryogenic techniques before observation and analysis with Titan KriosTM microscope at the Institut Pasteur. Credit : Institut Pasteur
We are positioning ourselves to achieve our ambition by investing in all aspects of scientific research
The Institut Pasteur is committed to maintaining the quality of its own resources by constantly updating its technological infrastructure, as demonstrated by the recent installation of equipment for high-throughput sequencing, single-cell analysis and high-resolution cryo-electron microscopy. We have also strengthened our expertise by recruiting many bioinformatics engineers, computer scientists and statisticians and significantly boosting our data processing and storage capabilities.
When it comes to relations with external partners, the Institut Pasteur plays a key role within the French scientific landscape, where it works closely with various institutions, including the CNRS, Inserm, Inra, a number of hospitals in the Paris Public Hospital Network (AP-HP), universities (including Paris Descartes and Paris Diderot), Cnam, Inria, the Ecole Polytechnique, the Military Health Department (SSA), the ENS, the Institut Curie, the CEA and the ESCPI. The Institut Pasteur also enjoys a strong international presence through the Institut Pasteur International Network and partnerships with various research institutes abroad.
To give us the best chance of discovering new therapeutic approaches, our research programs are interdisciplinary and interconnected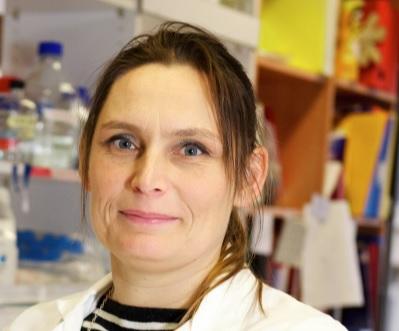 Cancer is one of the areas of major research of the Institut Pasteur.
Sandrine Etienne-MannevilleHead of the Cell Polarity, Migration and Cancer Unit
The research activities carried out by the Institut Pasteur's 134 units stem from a wide range of interconnected fields including microbiology, immunology, genomics, structural and cell biology, developmental and stem cell biology, neuroscience, chemistry and clinical research. These research fields cover a variety of complementary topics.
Over the coming years, we will pursue our multidisciplinary basic research in life sciences based around the fields which form the foundation of our scientific activities:
molecular biology, to understand the workings of living organisms and the way in which the information encoded in the genome determines cell function. Research programs exploring cell function reveal the disease mechanisms underlying infection, cancer, inflammation, aging and developmental defects;
microbes and hosts, to understand the mechanisms that govern their interactions. The aim is to pave the way for the development of innovative therapeutic and prophylactic* strategies;
cancer, to understand the relations between the immune system and cancer cells. In therapeutic terms, the aim is to develop diagnostic tools and original preventive and therapeutic approaches;
an integrative vision of health and disease (individuals and populations), to understand the emergence of infectious and chronic diseases, taking into account the immense variability observed at the individual level between microbes, cells, humans and populations. This will enable us to predict the emergence of diseases, anticipate their treatment and lay the foundations for precision medicine.
* Preventive treatments.
Three priority scientific areas
1 - Emerging infectious diseases
Tackling diseases which know no borders
Emerging infectious diseases are increasing at an alarming rate at global level, claiming 10 million lives every year. In the developing world, they account for 90% of avoidable mortality. In our increasingly globalized world, emerging infectious diseases respect no borders, causing economic disruption and immeasurable suffering. The impact of human activities on the environment and climate change will continue to drive the emergence of new pandemic threats.
Ever since its very early days, the Institut Pasteur has been committed to tackling emerging infections, and its work has left an extraordinary legacy. Many of these diseases are zoonoses, in which a zoonotic (animal) pathogen has crossed the species barrier to cause disease in humans. We focus on the disease mechanisms of pandemic and (re)emerging viruses (HIV, HCV, influenza, chikungunya, dengue, Zika and hemorrhagic fever viruses, etc.), bacteria (Neisseria meningitidis, Salmonella spp., Vibrio cholerae, Leptospira and, more recently, Yersinia pestis, etc.) and parasites (Plasmodium falciparum, P. vivax, Leishmania, Trypanosoma, etc.). Research on insects and other vectors is also a priority area for investigation.
We will continue to apply novel approaches such as modeling and artificial intelligence to study and predict pathogen structure and function, establish diagnoses, identify therapeutic and immunological targets, and anticipate infection outcomes.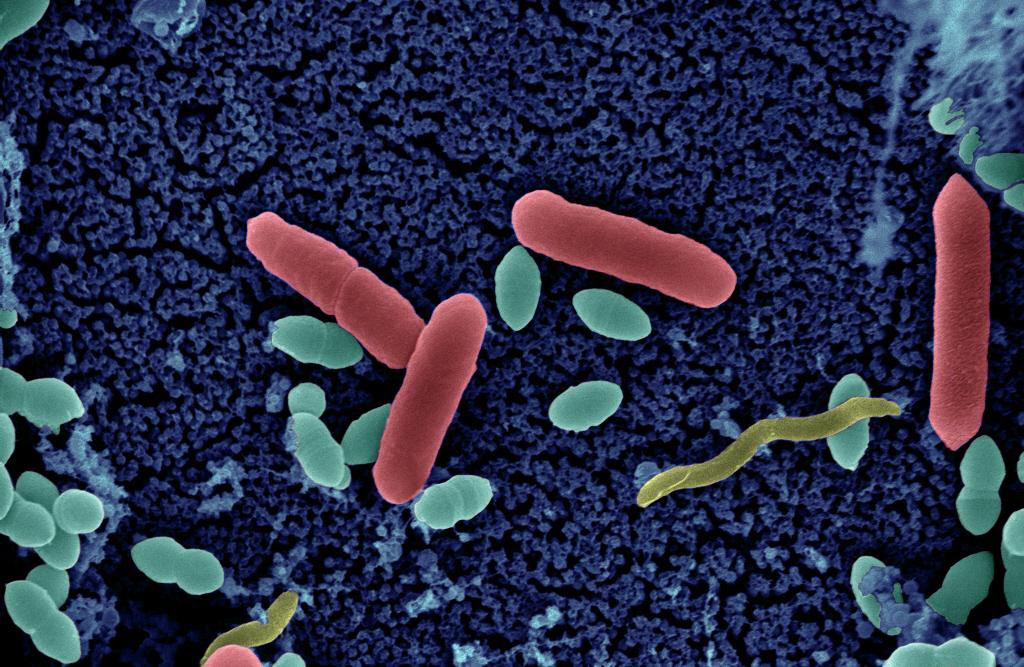 Adhesion of Salmonella typhimurium (in red) on the intestinal epithelium. Credits : Institut Pasteur
2 - Antimicrobial resistance
Are we heading towards a post-antibiotic era, where common infections once again become life threatening?
Antibiotics are drugs used to treat and prevent bacterial infections. Resistance occurs when bacteria evolve in response to the use of these drugs.
It is the bacteria – not humans or animals – that become resistant, causing infections in humans and animals that are harder to treat than those triggered by non-resistant bacteria.
The global rise in antimicrobial resistance raises the possibility of a world where common infections once again become life threatening. This dire prediction has raised awareness at the highest levels, including the United Nations and the G20. The need for more effective treatments is not restricted to bacteria; it concerns all microorganisms (viruses, fungi and parasites) and their vectors. Challenges include the emergence of resistance of the malaria parasite Plasmodium falciparum to artemisinin, the most effective known treatment, and mosquitoes' ability to change their behavior to counter insecticides.
Over the period 2019-2023, we will step up our research on antimicrobial resistance by incorporating clinical and field data within molecular, genetic and physiological approaches. We will implement antimicrobial discovery programs in conjunction with interested partner institutes. Our aims are to improve understanding of resistance by combining approaches involving epidemiology, genomics, statistics and modeling to identify factors contributing to the spread of resistant strains; to analyze the physiology, ecology and evolution of microorganisms; and to identify new drugs and therapeutic strategies in response to antimicrobial resistance. In the long term, we will develop novel vaccines and immunotherapies to target microbes and resistant strains.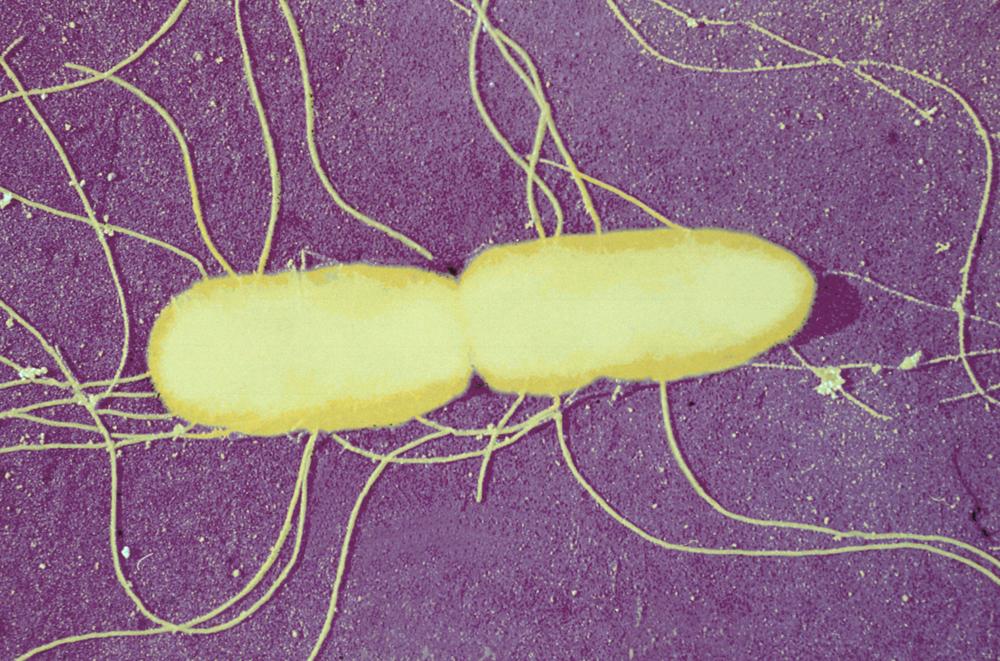 Salmonella typhimurium
with peritrichous flagella. Bacterial species causing foodborne illness. Colorized image. Credit : Institut Pasteur
3 - Brain connectivity and neurodegenerative diseases
Strengthening research in the field of neuroscience
Mental and neurological disorders affect every generation and place a considerable strain on the lives of patients and their families. They also represent a significant economic burden. At the Institut Pasteur, we explore the fields of neuroscience, genetics, cell and developmental biology, immunology, microbiology and infection biology to improve our understanding of the complexity of brain function. Our projects focus on sensory deficits (deafness), neurodevelopmental disorders (autism) and psychiatric disorders (mood disorders and addiction), neurodegenerative diseases (Alzheimer's and Parkinson's diseases) and other neurological conditions (sepsis and neurovascular disorders). Our cell biology research looks at the interneuronal transmission of misfolded proteins and the molecular mechanisms underpinning neurodegeneration. These conditions associated with brain connectivity are the result of damage to the brain's neural network and to links between the brain and other organs.
Over the period 2019-2023, we will boost cooperation between the various teams on campus working on these topics to optimize and improve the visibility of our multidisciplinary approach. We will intensify research programs on molecular biology, the pharmacology of neurodegeneration and connectivity disorders, and the development of new drugs for neurodegenerative diseases, and we will investigate the biology of neural stem cells.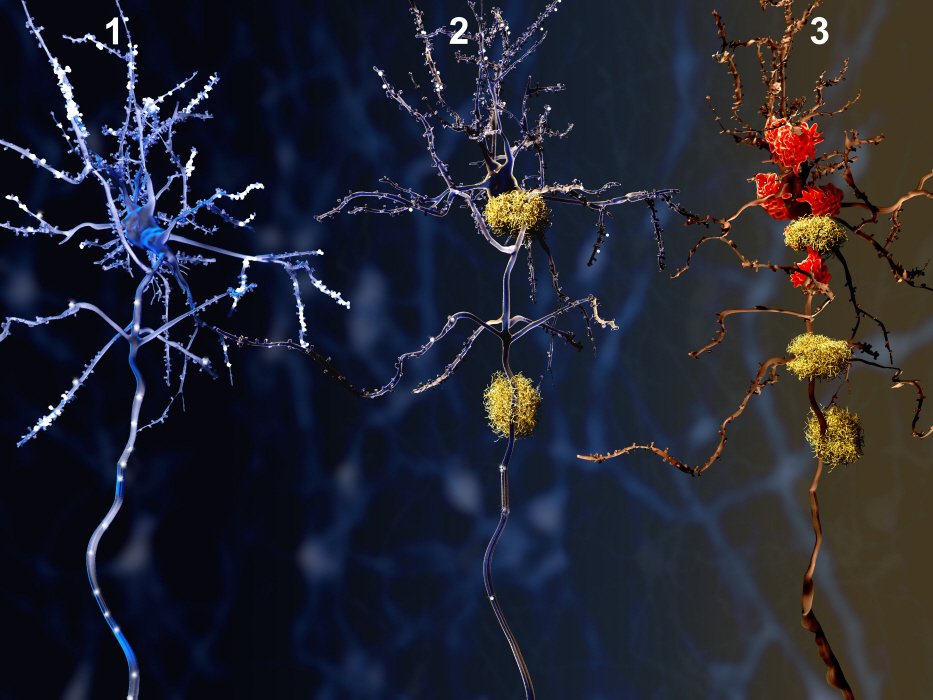 Three phases of Alzheimer's disease. 1. Healthy neuron; 2. Neuron with amyloid plaques (yellow); 3. Dead neuron decomposing. Artistic interpretation. Credits : AdobeStock
7 key scientific objectives
Objective 1 : respond to public health challenges by supporting cross-cutting research topics
The Institut Pasteur effectively leverages its extensive basic research portfolio to address the most pressing global health challenges, frequently finding human health applications for the knowledge acquired in its research units. To optimize our approach, we have identified three research priorities that reflect some of the most alarming public health challenges we are currently facing:
emerging infectious diseases;
antimicrobial resistance;
brain connectivity and neurodegenerative diseases
The interdisciplinary nature of the work carried out at the Institut Pasteur means that our findings may help advance research on other diseases in addition to these specific priority areas.
Objective 2 : provide a favorable technological environment
The Institut Pasteur has set up a Center for Technological Resources and Research (C2RT) for its main technological facilities, with the aim of promoting the sharing of equipment and techniques. Scientists have access to state-of-the-art equipment. We intend to strengthen our expertise in artificial intelligence so that we can analyze and interpret the vast quantities of data generated by our teams and our external partners. Our six priorities for state-of-the-art technological development will enable us to:
perform imaging of living systems, from molecules to organisms
explore the metabolome, a new frontier in understanding biological systems;
expand our capacities for single-cell analysis;
provide an environment for the comprehensive study of vector-borne diseases;
identify novel diagnostic and therapeutic approaches;
enhance data management and collaboration at global level.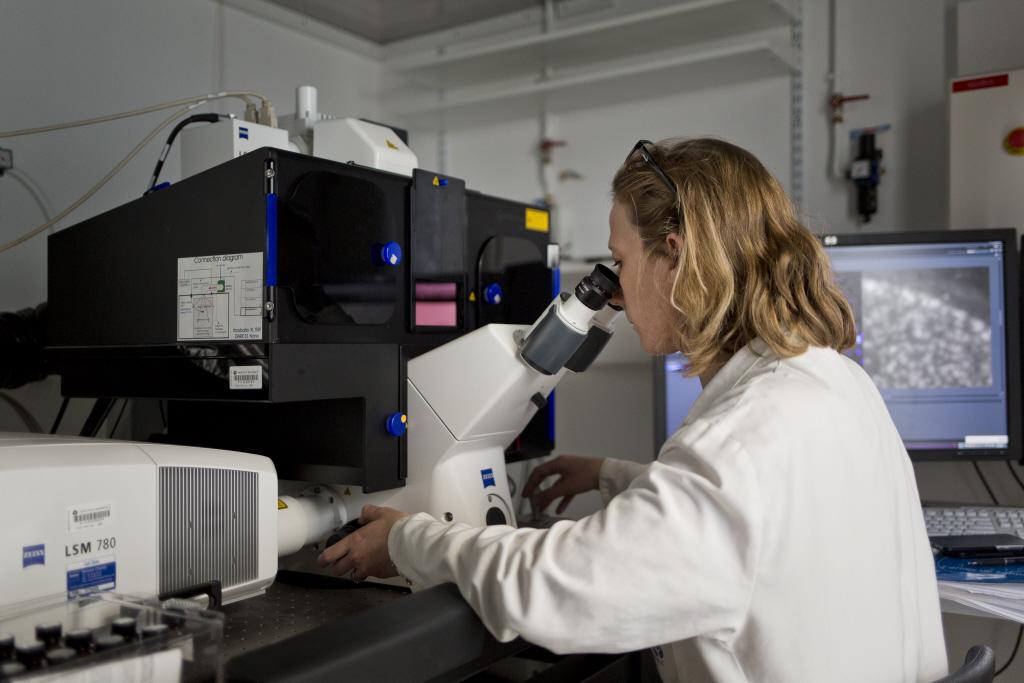 Photonic Bioimaging Plateformau within the Center for Technological Resources and Research (C2RT). Credit : Institut Pasteur/Thomas Lang
Objective 3 : introduce an organizational structure for scientific activities that reflects our priority areas
Our aim is to create a dozen new research units as part of a process of campus development. Half of the new staff will be recruited by open calls for applications to attract younger biomedical researchers and the other half in response to our three scientific priorities. We will also give new responsibilities to some of our permanent scientists by setting up a number of U5s (medium-sized, 5-year units). These new units will continue the process to revitalize research that the Institut Pasteur embarked on with its 2014-2018 Strategic Plan. They will reflect a new approach to the organization of the Institut Pasteur's scientific activities that is inspired by the best international practices.
Objective 4 : develop research applications
Basic research and its applications are two links in the same innovation chain that enable us to respond to the challenges facing public health. Research applications have been a cornerstone of the Institut Pasteur's reputation and success since its early days, and they have also been instrumental in providing funding and supporting research. To encourage the development of new research applications, we will particularly focus on:
early identification and support for potential innovation;
contributing to funding;
boosting the creation of start-up companies.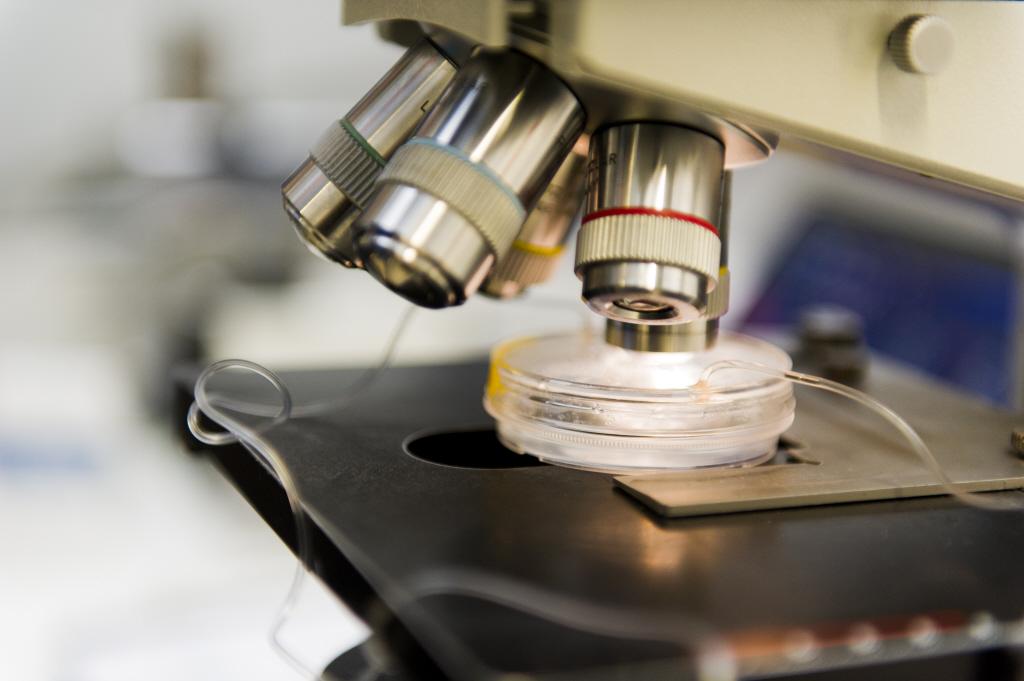 The "Pasteur Tech Lab" of the Citech (Center for Innovation and Technological Research) intended to host innovative technological R&D projects, inaugurated in 2016. Credits : Institut Pasteur
Objective 5 : increase the impact of research on health
Public health is one of the Institut Pasteur's primary missions. Basic and biomedical scientific research are closely linked and mutually enriching. The excellence which characterizes the Institut Pasteur applies not only to the "basic" research it carries out, but also to the vital biomedical dimension of its activities. Current biomedical activities include monitoring and epidemiological research, as well as translational and clinical research, for example the development of new diagnostic tests, vaccines and innovative therapies. The Institut Pasteur will only be in a position to ask the right scientific questions based on medical observations, to reap the full scientific and medical benefits of its research, to take part in major collaborative projects with a biomedical dimension at national, European and international level, to foster fruitful relations with major global pharmaceutical laboratories, and finally to benefit from ad hoc funding in this area if the biomedical research carried out at the Institut Pasteur and in the International Network is seen as a spearhead of its activities.
Objective 6 : develop teaching programs in line with scientific priorities
Since the first microbiology course taught by Émile Roux in 1889, the Institut Pasteur has played a key role in teaching life sciences at international level. In recent years, the Institut Pasteur has expanded the range of courses it offers. It will continue these efforts, in line with the scientific priorities identified in its strategy.
In partnership with the main universities in the Greater Paris region in life sciences and public health, the Institut Pasteur will continue to develop opportunities for training through research and will pursue the development of online training, especially by producing and redistributing MOOCs. The Institut Pasteur will focus on programs to recruit outstanding students for its research units.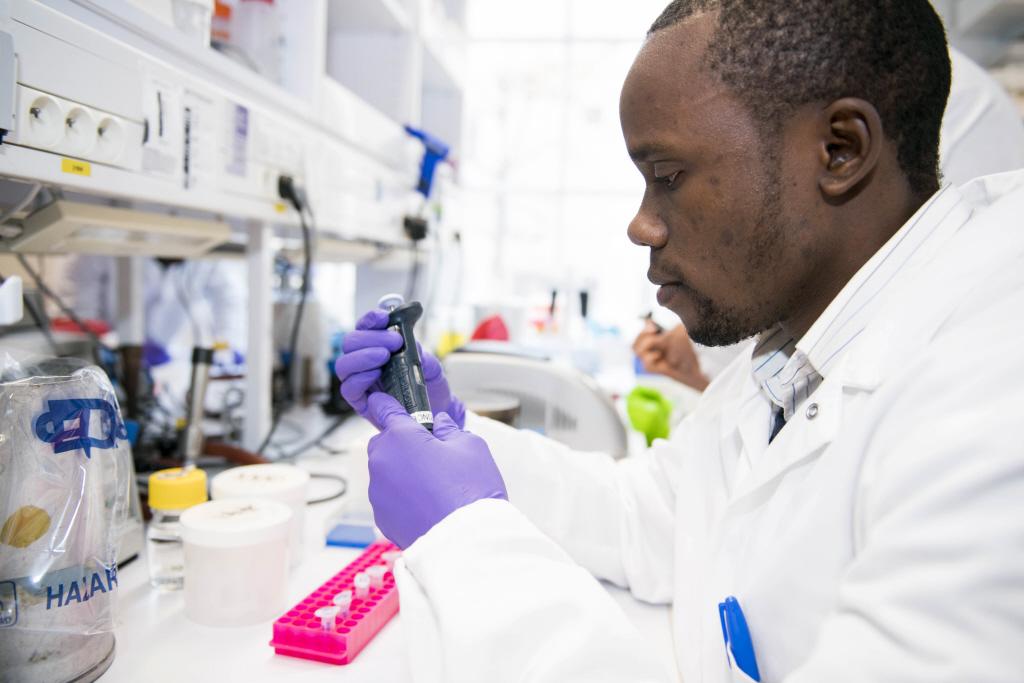 Workshops during the course "
Neisseria meningitidis
- identification and typing" in February 2018. Credits : Institut Pasteur
Objective 7 : strengthen national partnerships to boost the Institut Pasteur's scientific excellence
France is one of the world's leading scientific powers. Its wide-ranging higher education and research ecosystem makes it highly competitive. The partnerships developed by the Institut Pasteur with French research institutions bolster its research projects and contribute to its scientific excellence. But the changing landscape of higher education and research is forcing the Institut Pasteur to adapt its collaborative approach so as to consolidate these partnerships.
The Institut Pasteur will pursue the INCEPTION project (Convergence Institute for the emergence of pathologies through individuals and populations), which aims to address the public health challenges associated with infectious diseases; it will make more extensive use of the technological research capabilities offered by Bioaster to facilitate the transfer of its scientific advances to industry; it will work more closely with the laboratories in the CNRS Institute for Humanities and Social Sciences (INSHS); it will increase scientific dialog with several prestigious research institutes including Inserm, the CNRS and the CEA; it will make use of the resources of competitiveness clusters such as Medicen; and it will play a more active role in the French National Alliance for Life Sciences and Health (Aviesan), a grouping of the country's main stakeholders in life and health sciences.
Research funding
Using advocacy initiatives to boost research funding
Public funding of research laboratories is an essential driver for scientific excellence at the Institut Pasteur. France still occupies a leading position on the global stage in terms of research funding, but its leadership is facing stiff competition. It is therefore important for the Institut Pasteur to make every effort to sustain research funding at a high level. This is a guarantee of scientific excellence and economic competitiveness for any country. Financial support for basic research is becoming increasingly fragile, despite its major role in facilitating discovery and enabling groundbreaking technologies.
Drivers for the strategy
Maintaining the Institut Pasteur's competitiveness alongside the leading international institutions for biomedical research
The Strategic Plan is designed to maintain the Institut Pasteur's position at international level on a par with institutes such as The Rockefeller University and the Weizmann Institute. The "cement" underpinning the Strategic Plan, its priority areas and its material resources can be summed up in four drivers that will provide a coherent basis for the Institut Pasteur to achieve its ambitions.
Strengthen the Institut Pasteur International Network and implement a proactive policy of international partnerships.
Promote creativity and openness to society.
Work more effectively together and empower each individual so as to create an attractive, collaborative working environment.
Develop financial resources to strengthen the Institut Pasteur and ensure its long-term sustainability.