Autoinflammatory diseases, like autoimmune diseases, are disorders caused by immune system dysfunction. They develop into chronic inflammatory diseases. Institut Pasteur scientists have observed that a natural sugar in the yeast cell wall may reduce excessive inflammation in some of these conditions, and could therefore be used as a treatment.
Antibodies that attack the normal constituents of the body, known as autoantibodies, can cause auto-immunes diseases. Some autoimmune conditions that do not involve autoantibodies are referred to instead as "autoinflammatory" diseases. In these cases, immune cells that form part of the body's first line of defense (such as neutrophils, macrophages, monocytes and NK lymphocytes, or natural killer cells) trigger a chronic inflammation by themselves, leading to the destruction of some tissues.
The role of the inflammasome and IL-1β in autoinflammatory diseases

Some autoinflammatory diseases are associated with the activation of the inflammasome, a protein complex that plays a role in innate immunity, and especially the secretion of IL-1β, a cytokine linked with inflammation. 
One such disease is cryopyrin-associated periodic syndrome (CAPS), a group of autoinflammatory disorders characterized by recurrent episodes of fever or feverishness and systemic inflammatory manifestations (myalgia, conjunctivitis, etc.) without infection (source: Orphanet). "In patients with CAPS, "gain-of-function" mutations in the inflammasome lead to increased secretion of IL-1β and dysregulated inflammation," explains Jessica Quintin, Head of the Immunology of Fungal Infections Unit at the Institut Pasteur. Available treatments for this syndrome currently directly target the IL-1β protein, but they do not address the dysregulation upstream. 
β-glucan reduces oversecretion of IL-1β

A natural sugar in the yeast cell wall, known as β-glucan, helps induce the innate immune memory when it comes into contact with immune cells. This leads to the modification of immune cells such as macrophages. Previous studies have demonstrated that the innate immune memory induced by β-glucan confers protection against secondary microbial infections. 
Scientists from the Institut Pasteur, East Tennessee State University and the Paris Public Hospital Network (AP-HP) set out to investigate the impact of β-glucan on autoinflammatory diseases. "In our study, we observed that inflammasome activation and the resulting IL-1β production were reduced in macrophages exposed to β-glucan. β-glucan reduced upstream inflammatory signaling of the inflammasome," explains Jessica Quintin. The memory induced by -glucan is also effective in patients with CAPS, reducing inflammasome activation in macrophages and the oversecretion of IL-1β.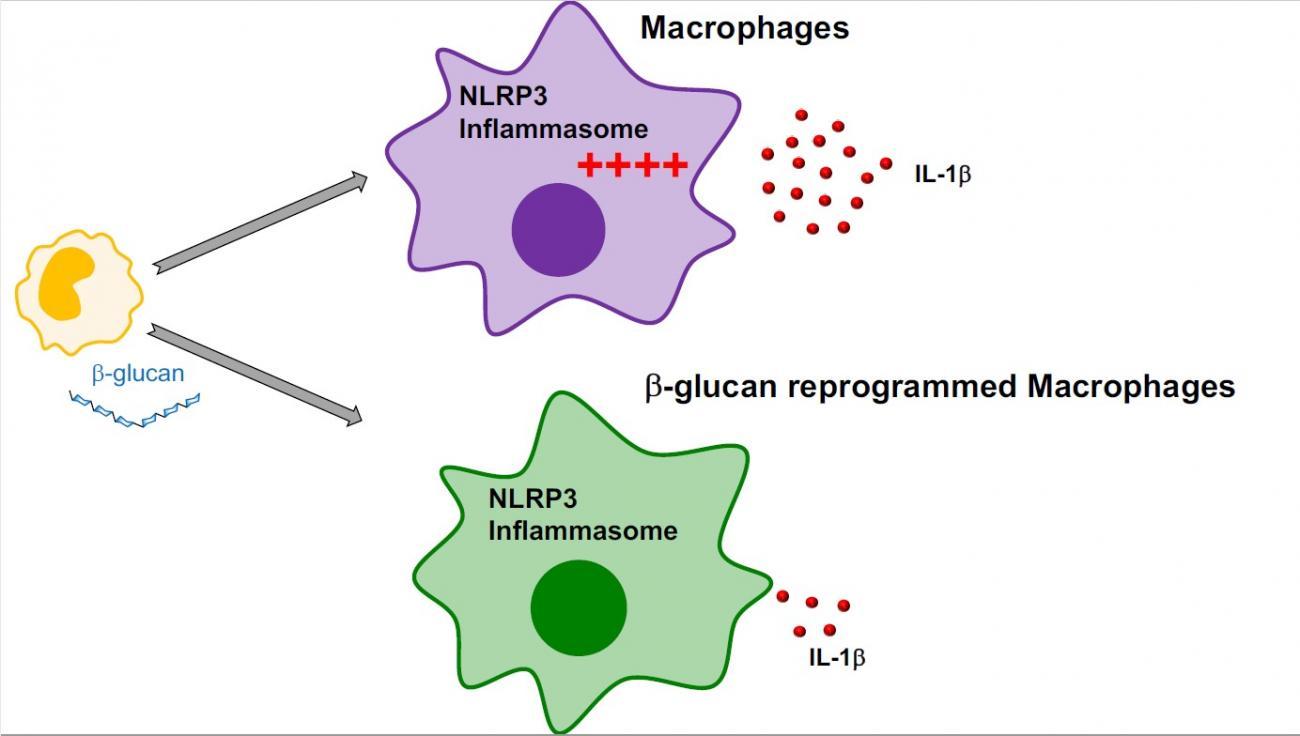 β-glucan reprograms macrophages by reducing upstream inflammatory signaling of the NLRP3 inflammasome, thereby lowering the production of IL-1β.  Credit: Institut Pasteur, Jessica Quintin
These results show that the innate immune memory induced by β-glucan prevents oversecretion of IL-1β and that β-glucan could potentially have clinical applications in inflammasome-related diseases like CAPS.
---
Source :
β-Glucan–induced reprogramming of human macrophages inhibits NLRP3 inflammasome activation in cryopyrinopathies The Journal of Clinical Investigation, 27 July 2020
Giorgio Camilli1 , Mathieu Bohm1 , Alícia Corbellini Piffer1,2 , Rachel Lavenir1 , David L. Williams3 , Benedicte Neven4 , Gilles Grateau5 , Sophie Georgin-Lavialle5 , and Jessica Quintin1
1Immunology of Fungal Infections, Department of Mycology, Institut Pasteur, Paris, France.
2Instituto de Microbiologia Paulo de Góes (IMPG), Universidade Federal do Rio de Janeiro, Rio de Janeiro, Brazil.
3Department of Surgery, Center of Excellence in Inflammation, Infectious Disease and Immunity, James H. Quillen College of Medicine, East Tennessee State University, Johnson City, Tennessee, USA.
4Pediatric Hematology-Immunology and Rheumatology Department, Necker-Enfants Malades Hospital, Assistance Publique – Hôpitaux de Paris (APHP), Paris, France.