Specific training to design and perform surgical procedures on rodents
This course involves a 3 day-training which is compulsory for scientists implementing surgical procedures. This is appropriate to train for surgical procedures on rodents (mice and rats). It has been approved by the Ministry of agriculture (Approval reference: R-75Institut Pasteur-CHIR-18).
Practical information
2020 summer session (english) : from 22/6/2020 to 24/6/2020

Closure date for application: May 15, 2020
The 3-day course program is based on the "Arrêté du 1er février 2013 relatif à l'acquisition et à la validation des compétences des personnels des établissements utilisateurs, éleveurs et fournisseurs d'animaux utilisés à des fins scientifiques". It includes theoretical and practical trainings that cover the following topics: Regulation, Design of surgical procedures, Human endpoints adapted to experimental procedures, Pre- Per- Post operative care, Anesthesia, Analgesia, Asepsis, Demonstration on machines used in surgery rooms, Surgical instruments and sutures. The course includes lectures from experts in the field, and practice of basic techniques involved in surgical procedures on laboratory animals.
The course is approved by the Ministry of Agriculture (Approval reference: R-75Institut Pasteur-CHIR-18)
2 sessions per year (one in Winter and one in Spring/Summer).
We select 12 candidates for each session.
At the end of each session, all participants will be evaluated and a graduation certificate is given to those who follow the entire course and have successfully completed the exam.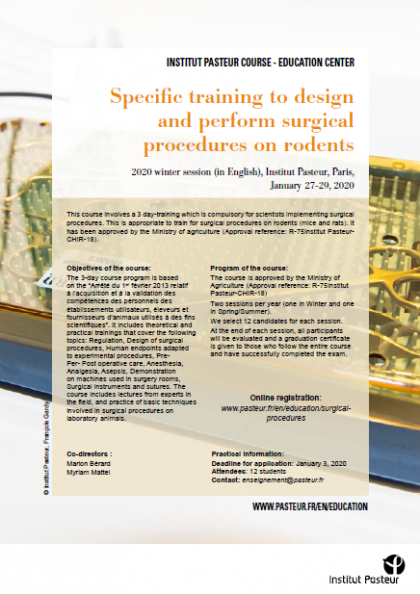 More informations
Director(s)
Marion BERARD
Animalerie centrale
Institut Pasteur
Myriam MATTEI
Animalerie centrale
Institut Pasteur
Members of the Course committee
M. Berard (Institut Pasteur)
C. Boursaux-Eude (Institut Pasteur)
M. Mattei (Institut Pasteur)
S. Malot (Institut Pasteur)
V. Ponticelli (Institut Pasteur)
E. Porte (Institut pasteur)
M. Sala (Institut Pasteur)
H. Waxin (Institut Pasteur)