Bacteria that grow inside cells depend on their host cell for access to nutrients. Scientists from the Cellular Biology of Microbial Infection Unit at the Institut Pasteur have discovered that these bacteria exploit the regulation pathways in the host to adapt its metabolism to their own needs and facilitate their proliferation.
The enzyme transglutaminase 2 is a protein that can be found in most tissues, both in the cytoplasm (the cell's inner environment) and at the cell surface. A dysregulation in its activity can be observed in several diseases, especially in inflammatory conditions. But its role in the classic inflammatory process that occurs during bacterial infection has yet to be thoroughly investigated.
A team from the Institut Pasteur's Cellular Biology of Microbial Infection Unit examined the enzyme's activity in a cell infected by the pathogen Chlamydia trachomatis.
The importance of studying the metabolism when investigating an infection
Chlamydia trachomatis is an intracellular bacterium that mainly develops in the epithelial cells of the genital tract. It is the leading cause of sexually transmitted infection of bacterial origin, and can result in pelvic inflammation and sterility in women.
"We demonstrated that an infection with Chlamydia trachomatis activates the enzyme transglutaminase 2," explains Agathe Subtil, Research Director at the CNRS and Head of Institut Pasteur's Cellular Biology of Microbial Infection Unit. This enzyme modifies a protein that regulates the synthesis of specific sugars. Indeed, the scientists showed that the bacteria capture these sugars, which they need to proliferate.
"Our research not only sheds new light on the metabolic requirements of Chlamydia; it also informs us about the metabolism of non-infected cells," continues Agathe Subtil. The scientists demonstrated that the link between transglutaminase 2 activation and the increased synthesis of these specific sugars also applies to other situations where transglutaminase 2 is activated.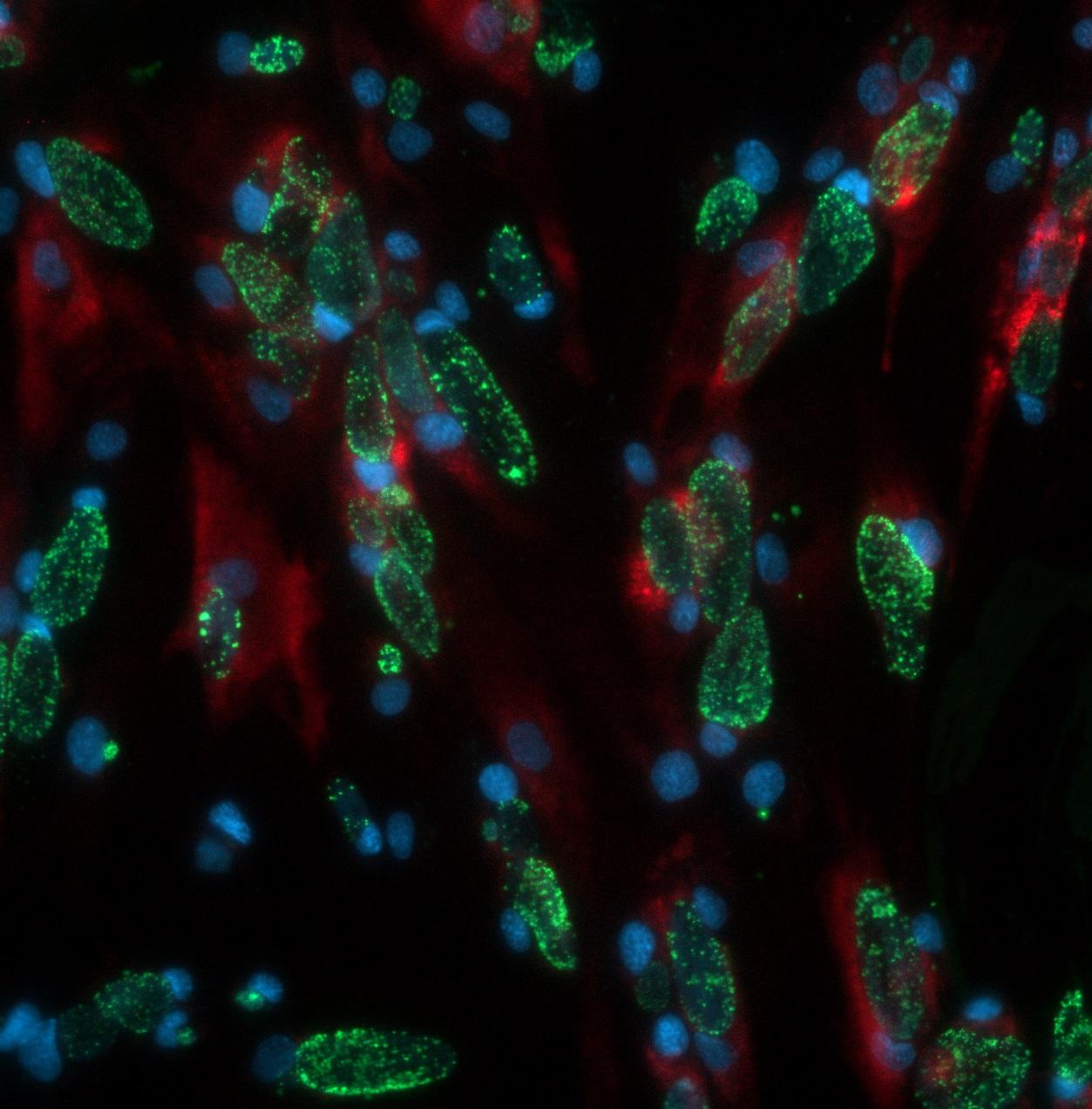 Human cells infected with Chlamydia trachomatis. The nucleus of each cell is colored blue, the bacteria green, the cell surface red. Copyright: Institut Pasteur
"More generally, we believe that investigating the impact of infection on host cell metabolism will help reveal new levels of regulation and could have applications in several disciplines, especially cancer research," explains Agathe Subtil. Indeed, there are similarities between the increased need for resources to support bacterial growth during infection, and to support cell proliferation during tumor progression. "It is reasonable to think that some of the underlying molecular mechanisms are common".
Source
Infection-driven activation of transglutaminase 2 boosts glucose uptake and hexosamine biosynthesis, The Embo Journal, March 5, 2020.
Benoit Maffei1,2, Marc Laverrière1, Yongzheng Wu1, Sébastien Triboulet1, Stéphanie Perrinet1, Magalie Duchateau3, Mariette Matondo3, Robert L. Hollis4, Charlie Gourley4, Jan Rupp5, Jeffrey W. Keillor6 and Agathe Subtil1
1 Unité de Biologie cellulaire de l'infection microbienne, Institut Pasteur, CNRS UMR3691, 75015 Paris, France
2 Sorbonne Université, Collège Doctoral, F-75005 Paris, France
3 Plateforme Protéomique, Unité de Spectrométrie de Masse pour la Biologie, USR 2000 CNRS, Institut Pasteur, Paris, France
4 Nicola Murray Centre for Ovarian Cancer Research, Cancer Research UK Edinburgh Centre, MRC IGMM, University of Edinburgh, Edinburgh, UK
5 Department of Infectious Diseases and Microbiology, University of Lübeck, Lübeck, Germany
6 Department of Chemistry and Biomolecular Sciences, University of Ottawa, Canada