The LuLISA (Luciferase-Linked ImmunoSorbent Assay) research project aims developing high throughput serological tests for epidemiological studies at local, regional or nation scales. In a recent scientific publication, concerning the detection and dosing of IgE specific to several allergens in patients' blood samples, the use of LuLISA proves to be a vastly improved detection method in comparison with the commercially available kits. The LuLISA has also been adapted to detect various human immunoglobulin types targeting SARS-CoV-2 coronavirus proteins, and it is currently being used as one of the reference methods to evaluate the progress of collective immunity in Covid-19 in France, in collaboration with Santé publique France and several hospitals. This project involves scientists from the Institut Pasteur (Dept. of Immunology and Structural Biology and Chemistry), the CNRS (UMR3523) and the Inserm (U1221, U1222 and UMR1043) in the design of an original assay1 related to an ELISA (Enzyme-Linked ImmunoSorbent Assay).
The LuLISA relies on the production of a protein expressed as a tandem of an antibody fragment from lama or alpaca ("nanobodies") which are able to specifically bind a given protein (i.e. patient immunoglobulins for a serological assay, or viral proteins for viral detection) and a shrimp luciferase, an enzyme able to produce light in the presence of its substrate. The amount of light produced (photons per second) is actually proportional to the quantity of lama (or alpaca) antibody bound to its target. Accordingly, a LuLISA assay is able to quantify patient's immunoglobulins, or viral proteins, which have been trapped by their association to their specific target to the bottom of 96/384-well microtiter plates or to beads. Since a LuLISA assay is assessing a light-producing reaction speed, it essentially differs from ELISA assays which relies on the accumulation of a colored or fluorescent reaction product.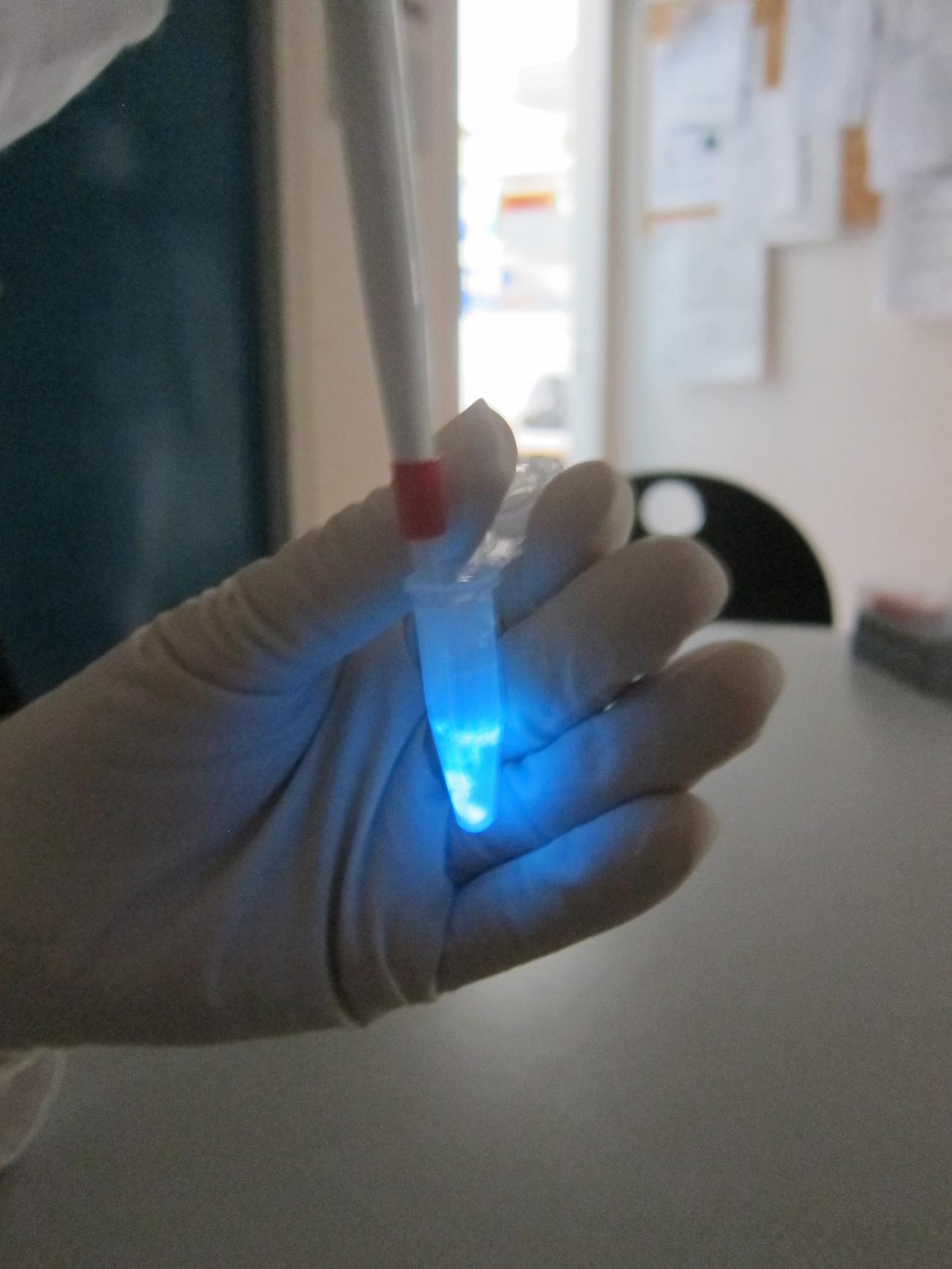 A LuLISA assay is able to quantify patient's immunoglobulins, or viral proteins, which have been trapped by their association to their specific target. Here, in tubes (normal size, milli or micro). Copyright: Institut Pasteur
A serological assay to assess the IgE associated with different allergies
Concerning serological assays, the LuLISA improves 100-1000 fold the sensitivity of detection of available ELISAs. It has a linear range of detection over 4-5 logs of concentration of target proteins, instead of 2 for most ELISAs. The LuLISA can provide routine results in 1 hour and emergency results in 5 min. It can be customized either to automated high throughput activity, using multiple wells plates, or to strip-based manual auto-tests for a consumable cost of few cents of euro per assay.
Dr Laurent Reber, immunologist at the Institut Pasteur (Antibodies in Therapy and Pathology Unit - Immunology Dpt., and Inserm U1222) and at the Centre de Physiopathologie de Toulouse-Purpan (ATIP-Avenir team "Asthma, Allergy & Immunotherapy" Inserm UMR1043) guided the use of LuLISA for the detection and dosing of IgE specific to several allergens in patients' blood samples. This provided a vastly improved detection method in comparison with the commercially available kits based on other techniques1. This tool could be of great help in finding out the causes of an allergy and is reaching a sensitivity level that could make it an alternative to skin-prick assays but devoid of the risks of irritation or over infection inherent to this classic method.
Read the scientific publication, published in May 2020, in Allergy journal
Blue bioluminescence, a biological tool from the abyss
Luciferases are enzymes found in many bioluminescent marine species dwelling at the surface or in oceans' depth (plankton, jellyfish, shrimp or fish). Less frequently, luciferases are found in terrestrial species (firefly, mosquito's larvae or mushrooms). New luciferases are regularly discovered and the light the produce in the presence of their substrate (a luciferin) ranges from blue all the way to red, since the wavelength of the photon emitted can sometimes be tuned by an association with fluorescent proteins. The most efficient luciferases, in terms of photon produced per second, were found in two species of shrimps from the abyss, Gaussia princeps, and more recently Oplophorus gracilirostris. The use of such luciferases is quite generalized in life science research programs but is much less considered for their potential use in diagnostics. Two issues are at the base of this: first, the high cost of luciferins, which are required to produce light, second, the relative fragility of luciferases which tend literally to burn themselves out and/or to lose their catalytic activity by adsorption on container surfaces.
Test specificity from the Andes altiplano
A critical point in the design of a LuLISA assay is the affinity of the antibody, or more generally the protein binder, for the target protein selected for the diagnostic. A large variety of protein binders are usable, but for the current applications single chain antibodies from lama or alpaca were chosen. These rather small antibodies (VHH or nanobody), which are quite unique, are found in camelids and are reduced to a single variable domain of 14 kDa. From DNA libraries of VHH, obtained by immunization of animals with the target protein and followed by a selection process via their expression on the surface of M13 phages. The selection and characterization of the VHH with the highest affinity for the target protein is essential. Indeed, a nanomolar level of affinity will ensure a high assay sensitivity. Two collaborations have been initiated to select such small antibodies. The first one is with the Antibody Engineering Facility at the Institut Pasteur (headed by Dr Pierre Lafaye) to select VHH resulting from alpaca's immunization. The second one is with the Plateforme de Production d'Anticorps Recombinants at the Institut Curie (headed by Dr Frank Perez and Dr Sandrine Moutel, CNRS UMR144) in order to select VHH from a randomly generated synthetic libraries of nanobodies.
Overcoming two main technical obstacles to get a suitable system for public health research
For the last 20 years, Dr Sophie Goyard, molecular biologist in the Lymphocyte Cell Biology Unit (Institut Pasteur Immunology Dpt., Inserm U1221) has been developing bioluminescent proteins suitable for in vitro and in vivo cellular imaging. More recently, she focused on their potential use in diagnostics. By means of site-directed mutagenesis, she improved tenfold the activity of a luciferase and reduced by half its tendency to deactivate by adsorption onto surfaces. This led to a 20-fold improvement of signal over noise ratio in comparison with the commercially available bioluminescence-based reporting systems. This improvement actually overcame the first obstacle toward providing robust bioluminescence-based assays for medical analysis laboratories or point-of-care testing devises for clinics or general practitioners. This two-year long research actually provided the fundamental keys for the design of VHH-based LuLISA assays.
In the last 5 years, Dr Yves Janin and his team at the Institut Pasteur (Medicinal Chemistry group, Chemistry and Biocatalysis Unit, Structural Biology and Chemistry Dept at the Institut Pasteur / and UMR CNRS 3523) have been working on the design of original synthetic routes to coelenterazine, a luciferin of marine origin, in order to lower the production cost of such compounds and reach original analogues potentially leading to improved bioluminescence. This led to the discovery7,8 of a large-scale access to stabilized O-acetylated forms of these luciferase substrates which actually overcame the second obstacle of the LuLISA project. Out of 185 analogues made providing stronger signals, either short lived (flash) or long-lasting (glow), were identified that can be of use for an array of applications requiring specific bioluminescence signals.9 For instance, a compound leading to high intensity signal, even if centered on a blue wavelength (460 nm) will still provide a fraction of light (2-10%) in the red region (580 nm) and thus enough signal intensity to pass through tissue or small animal bodies, which is essential for in vivo imaging. The O-acetylated substrate hikarazine-108 was selected amongst all the analogues for the LuLISA-based diagnostic project, in combination with the enhanced luciferases mentioned above. The recent synthesis of 20 grams of this compound is actually providing enough luciferin for 60 million assays. This inexpensive synthetic access opens the way for the use of bioluminescence-based reporting systems for not only the undergoing large population epidemiological survey but also for a near infinite number of uses requiring substantial amount of luciferin, such as high-throughput screenings, or extensive interactome mapping10..
LuLISA for Covid-19
Initially designed for allergy assessments1, the LuLISA technique was then improved for an array of weak cancer markers detection. More recently, the LuLISA has been adapted to detect various human immunoglobulin types (IgG, IgM, IgA and IgE) targeting SARS-CoV-2 coronavirus proteins (Covid-19). The nucleocapsid and spike proteins of the virus were selected as target of these assays. They were produced by the Production and Purification of Recombinant Proteins Technological Platform directed by Dr Stéphane Pètres from vectors designed by Dr Nicolas Escriou and his group within the 'Innovation lab: vaccines'. These serological assays are currently being used to monitor the progress of collective immunity during Covid-19 in France, by means of cohorts at local, regional or national-scale.
Because of the enhanced performance of the LuLISA assay, less than 1 microliter of blood is needed to detect (for instance) human antibodies specifically targeting the SARS-CoV-2 capsid protein. This allows to determine if a patient is developing an immune response against SARS-CoV-2 infection, usually occurring few days after the onset of symptoms. LuLISA is currently being used at the Institut Pasteur in the National Reference Center for viral respiratory infections (Centre National de Référence des Virus des Infections Respiratoires – page in French) headed by Prof Sylvie van der Werf. The analysis of thousands of blood samples from multiple cohorts is providing insights in the rate of infected persons, who developed immunoglobulins G or M against viral proteins, referring them to various parameters, such as their degree of exposure, age, gender, etc. As requested by the French Public Health Agency (Santé Publique France), repeating such surveys allows monitoring the monthly progression of the pandemic in France and provides an appreciation of the degree of collective immunity.
LuLISA, a high sensitive assay, applicable to many large-scale uses
The LuLISA1 is cost effective and amenable to large-scale uses. It can be adapted to many applications beyond serology-based assays such as other fluids screenings or to detect and quantify a variety of markers not necessarily protein-based, as long as a LuLISA-compatible binder is available. This is essential since the LuLISA is based on the production and purification of a construct associating such binder, a luciferase and all the required tags for purification and quality controls. As mentioned above, the more the affinity of the protein binder for the specific target, the stronger the sensitivity of the assay will be (1pM<Kd<10nM). Signal detection can be achieved with various types of luminometer fitted with avalanche diode, photo-multiplier or EMCCD, as well as cMOS camera. The use of high-quality smartphones cans also be envisaged. The readout can be performed in multiple well plates, in semi-dry media such as strips, in tubes (normal size, milli or micro), or using nano-fluidic technology. Le selection of the luciferin/luciferase pair should be adapted to the technology, the readout format as well as the measurement duration. Calibration is achieved using a concentration scale made of references markers, which ensures reliability especially for diagnostic applications.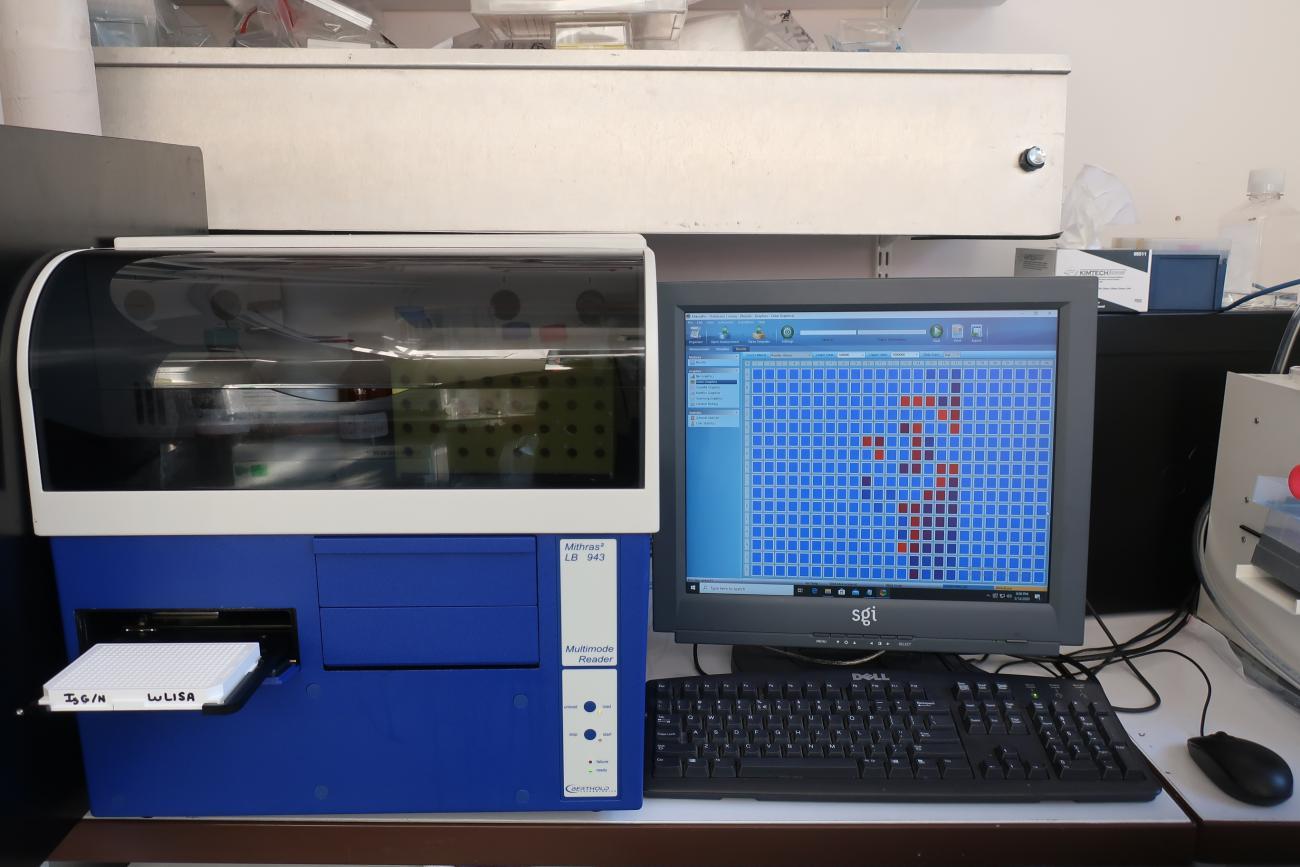 Signal detection can be achieved with various types of luminometer as fitted here with a photomultiplier. Copyright: Institut Pasteur
As stated by Dr Thierry Rose, biochemist at the Institut Pasteur (Lymphocyte Cell Biology Unit in the Immunology Dpt at the Institut Pasteur, Inserm U1221) who coordinated the LuLISA research project: "this is an illustration of the exceptional environment of the Institut Pasteur which gathers in the same place, expertise from an array of very diverse and complementary disciplines and provides the required degree of freedom and internal financial support to bring to fruition elaborated tools useful for public health care systems in the spirit of the Institut Pasteur founding Father". [Louis Pasteur].
This project is being funded by: Agence Nationale de la Recherche2, l'Institut Pasteur3 (and its Direction des applications de la recherche et des relations industrielles), Inserm4, Fondation Roquette pour la Santé, along with public and private5 generosity. It received extensive technical help from Berthold Technologies. A patent owned by the Institut Pasteur, the CNRS and the INSERM claiming the LuLISA technology is pending6.
---
Sources
1. Goyard S, Balbino B, Chinthrajah RS, Lyu S-C, Janin YL, Bruhns P, Poncet P, Galli SJ, Nadeau KC, Reber LL, Rose T. A highly sensitive bioluminescent method for measuring allergen-specific IgE in microliter samples.  Allergy, European Journal of Allergy and Clinical Immunology, 2020 May. DOI:10.1111/all.14365.
2. Grant ANR-11-CRNT-0004, programme Global-Care, Institut Carnot-Pasteur « Maladie Infectieuses »
3. Valoexpress (2016-2018), IARP-Soutien à l'innovation (2019-2020), DARRI, Institut Pasteur
4. INSERM, programme ATIP-Avenir
5. Targeted donation campaign "Coronavirus Emergency" to support research at the Institut Pasteur Paris).
6. Rose, T.; Goyard, S.; Reber, L. L.; Janin, Y. L. Luciferase linked immunosorbent assay. Filing date: 27/04/2020, 2020.
7.Janin, Y. L.; Coutant, E. P.; Hervin, V.; Gagnot, G.; Jacob, Y.; Goyard, S.; Rose, T. Imidazopyrazine derivatives, process for preparation therof and their uses as luciferins. WO 2018197727, 2018.
8. Coutant, E. P.; Goyard, S.; Hervin, V. O.; Gagnot, G.; Baatallah, R.; Rose, T.; Jacob, Y.; Janin, Y. L., Gram-scale synthesis of luciferins derived from coelenterazine and original insights in their bioluminescence properties. Org. Biomol. Chem. 2019, 17, 3709-3713.
9. Coutant, E. P.; Gagnot, G.; Hervin, V. O.; Baatallah, R.; Goyard, S.; Jacob, Y.; Rose, T.; Janin, Y. L., Bioluminescence Profiling of NanoKAZ/NanoLuc Luciferase Using a Chemical Library of Coelenterazine Analogues. Chemistry 2020, 26, 948-958.
10. Choi, S. G.; Olivet, J.; Cassonnet, P.; Vidalain, P. O.; Luck, K.; Lambourne, L.; Spirohn, K.; Lemmens, I.; Dos Santos, M.; Demeret, C.; Jones, L.; Rangarajan, S.; Bian, W.; Coutant, E. P.; Janin, Y. L.; van der Werf, S.; Trepte, P.; Wanker, E. E.; De Las Rivas, J.; Tavernier, J.; Twizere, J. C.; Hao, T.; Hill, D. E.; Vidal, M.; Calderwood, M. A.; Jacob, Y., Maximizing binary interactome mapping with a minimal number of assays. Nat. Commun. 2019, 10, 3907-.