The intestinal mucosa is a key site for interaction and exchange with the external environment. It is therefore under constant surveillance from the immune system. Using an animal model, scientists from the Institut Pasteur and Inserm discovered how a set of cells involved in innate immunity – group 3 innate lymphoid cells – help monitor and maintain this barrier.
Our digestive tract contains billions of bacteria, which help with physiological processes such as digestion and nutrient absorption. As bacterial stability is essential for these processes, it is crucial to prevent immune cells from attacking the bacteria and protect the intestinal barrier from any pathogens. The immune system therefore monitors the intestinal barrier closely.
As a result of excessive or insufficient activation of the immune system, severe infections or inflammatory diseases can develop in the host. While the role of the adaptive immune system in immune surveillance is clearly established, little is known about the part played by innate intestinal immunity.
The role of ILC3s in intestinal homeostasis
Scientists in the team led by James Di Santo (Innate Immunity Unit at the Institut Pasteur, part of Inserm unit 1223) looked into the question. In 2008, they identified group 3 innate lymphoid cells (ILC3s) as playing an essential role in intestinal immunity in the early stages of infection and in the event of reinfection. They then set out to elucidate the behavior of these cells, their spatiotemporal regulation and their migration into intestinal tissue. In collaboration with Philippe Bousso's team (Dynamics of Immune Responses Unit at the Institut Pasteur, part of Inserm unit 1223), "we established a novel experimental approach using real-time intravital imaging to examine the behavior of intestinal ILC3s in basal or inflammatory conditions in mice," explains Nicolas Serafini, an Inserm scientist in the Innate Immunity laboratory at the Institut Pasteur. The scientists demonstrated that ILC3s, unlike other immune cells, are immotile under basal conditions but acquire migratory patrolling attributes and pro-inflammatory cytokine production in response to inflammation. "We also showed that this behavior could be modulated by endogenous and exogenous environmental signals such as the presence of T cells or bacterial components. Blocking "patrolling" ILC3s induces a deterioration of the intestinal barrier via an increase in intestinal epithelial cell death. Our results suggest that ILC3 migration into intestinal tissue improves cytokine diffusion, helping maintain the integrity of the intestinal barrier."
These findings highlight major biological differences between ILC3s and other lymphocytes. "While most immune cells act like sentinel cells, exploring tissues under basal conditions and reducing their motility after activation, ILC3s act as "gatekeepers," promoting immune surveillance and adapting to environmental disturbances," concludes Nicolas Serafini. This discovery paves the way for a better understanding of the biological regulation of ILC3s, which may lead to the development of future therapeutic approaches to treat bowel disease.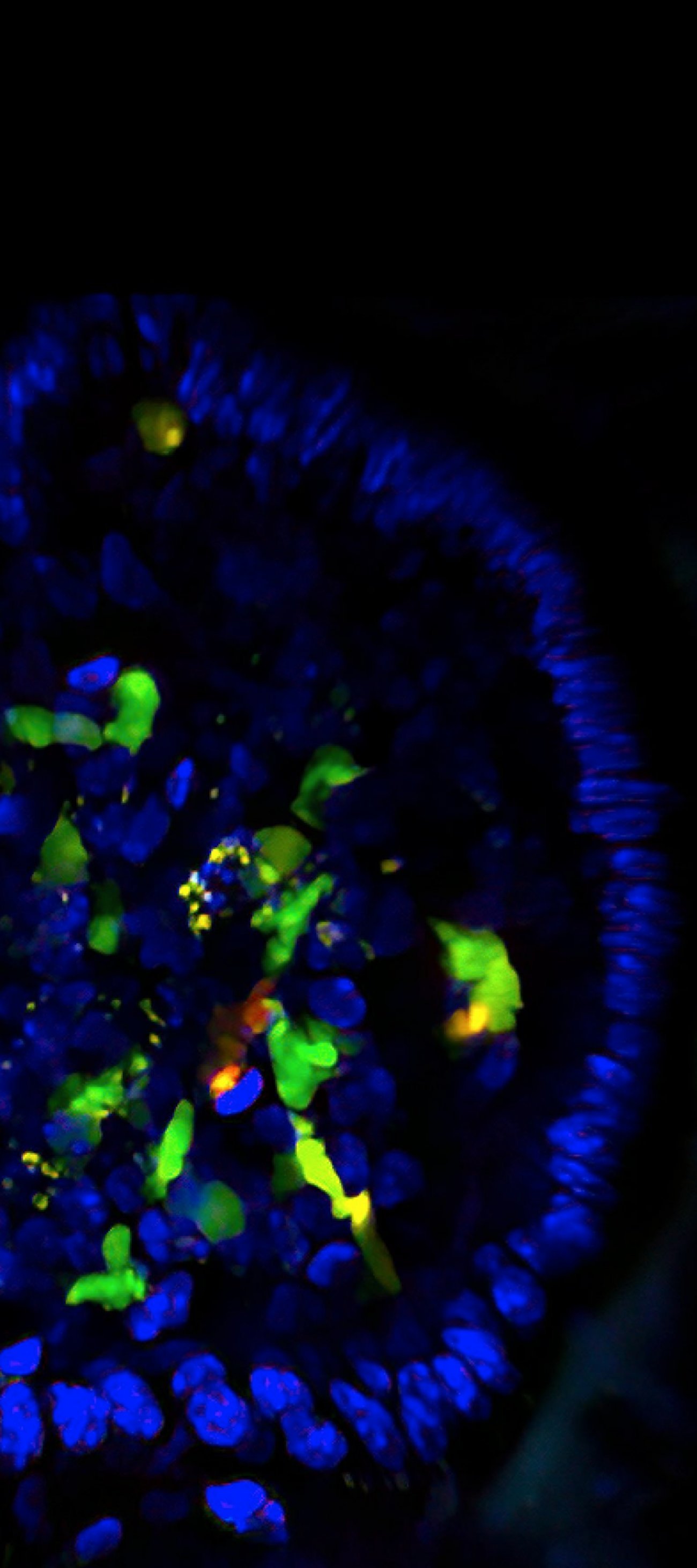 Intravital multiphoton imaging of ILC3s (GFP, in green) that can express interleukin-22 (Tomato, in red) in a murine intestinal villi (nuclei in blue). Copyright: Institut Pasteur / Angélique Jarade, Zacarias Garcia, Nicolas Serafini. Institut Pasteur, Inserm U1223.
---
Source :
Inflammation triggers ILC3 patrolling of the intestinal barrier, Nature Immunology, August 23, 2022
Angélique Jarade1, Zacarias Garcia2, Solenne Marie1, Abdi Demera3, Immo Prinz3, Philippe Bousso2, James P. Di Santo1 and Nicolas Serafini1
1Institut Pasteur, Université Paris Cité, Inserm U1223, Innate Immunity Unit, Paris, France
2Institut Pasteur, Université Paris Cité, Inserm U1223, Dynamics of Immune Responses Unit, Paris, France
3Institute of Immunology, Hannover Medical School, Hannover, Germany