Catherine Rougeot, an Institut Pasteur guest researcher, was recognized by the Institut Pasteur in 2017 for her work in discovering a non-opioid analgesic, today called STR-324. She was appointed member of the National Academy of Inventors in the US on receiving this award. As the Institut Pasteur is celebrating its 130th anniversary this year – November 14, 2018 – let's look back at the discovery of this molecule, which is entering phase I clinical trials this month.
The Institut Pasteur, a member institution of the US National Academy of Inventors (NAI) since 2015, was keen to celebrate the curiosity, creativity, innovation and invention that embody its rich heritage. So on June 27, 2017, it recognized the achievements of 14 of its inventors, who have been selected as members of the NAI. The event was perfectly in tune with the pioneering spirit of Louis Pasteur and the ensuing generations of Institut Pasteur scientists. The research of these 14 scientists has given rise to several US patents involving licenses, generating a positive impact for the Institut Pasteur and for society as a whole.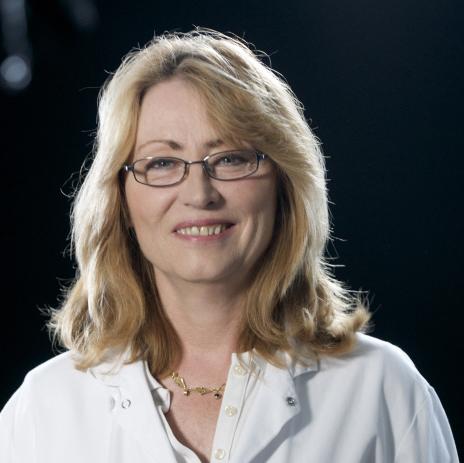 Catherine Rougeot, an Institut Pasteur guest researcher.
After the long road traveled since this discovery, I am delighted with this clinical trial, which should lead to the development of a drug likely to offer patients an alternative pain management option
Opiorphin was the name given to a new hormone messenger, naturally secreted in humans and discovered at the Institut Pasteur in 2006. The molecule is as powerful as morphine but with far fewer side effects. Catherine Rougeot reminds us that "the opiorphin adventure began with an integrative reverse pharmacology approach, based on molecular characterization of the product of a new gene in rats – a peptide called Sialorphin –, and the establishment of its remarkable functional specificity in vivo." These findings were obtained1 in the Developmental Genetics and Biochemistry Unit – Institut Pasteur/CNRS –, directed by François Rougeon.
Given the innovative properties of rat sialorphin, Catherine Rougeot and her team (Pharmacology of Neuro-Endocrine Regulations Laboratory - Institut Pasteur) looked for its functional equivalent in humans and, in particular, in human salivary excretions. According to a clinical research protocol, human saliva was collected from healthy volunteers. Chromatographic procedures were used to extract and isolate the major salivary component, which has the ability to inhibit activity of human NEP enzyme (an enzyme that destroys enkephalins, powerful endogenous painkillers). Then, the final purified product was analyzed by microsequencing and direct proof was obtained that humans have a peptide, secreted in human saliva, whose activity is similar to sialorphin in rats. "Remarkably, it was found that opiorphin is a powerful pain inhibitor as it activates the endogenous opioidergic pathways in rats", explains Catherine Rougeot. Opiorphin was the name given to the molecule with surprising properties that Catherine and her team discovered in humans2.
Since then, the molecule's painkilling and antidepressant effects have been characterized, particularly in two papers in the Journal of Physiology and Pharmacology published respectively in June 2010 and August 2010.
Since 2014, and in collaboration with teams from the Institut Gustave Roussy, INSERM and the Stragen Group, Catherine Rougeot has invested in research and development of the drug candidate represented by opiorphin in pain management3. And, on March 13, 2018, the Stragen Group announced the enrollment of the first subject in a phase I clinical trial of STR-324, the non-opioid analgesic discovered at the Institut Pasteur under the name opiorphin. This first clinical trial in humans aims to assess the safety, tolerability, pharmacokinetics and efficacy of STR-324 in healthy subjects. The study, which should include up to 78 subjects, is underway at the Centre for Human Drug Research (CHDR) in Leiden, the Netherlands, and led by Dr. Geert Jan Groeneveld.
"After the long road traveled since this discovery, I am delighted with this outcome, which should lead to the development of a drug likely to offer patients an alternative pain management option", states Catherine Rougeot.
Read the "Launch of Phase I Clinical Trial of STR-324, a non-opioid analgesic" press release
Sources
1. C. Rougeot, et al. Sialorphin, a natural inhibitor of membrane-bound neutral endopeptidase that displays analgesic activity. PNAS, 2003.
2. A. Wisner, et al. Human Opiorphin, a Novel Anti-nociceptive Modulator of Opioid-Dependent Pathways; PNAS, Nov. 2006).
3. P. Sitbon et al. STR-324, a stable analog of opiorphin, causes analgesia in postoperative pain by activating endogenous opioid recptor-dependent pathways. Anesthesiology, 2016.