Laure Bally-Cuif leads the Zebrafish Neurogenetics Unit at the Institut Pasteur. The model for her research is a little fish, mutant forms of which can remain transparent until adulthood – an important characteristic for observing the many cells involved in brain development.
Laure Bally-Cuif was born in Lyon and grew up in a working-class household. At school, she was a talented student and showed great interest in every subject, especially languages and scripts. She was curious about how these had changed and developed over time, from one civilization to the next. As a teenager, she put Champollion's illustrated book of grammar at the top of her birthday gift list. Her wish was granted, and she still has the volume today – and finds it just as fascinating.
When she finished high school, her teachers advised her to take a preparatory course for one of France's prestigious grandes écoles. She applied for a program that would open "as many doors as possible" for her and earned a place at the École Normale Supérieure (ENS) in Paris. Laure completed her PhD at Pitié-Salpêtrière Hospital and at the ENS. The focus of her research was to identify the genes and mechanisms behind the formation of the different brain regions in avian and mammalian embryos.
For Laure, no matter whether it was languages, scripts or the living world, understanding how things developed was always what most piqued her curiosity.
In 1995, she decided to go to the USA for a first postdoctoral fellowship at Princeton University, in Dr. Robert Ho's lab.
"Research is an internationally competitive environment. It's vital to observe how other scientists work, especially in different countries. My two years at Princeton University gave me the opportunity to discover new techniques and lab approaches and to work in a truly stimulating environment," she explains.
At Princeton, her research involved a pioneering approach based on a model organism, a small freshwater fish known as the zebrafish, that enabled scientists to combine embryology and genetics.
The zebrafish had two main advantages for our scientist: throughout its lifetime it produces large quantities of neurons because of the persistence of progenitor cells (neural stem cells); and mutant forms exist that are transparent throughout their lifetime, meaning that the development of this cell population can be observed in vivo, under the microscope, day after day.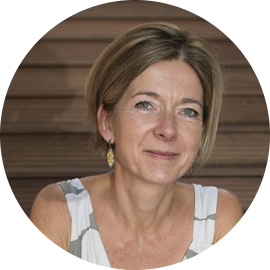 Studying the development of cells in vivo, and seeing them interact with their native environment, is very different from observing them in a culture dish, cut off from their natural surroundings."
In 1996 she came back to France and was recruited by the CNRS. She then went to Munich for a second postdoctoral fellowship at the Helmholtz Research Center, where she was given the opportunity to set up her own group in 2000. She spent ten years as a PI there. As Laure tells us:
"Germany provided me with the ideal conditions for my research, but it was very hard for me to balance my work with my life as a mother. In that region of Germany there were no day care centers for preschool children, and later on no canteens and no school in the afternoons. I was completely reliant on community support bodies. So after many years I decided to come back to France."
In 2010, she set up her team at the Paris-Saclay Institute of Neuroscience in Gif-sur-Yvette, in the suburbs of Paris, and in 2016 she joined the Institut Pasteur.
"Institut Pasteur scientists specialize in a wide range of disciplines, and that multidisciplinary approach is a real asset. If I have specific questions, for example, I can work together with specialists in physics or state-of-the-art imaging techniques."
Laure Bally-Cuif's team is currently attempting to understand the molecular mechanisms underpinning the formation, maintenance and recruitment of neural stem cells in zebrafish.
Laure explains,
"Twenty years ago, we thought that neurons were formed during the period from embryogenesis to birth, with no further addition later on. But in the early 1990s, scientists demonstrated that new neurons could be generated in the adult brain and began to shed light on the process, leading to the identification of neural stem cells. Here in my unit, we are trying to determine the mechanisms that govern stem cell activity: How does the adult brain maintain these cells? At what point does the brain choose to make use of them? Can we stimulate stem cells?"
For several years now, stem cells have held the promise of major therapeutic developments. Some are currently used for skin grafts in burn victims. But one day it might be possible to use stem cells to repair and treat the brain. Transformed stem cells are also found in some types of cancer, especially brain cancer. So understanding how they are controlled may represent a key source of information for cancer research.
Although Laure is currently busy with her scientific research, she has never lost her fascination for linguistics. During her studies, she tells us, she sometimes skipped her organic chemistry classes to learn more about the links between Japanese and Chinese scripts. One day, when she has a little more time, Laure would love to return to university and explore that vast topic in more depth!
---
Key dates in Laure Bally Cuif's career
1987-1991: École Normale Supérieure (Paris)
1990-1994: Ph.D. research, Labs. C. Sotelo (Hôpital de la Pitié Salpêtrière, Paris) and A. Prochiantz (ENS), Supervisor M. Wassef
1994: Ph.D. in Molecular and Cellular Biology, Highest Honors
1995-1997: Postdoctoral research, Lab. R.K. Ho, Molecular Biology, Princeton University, USA
1998-1999: Postdoctoral research, Lab. W. Wurst, GFS-Research Center, Munich, Germany
2000-2010: Assistant then Associate Professor, Helmholtz Research Center, Munich, Germany
2006: Heinz Maier-Leibniz Prize for Research Excellence
2008: Prize ("Grand Prix") of the Schlumberger Foundation for Education and Research
2010-2013: Prize of Scientific Excellence ("Prime d'Excellence Scientifique") of the CNRS
Since 2010: CNRS Research Director
Since 2016: Head of Research Unit, Department of Developmental and Stem Cell Biology, Institut Pasteur, Paris, France
2016: Elected EMBO Member
2017: Silver Medal of the CNRS
2018: Elected Member of the Academia Europaea
2019: François Jacob Prize