As antibiotics efficacy is under real threat, the World Health Organization warns that "one day no antibiotics may be left to treat common bacterial infections". Infections caused by bacteria that are resistant to antibiotics are more difficult and expensive to treat, with a higher risk of treatment failure. Antibiotic resistance is particularly problematic in lower and middle-income countries (LMICs), where weaker public health protections contribute to a higher burden of bacterial disease. However, new research from the Institut Pasteur of Paris and the Institut Pasteur du Cambodge, published in the Emerging Infectious Diseases Journal, suggests that antibiotic-resistant bacteria from food could also be contributing to the spread of antibiotic-resistant bacteria in LMIC communities.
Institut Pasteur researchers began exploring whether food could be a source of exposure to antibiotic-resistant bacteria following surprising findings from the BIRDY ("Bacterial Infections and Antimicrobial Drug-Resistant Diseases among Young Children in Low-Income Countries") program, a community-based cohort study led by the Institut Pasteur in Senegal, Madagascar, and Cambodia. As part of the BIRDY program, pregnant, enrolled mothers were tested for their gut colonization with Enterobacteriaceae that produced extended-spectrum b-lactamase (ESBL) enzymes, which confer resistance to multiple critically important antibiotic classes. In Phnom Penh, an astonishing 70% of mothers were colonized with ESBL-producing Enterobacteriaceae, compared to 16% of BIRDY mothers in Madagascar (and approximately 5-6% of healthy persons in Ile-de-France, for example).
Unlike in other LMICs involved in the BIRDY program, meat and fish are consumed in high quantities in Cambodia, and the use of antibiotics to grow food animals is both increasing and unregulated. Researchers at the Institut Pasteur hypothesized that exposure to meat and fish contaminated with ESBL-producing Enterobacteriaceae could be contributing to the high burden of gut colonization detected among BIRDY women in Phnom Penh.
A collaborative "one health" study
To test this hypothesis, researchers from the Institut Pasteur teamed up with the Institut Pasteur du Cambodge, the Sihanouk Center Hospital for Hope (Cambodia), and the Institute for Tropical Medicine (Belgium) to conduct a collaborative "One Health" study. During September-December 2016, study partners collected 150 pork, chicken, and fish samples from two markets in Phnom Penh in the same neighborhood where BIRDY-enrolled women resided. At the same time, field investigators interviewed BIRDY women about their typical dietary and environmental exposures. Food samples were tested for presumptive ESBL-producing Enterobacteriaceae at the newly-expanded Laboratory for Environment and Food Safety (LEFS) at the Institut Pasteur du Cambodge. Identified strains were sequenced at the Institut Pasteur in Paris in collaboration with Dr. Simon Le Hello and bioinformaticians at the Center of Bioinformatics, Biostatistics and Integrative Biology (C3BI) used these sequences to construct a phylogenetic comparison of food- and human-origin E. coli. Finally, researchers from the PhEMI Unit designed epidemiological models to investigate how BIRDY women's environmental exposures and dietary practices could impact their colonization with bacteria that resembled bacteria detected on food.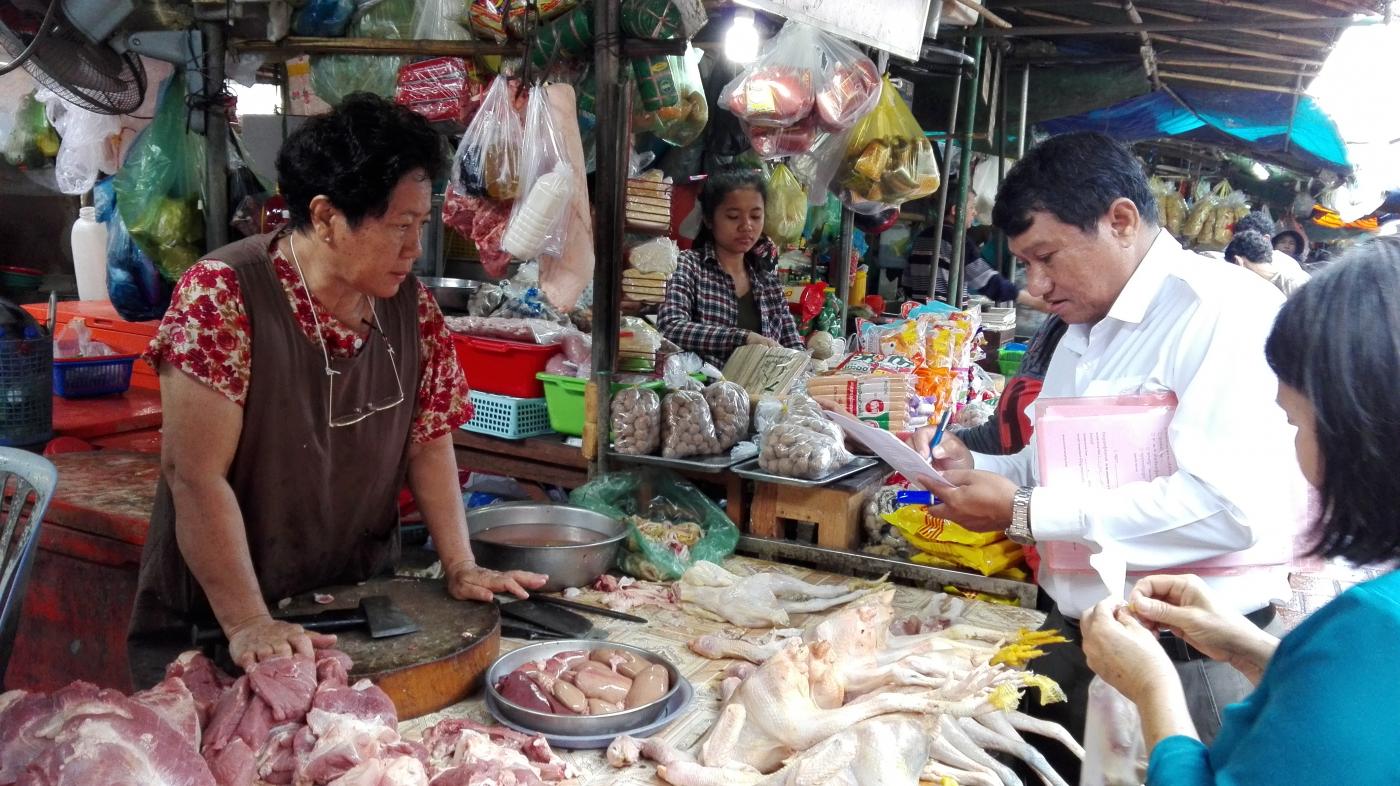 Market in Phnom Penh, Cambodia/ © Institut Pasteur du Cambodge
Antibiotic-resistant bacteria in animals impacting human health
Researchers found that approximately 60% of meat and fish were contaminated with ESBL-producing E. coli, most of which produced ESBL gene type CTX-M-55, which is prevalent in Asia, and were resistant to amphenicol antibiotics (a drug class banned for use in human medicine in Cambodia since the early 2000s). Researchers compared the whole genome sequences of food-origin E. coli to strains from gut-colonized BIRDY women and infected patients treated at the Sihanouk Hospital Center for Hope. They found that ~40% of ESBL-producing E. coli from BIRDY women (but none from infected patients) belonged to the same phylogenetic clans that comprised most food-origin strains, and that a substantial portion of them were more likely to produce ESBL gene type CTX-M-55 and be amphenicol-resistant (predominant characteristics of food-origin strains) than BIRDY women's gut-colonization isolates that grouped separately.
BIRDY women colonized with amphenicol-resistant E. coli were also more likely to eat poultry meat that they prepared by drying in the sun. The fact that chloramphenicol has not been used in human medicine for almost 20 years in Cambodia, yet chloramphenicol analogs (e.g., florfenicol, thiamphenicol) are administered to food animals, suggests a directional spread of ESBL-producing E. coli from food to gut-colonized humans.
A necessary improvement of food safety
These findings contrast previous studies conducted in Europe and challenge a prevailing belief that antibiotic-resistant bacteria that circulate in animals may have no impact on human health. In contrast to Europe, researchers conjecture that weaker public health protections, inadequate regulation of antibiotic use in food animals, and consumption of undercooked animal products could be exacerbating the spread of antibiotic-resistant bacteria and/or resistance genes from farmed animals to the community in Phnom Penh. Overall, these findings underscore the need to prioritize food safety and to implement multi-sectoral strategies to combat antibiotic resistance from a "One Health" perspective in LMICs. The Ministries of Health of Cambodia, the National Animal Health and Production Research Institute of Cambodia, and the Food and Agriculture Organization of the United Nations (FAO) are leading ongoing efforts in Cambodia. 
---
Sources
Meat and Fish as Sources of Extended-Spectrum β-Lactamase–Producing Escherichia coli, Cambodia, Emerging Infectious Diseases Journal, January 2019
Maya Nadimpalli1,2, Yith Vuthy3, Agathe de Lauzanne3, Laetitia Fabre1, Alexis Criscuolo1, Malika Gouali3, Bich-Tram Huynh1,2, Thierry Naas1,4, Thong Phe5, Laurence Borand3, Jan Jacobs6,7, Alexandra Kerléguer3, Patrice Piola3, Didier Guillemot1,2,8, Simon Le Hello1, Elisabeth Delarocque-Astagneau1,2,8
1 Institut Pasteur, Paris, France
2 Institut National de la Santé et de la Recherche Médicale, Université de Versailles Saint-Quentin-en-Yvelines and Université Paris-Saclay, Paris
3 Institut Pasteur du Cambodge, Phnom Penh, Cambodia
4 Assistance Publique/Hôpitaux de Paris, Bicêtre Hospital and Université Paris-Sud, Le Kremlin-Bicêtre, France
5 Sihanouk Hospital Center of Hope, Phnom Penh
6 Institute of Tropical Medicine, Antwerp, Belgium
7 K.U. Leuven, Leuven, Belgium
8 Assistance Publique/Hôpitaux de Paris, Raymond-Poincaré Hospital, Garches, France
CTX-M-55-type ESBL-producing Salmonella enterica are emerging among retail meats in Phnom Penh, Cambodia, Journal of Antimicrobial Chemotherapy, October 2018
Maya Nadimpalli1,2, Laetitia Fabre1, Vuthy Yith3, Nita Sem3, Malika Gouali3, Elisabeth Delarocque-Astagneau1,2,4, Navin Sreng3, Simon Le Hello1
1 Institut Pasteur, Paris, France
2 Institut National de la Santé et de la Recherche Médicale, Université de Versailles Saint-Quentin-en-Yvelines and Université Paris-Saclay, Paris
3 Institut Pasteur du Cambodge, Phnom Penh, Cambodia
4 Assistance Publique/Hôpitaux de Paris, Raymond-Poincaré Hospital, Garches, France