On September 26, 2019, as part of its Antimicrobial Resistance (AMR) initiative the Institut Pasteur hosted a round table discussion on the economic context of the fight against AMR. Lord Jim O'Neill, economist and author of the famous O'Neill report, a publication instrumental in putting AMR on the political landscape, was a key contributor, along with other experts representing public health, research, government, and private sectors. Professor Stewart Cole, President of the Institute Pasteur, guided the discussion and introduced the event saying that to address this challenge of AMR, "a paradigm change is required."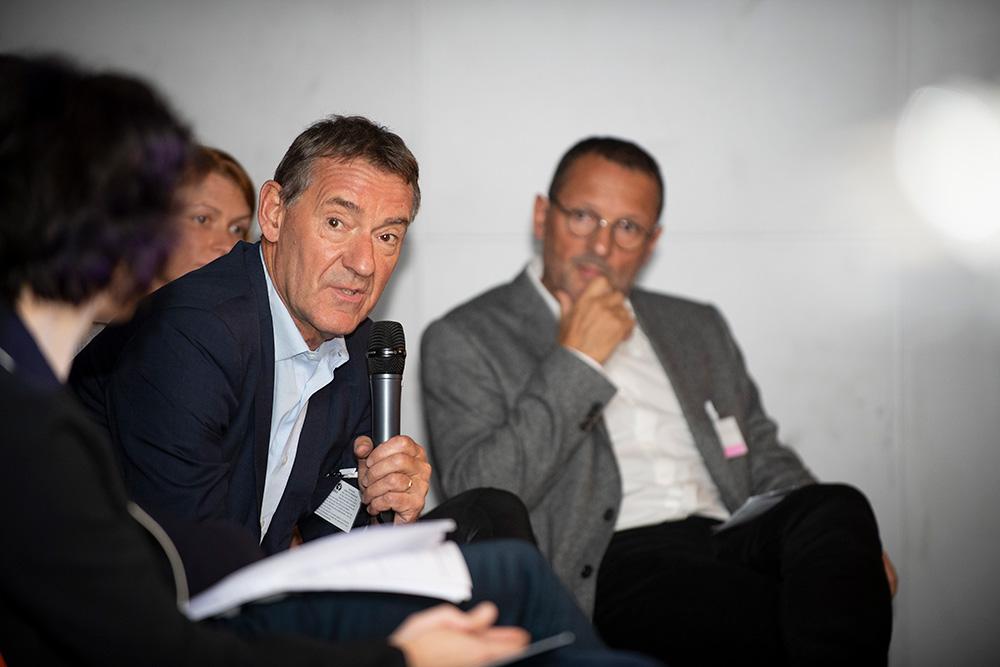 Economist Lord Jim O'Neill at the Antimicrobial Resistance Round Table at the Institut Pasteur on September 26, 2019. Photo copyright François Gardy / Institut Pasteur.
Welcoming the panel of experts, including Lord O'Neill, who played a "pioneering role in bringing AMR to the attention of world leaders," Professor Cole set out the framework for the round table. Antimicrobials, since their introduction in the 1900s, have been transformative in treating diseases and other areas of human health. However, today the world is faced with antimicrobial resistance, an increasingly serious public health problem that "threatens the effective prevention and treatment of an ever-increasing range of infections caused by bacteria, parasites, viruses and fungi," and is capable of undermining major surgery, cancer chemotherapy, according to the World Health Organization. The pharmaceutical industry, which was instrumental in bringing antimicrobials to the public, are not currently poised to invest in new solutions, leaving a funding gap and an unclear road forward. The public is poorly informed about the danger, the science behind it, and the need to create alternative economic frameworks. For these reasons, tackling antimicrobial resistance is one of the focal points of the Strategic Plan put into place by Professor Cole. The round table also embodied another priority angle of the Plan, that of the necessity of engagement with society. Because it will lead to better health outcomes for all, the Institut Pasteur is committed to communicating, "What we do, why we do it, and what the public can gain from our work."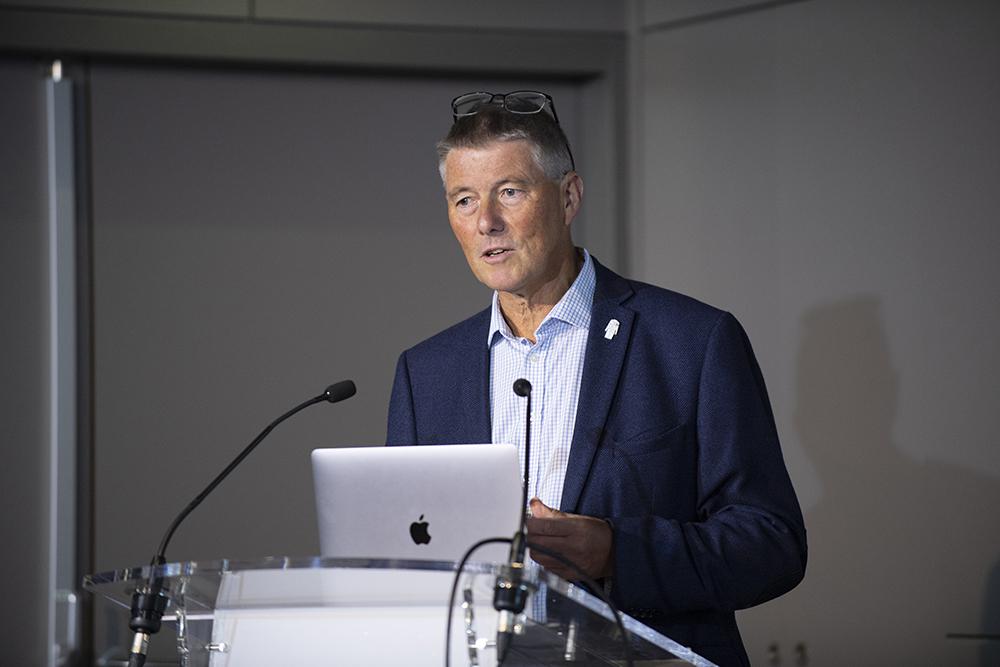 Professor Stewart Cole introducing the Antimicrobial Resistance Round Table at the Institut Pasteur on September 26, 2019. Photo copyright François Gardy / Institut Pasteur.
Lessons learned from facing HIV
A public health crisis in which the economic framework plays a key role in the path to a solution – Institut Pasteur's 2008 Nobel Prize winner Françoise Barré-Sinoussi, knows this situation well. This not only describes AMR, but also describes the HIV landscape before drug-development got underway. Barré-Sinoussi, who discovered the HIV virus and was a key player in getting treatment to patients, presented lessons learned from her experience in the field of HIV. The creation of a bridge between academics and pharmaceutical companies was required in order to make drugs available to HIV-patients. Patient voices, grass-roots involvement and cross-sector collaboration were key to the successfully bringing scientific results through drug trials and onto the market. "We have seen the importance of involving patients at all levels, and the power of the combined efforts of activists, patient communities, researchers and clinicians – all of the stakeholders – to work collectively and aggressively," said Professor Barré-Sinoussi.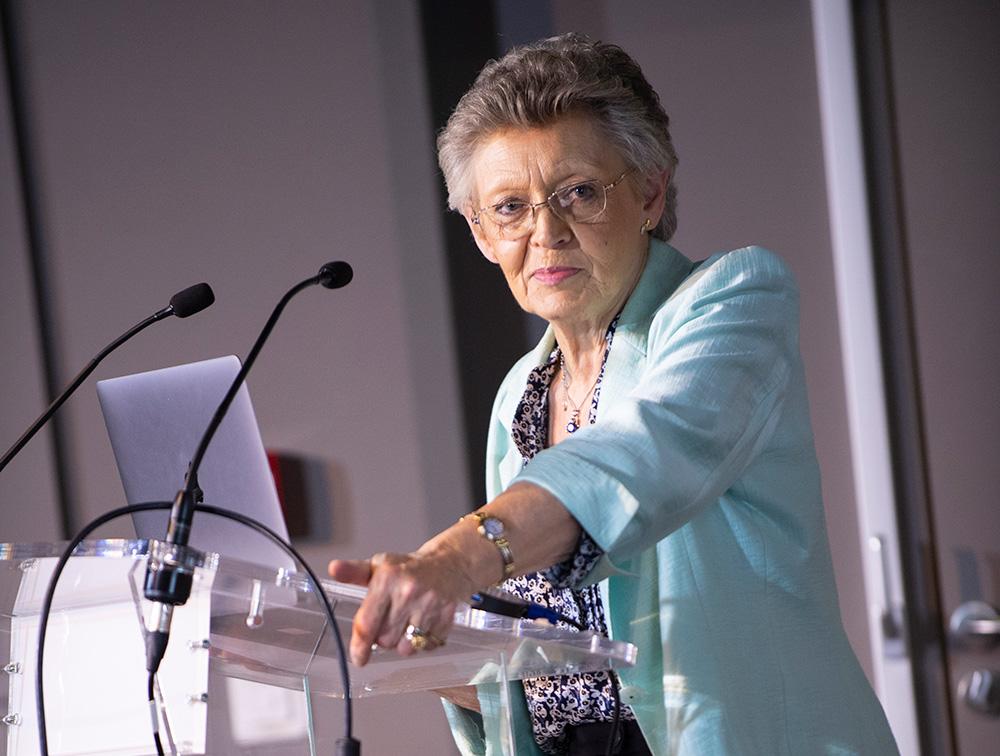 Nobel Prize winner Françoise Barré-Sinoussi at the Antimicrobial Resistance Round Table at the Institut Pasteur on September 26, 2019. Photo copyright François Gardy / Institut Pasteur.
What would happen if nothing were done about AMR?
After these words of wisdom from a Nobel Prize Laureate, British economist Lord Jim O'Neill, whose esteemed background in finance and government make him, in his own words, an "outsider" to the world of science and health, presented the conclusions of the 2016 AMR review he created for the Wellcome Trust and the UK Department of Health. The report's lack of bias and assumptions, as well as its economic angle allowed it to successfully bring this public health topic to the attention of world leaders.
Using economic models, Lord O'Neill determined, "What would happen without doing anything about AMR." He and his team determined that by 2050 there could be 10,000,000 people dying around the world. What's more, the accumulated loss of economic output could cost the world a trillion dollars.
Lord O'Neill expressed confidence that framing the problem in economic terms has a big impact and even suggested that it would be positive to have AMR preparedness become a factor in IMF monitoring. "If this were one of the factors to affect countries' credit ratings, everyone would start paying attention." He lamented that the UK had recently become less of a world-leader in AMR, but noted that there were encouraging initiatives taking place in agriculture in some parts of the world and that many supermarkets are pursuing their own AMR strategies.
Need for better communication and funding dedicated to AMR research
The focus then switched the French approach with contributions from Dr Yazdan Yzdanpanah, the Director of Aviesan Institut for Immunology, Inflammation, Infectiology and Mircrobiology and Dr Céline Pulcini, the AMR Coordinator at the French Ministry of Health. Dr Pulcini, said the UK's strong approach to AMR is inspiring here across the channel. She voiced the widespread need for better communication to keep the public informed about AMR and AMR-related innovations such as the measures her group is in the process of implementing. In addition to boosting innovation, maintaining access to current antibiotics is one of her group's priorities as there is an antibiotic shortage in France. In closing she expressed urgency for AMR key players to learn from one another so as not to waste time and money.
Dr Yzdanpanah spoke about France's contribution to "pump-priming", or laying the groundwork, for AMR advances with activities geared towards mapping research on both human and animal health, as well as the need to better organize and coordinate research with initiatives such as the PPR ("plan prioritaire de recherche dédié à l'AMR"). Also, he stated that there needs to be funding dedicated specifically to the structuring of research.
Creating new global incentives for the pharmaceutical industry
Dr Colm Leonard (Consultant Clinical Advisor at the Centre for Health Technology, National Institute for Health and Care Excellence Evaluation) talked about ways to create initiatives in the current economic system that would to make it possible to create a better pipeline for drug development. One example is the development of a "de-linked payment scheme based on a different reimbursement program." Another is changing the way that value itself is assessed. Value could be calculated not just on the impact a measure has on one patient, but could also include the social impact that the prevention of transmission as well as the social impact of changes in practices. He cited the need to create new global incentives for the pharmaceutical industry to engage.
Current situation and treatments poorly documented
Marie Petit (BEAM Alliance, Biotech companies in Europe combatting Antimicrobial Resistance,) was vocal in her distress about the "funding crisis" of AMR in the current system. Structural problems, such as the difficulty of comparing new treatments to current treatments when current treatments are poorly documented, are widespread in her experience. Additionally, fatal cases of AMR are underreported -- hospital death certificates are more likely to list the name of an illness than they are to describe the underlying cause of the treatment's failure-- which contributes to keeping the urgency of this problem hidden. Marie Petit also pointed out that big pharmaceutical companies have more access to decision makers than smaller players do, such as SME (small to medium enterprises). Stewart Cole followed her presentation with the question, "What would it take to get big pharma more active in the AMR space?"
The challenges for large pharmaceutical companies
Dr Laurent Fraisse, Executive vice president for Infectious Diseases R&D, Evotech, reiterated some of the challenges large pharmaceutical companies face. Their business model requires returns on investment and currently the profit margins on work related to AMR are too small. Investments become more and more expensive, which poses a problem for big companies, but even more so for the small biotechs, which are less financially secure. Also, on a scientific level, the old guidelines are not applicable to the current situation. The solution is to have incentives for investment.
AMR is an important issue with a dangerous lack of notoriety
The closing discussion broadened towards health care in general, and circled around to the fact that the O'Neill report predicts staggering economic costs – not to a specific enterprise but to society as a whole. Stewart Cole raised the question of whether a corporation has a "responsibility to society," and Jim O'Neill brought up concepts such as "pay-or-play" and "profit with a purpose," evoking the sense that there are indeed ways being explored that could make the link between public health and economic health more functional.
Although the degree of optimism and points of reference varied, among the speakers there was consensus on the gravity of the problem at hand. Jim O'Neill went as far to say that scientists he knows would say that the potential dangers of AMR outweigh those of climate change, yet the public knows so much less.
President Stewart Cole, whose Strategic Plan invites dialogue between science and society, concluded by addressing everyone in the room, "We need to work together and we need to include communities. We need strong leadership. If we can find the Greta Thunberg for the AMR movement…" He looked at the audience and smiled, "I encourage you to take up the challenge."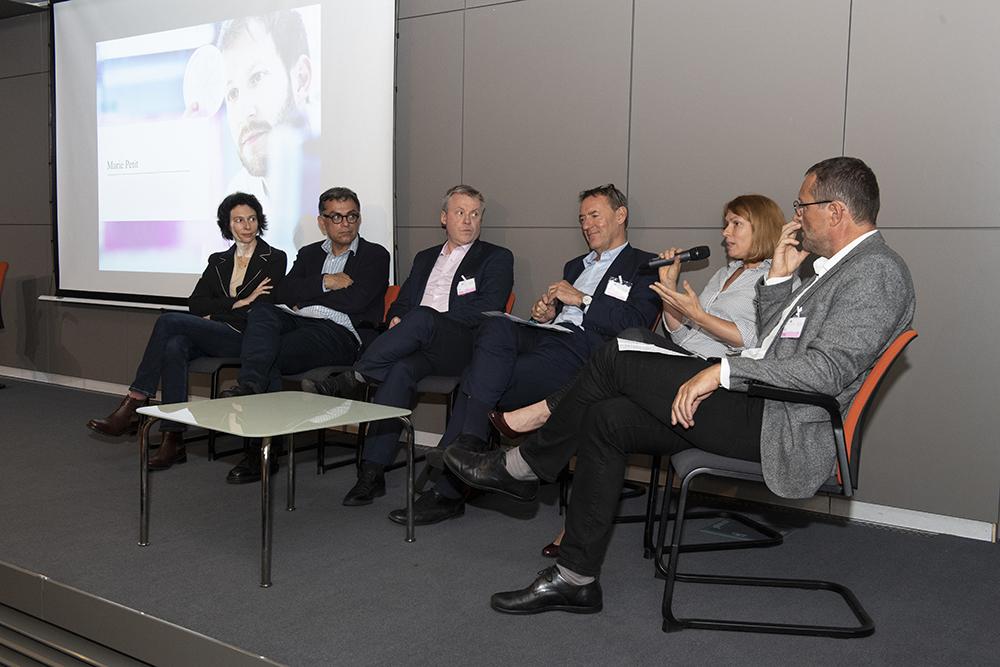 The Antimicrobial Resistance Round Table at the Institut Pasteur on September 26, 2019. Photo copyright François Gardy / Institut Pasteur.
Learn more about "O'Neill report", the review on antimicrobial resistance chaired by Jim O'Neill, May 2016
This study is part of the priority scientific area Antimicrobial Resistance of the Institut Pasteur's strategic plan for 2019-2023.
---