|
Context
Antimicrobial resistance (AMR) is dramatically increasing worldwide, becoming one of the most urgent public health threats. There is a pressing need to reverse the spread of AMR pathogens and to develop innovative drugs (antibiotics, antiparasites, antifungals, antivirus) and therapeutic strategies as sustainable treatments of infectious disease. To respond to this need, AMR has been declared one of the three priorities of the Institut Pasteur Strategic Plan.
The Institut Pasteur is an international center of excellence for biomedical research supporting projects to treat and prevent disease, leading to therapeutic applications. The Department of Organic Chemistry at the University of Oxford is a world-leading chemistry department carrying out pioneering work, particularly in the field of chemistry for biology and medicine, with a focus on combating antibiotic resistance. These two Institutions are joining their forces and complementary expertise to develop cutting edge projects at the interface of chemistry and biology to tackle the AMR challenge.


Aim
This program will foster synergistic projects to fight AMR between the Institut Pasteur and the Oxford Chemistry Department through a joint PhD program. PhD students will work on collaborative projects between the two institutions, spending some of their time in the partner laboratory. The exchange program will support the multidisciplinary training of the selected students.
Impact
The development of new chemical agents to fight AMR will include:
(1) chemical probes to better understand the biology underlying AMR
(2) new leads for therapeutic agents that are urgently needed.
PhD Program
The students will receive a unique multidisciplinary training in biology of the infectious disease and chemistry for medicine.
Students will work at both institutes during their 3-year PhD, and will partake in the doctoral courses and training activities at both institutions.
Recruitment will be organized jointly by both institutions following international advertisement of the program. The call for applications opens in September for the class starting in October of the following year.
Students will be part of the International Doctoral Program (PPU) of the Institut Pasteur.
For information about PPU student-specific training, activities, benefits, please visit the PPU web site:
Program Directors
Institut Pasteur
Paola B. Arimondo (Director of the Epigenetics Biological Chemistry Unit, Institut Pasteur, CNRS)
Philippe Glaser (Director of the Ecology and Evolution of Antibiotics Resistance Unit, Institut Pasteur, CNRS)
Monica Sala (Director of the Education Department, Institut Pasteur)
Nathalie Pardigon (Dean of the Pasteur-Paris University International Doctoral Program – PPU)
Oxford
Christopher Schofield (Head of the Department of Organic Chemistry, University of Oxford)
CNRS/ Maison Française d'Oxford/MAE
Pascal Marty (Director of the «  Maison Française d'Oxford », CNRS/ Ministry of Europe and Foreign Affairs)
Events
2021
---
2022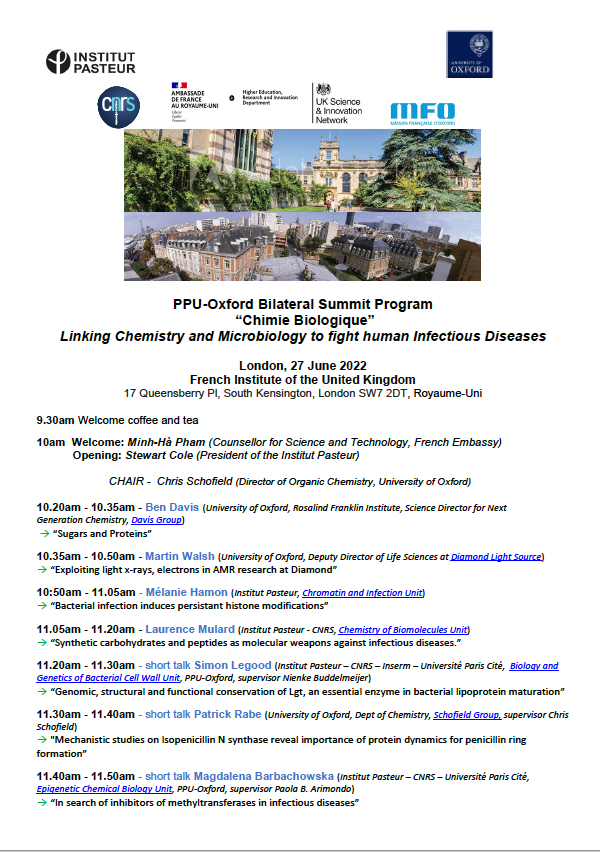 Partners