For the first time, scientists at the Institut Pasteur have identified connections between neurons and microglia, a type of immune cell in the brain. This discovery should help elucidate the role of inflammation in neurodegenerative diseases, potentially revealing new therapeutic targets.
Neurodegenerative diseases are one of society's main socio-economic burdens. More than 179 million people in Europe are affected by at least one form of neurological disorder, and the number of new cases is going up each year. These disorders often result from neuronal accumulation of toxic proteins, which can spread from one cell to another via mechanisms that are as yet unclear.
Different brain cells involved in toxic protein accumulation
Glial cells, the main immune cells in the brain, are also affected by neurological disorders, and the progressive accumulation of toxic protein aggregates in the brain ultimately leads to neurodegeneration. Glial cells are major regulators of the inflammatory process underlying these diseases, but it is not yet known whether they play a protective role or actually aggravate neurological disorders.
In August 2016, scientists from the Institut Pasteur's Membrane Traffic and Pathogenesis Unit demonstrated that structures known as tunneling nanotubes (TNTs) facilitate the transfer of toxic proteins between neurons, and they formed the theory that TNTs play a major role in the spread of aggregates through the brain. But where do microglia come in? They are the brain's first line of defense against pathogens, but are they capable of protecting neurons by destroying aggregates, or do they actually help aggregates to spread?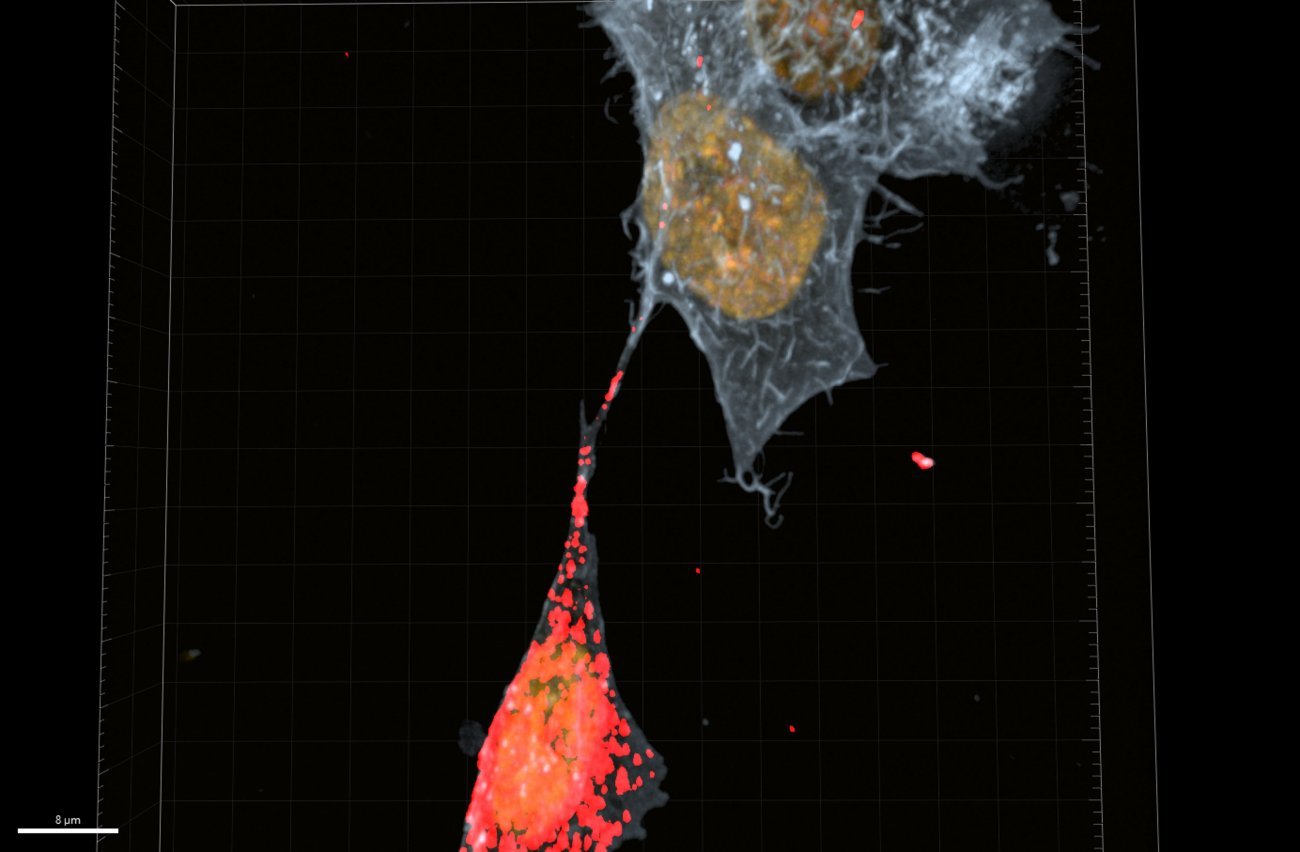 SH-SY5Y neuronal cell (bottom) loaded with α-Synuclein aggregates (red) in connection with HMC3 microglial cells (top). Membrane labelled in cyan, nuclei in orange. White arrowhead points towards aggregates within TNTs, and yellow arrowheads point towards aggregates inside acceptor microglia © Ranabir Chakraborty, Chiara Zurzolo/ Institut Pasteur
In Parkinson's disease, nanotubes "try to save" neurons
In May 2023, scientists from the same unit observed that microglia serve as a pathway for the spread of alpha-synuclein, a toxic protein responsible for Parkinson's disease. "Neurons loaded with alpha-synuclein aggregates made effective use of TNTs to transfer them to microglia, probably with the aim of reducing the overall volume of aggregates in neurons. It is the first time that the existence of functional connections between neurons and glial cells has been demonstrated," explains Ranabir Chakraborty, a PhD student in the unit and co-author of the study.
And that's not all: the scientists also showed that glial cells are capable of transferring mitochondria to unhealthy neurons, again via TNTs. "Mitochondria are structures that produce energy for cells. So we think this might be an attempt to save these neurons," explains Chiara Zurzolo, unit head and co-author of the study.
Hopes for therapeutic targets for Parkinson's – and maybe also Alzheimer's
This study opens up new avenues for research on communication between neurons and microglia in neurodegenerative diseases. It particularly elucidates the role of inflammation, potentially revealing novel therapeutic targets. "We are currently investigating how this transfer process is modulated by inflammatory signals in Parkinson's disease, and whether a similar mechanism occurs in Alzheimer's disease," explain the scientists.
Part of this work was financed by the Explore program.
---
---
Source
Tunneling nanotubes between neuronal and microglial cells allow bi-directional transfer of α-Synuclein and mitochondria, Cell Death & Disease, May 18, 2023