On Saturday October 5, the 2019 edition of S3ODEON will be hosted at the Odéon theater. This annual public event, partnered by the Institut Pasteur, features short speeches on three major topics: science, health and society. This year, Guillaume Dumas, a scientist in the Institut Pasteur's Human Genetics and Cognitive Functions Unit, will be presenting his research topic.
S3ODEON is based on an original concept, with 7-minute speeches delivered by eminent scientific figures. This year's event takes place at 2pm on October 5 at the Odéon theater. For participants, it is an ideal occasion for meeting up and sharing experiences, testimonials, opinions and beliefs.
In order to understand the challenges that lie ahead for health, economic, ethical and societal issues need to be considered to enlighten and alert the public to these issues of both individual and collective concern.
The afternoon program features 21 speakers including doctors, scientists, philosophers and local stakeholders, who are among the best in their specialty and will engage in topics that stimulate debate and hope, as well as attracting media attention.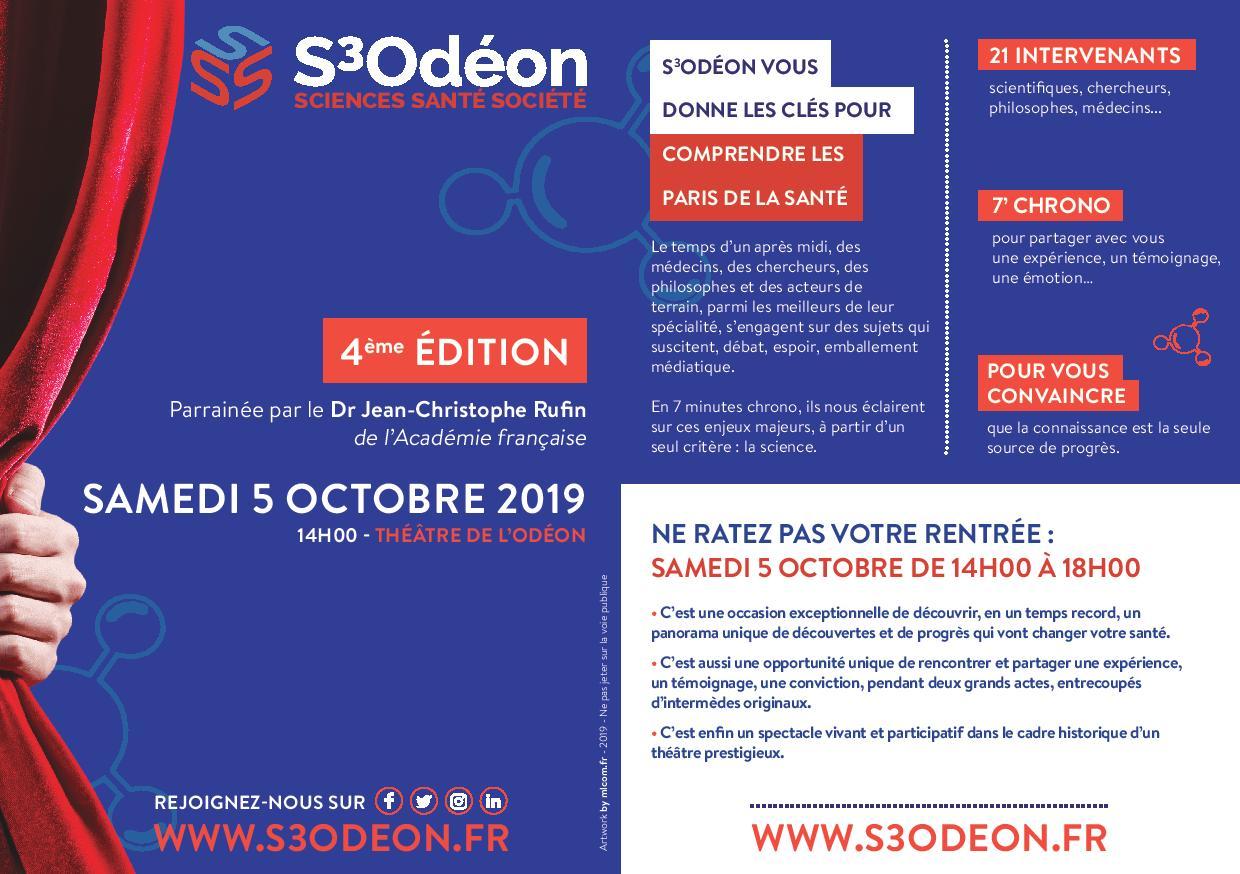 As part of its partnership with S3ODEON, this year the Institut Pasteur will be represented by Guillaume Dumas, a scientist in the Human Genetics and Cognitive Functions Unit.
Working at the crossroads of social psychology, cognitive neuroscience and biology, Guillaume Dumas seeks to understand human cognition and its biological, behavioral and social levels of organization.
For example, his work involves understanding the heterogeneous profile of autistic individuals. Using artificial intelligence capabilities available at the Institut Pasteur, he attempts to identify autistic patients with the closest resemblance in terms of profile with a view to improving long-term care.


 Guillaume Dumas presents his work. "Tête à tête" video (in French). Copyright: Institut Pasteur

In 2010 Dumas demonstrated that brain activity became synchronized during social interaction and also that if you reach for the hand of a loved one in pain, not only will your breathing and heart rate synchronize with theirs but their pain will ease.
Founded in 2015 and partnered by the Institut Pasteur, S3ODEON seeks to highlight information and a personal message uniting health, science and society. The association promotes diversity of opinion, freedom of thinking, open mindedness, access to knowledge and above all benevolence.
For more information, please visit