Faithful to the Pasteurian mission that aims to tackle human public health issues, the Institut Pasteur is involved in research on ageing. Seeking understand the decline in function of tissues in organisms, researchers from the Stem Cells and Development unit at Institut Pasteur made a discovery on the still unknown mechanisms of the epigenetic clock in stem cells.
Epigenetic modifications have been proposed as a major cause of age-related tissue degradation. Among them is a particular modification called "methylation of DNA". Age-predictive models, based on epigenetics and also known as epigenetic clocks, have been widely applied in recent years and have been reported to reflect chronological aging. Despite these correlations, the mechanisms underlying these models remain largely unknown. For this reason, the team of Shahragim Tajbakhsh from Institut Pasteur, in collaboration with the team of Wolf Reik at the Babraham (UK) tried to decipher the relationships between epigenetic regulation of DNA and ageing muscle stem cells.
"By examining the transcriptome and epigenome of individual muscle stem cells simultaneously, we found that DNA transcribes* more chaotically in older muscle stem cells compared to those in younger mice. This study also confirmed that age-related DNA methylation is associated to a certain extent with transcriptional modifications. This is the first time such a discovery has been made in a population of stem cells", says Shahragim Tajbakhsh, head of the Stem Cells and Development Unit at Institut Pasteur.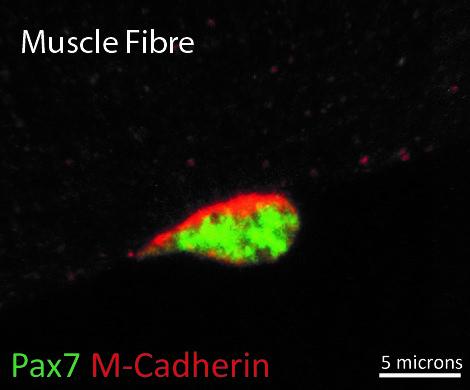 Muscle stem cell from young mouse stained with the transcription factor Pax7 and in contact with the muscle fibre through the extracellular matrix protein M-Cadherin. This matrix protein is decreased in muscle stem cells in old mice thereby destabilising contact with the fibre. Credit: Institut Pasteur
In stem cells in aged individuals, both transcriptional and epigenetic changes associated with ageing have been observed. While older stem cells show a slight increase in the methylation of their DNA, this methylation does not correspond to their chronological age. It should be noted that epigenetic clocks based on DNA methylation are constructed from data from multiple tissues from a mixture of different cell types. "We hypothesize that either small changes in cell composition during ageing may affect the epigenetic age of a tissue, or that our epigenetic clocks for mice need further refinement" says Shahragim Tajbakhsh. Stem cell numbers usually decline during aging thereby confounding results when total cell populations are surveyed.
This discovery on ageing underscores the importance of basic research in understanding the mechanisms that regulate stem cell properties and function to pave the way for future development of innovative diagnostic or therapeutic strategies.
 
* Transcription is the process by which genes carried by DNA are encoded in another form (RNA), this RNA is then translated into proteins.
 
Source

Ageing affects DNA methylation drift and transcriptional cell-to-cell variability in mouse muscle stem cells, Nature Communications, 25 septembre 2019

Irene Hernando-Herraez1,7, Brendan Evano2,3,7, Thomas Stubbs1,6,7, Pierre-Henri Commere4, Marc Jan Bonder5, Stephen Clark1, Simon Andrews1, Shahragim Tajbakhsh2,3 & Wolf Reik1

1 Epigenetics Programme, Babraham Institute, Cambridge, UK
2 Stem Cells & Development, Department of Developmental & Stem Cell Biology, Institut Pasteur, Paris, France
3 CNRS UMR 3738, Institut Pasteur, Paris, France
4 Cytometry and Biomarkers, Center for Technological Resources and Research, Institut Pasteur, Paris, France
5 European Molecular Biology Laboratory, European Bioinformatics Institute, Wellcome Genome Campus, Hinxton, UK
6 Chronomics Limited. Mills & Reeve Llp, 1 St James Court, Norwich, UK