On Friday December 9 this year, the 19 students* in the Pasteur iGEM 2016 team receive their awards at a ceremony that took place in the Institut Pasteur's Duclaux lecture hall in Paris. For the second consecutive year the team excelled in the iGEM (international Genetically Engineered Machine) competition, an annual event to promote research in synthetic biology. The team returned from the Massachusetts Institute of Technology (USA) with three trophies and a gold medal – the successful conclusion of an intense working year that proved highly rewarding for each student and for all partners in the initiative.
* From ESPCI (Ecole Nationale Supérieure de Chimie et Physique Industrielle), ENSCI (Ecole Nationale Supérieure de Création Industrielle), Paris Sud – Jean Monnet (Law), Paris Diderot and Pierre and Marie Curie University (Life Sciences), ETSL (Ecole de Techniques Supérieures de Laboratoire).
Nearly 5,600 participants from 42 countries presented some 300 projects. The iGEM competition, which promotes research in synthetic biology and is a valued opportunity for students to present a cutting-edge project, once more attracted some high-level entries. The competition culminated in the Giant Jamboree – a huge gathering at the end of October in which 3,000 participants from all over the world assembled in Boston (USA) to showcase their projects. Among them were 16 of the 19 students comprising the Pasteur iGEM 2016 team and their four coaches, who came to present their Mos(kit)o project – a kit for detecting and mapping mosquito vectors carrying arboviruses (Zika, dengue, Chikungunya, etc.). The kit comprises a mosquito trap, a biosilica-based detection patch and a mapping software tool.
Their work won them three trophies – in the Best Diagnostics Project, Best Applied Design, and Best Entrepreneurship categories. "And even a nomination for the best presentation and the best project!" added Deshmukh Gopaul, scientist in the Bacterial Genome Plasticity Unit and leader of the Pasteur iGEM project. "We are very proud of these awards, because they reflect the diversity of skills displayed by students trained in a variety of disciplines, including biology, chemistry, physics, law and even industrial design." The award for Best Diagnostics Project recognized the team's work in designing a detection kit that is functional, user-friendly and effective. The team's work prioritized the area of Human Practice, which places the emphasis on sustainable development and responsible research, and "for which we also received the 2016 Synenergene prize," said Deshmukh Gopaul. The Best Applied Design award was given for the finished product (see photo below) and the Best Entrepreneurship award reflects all the work that went into making the kit commercially viable.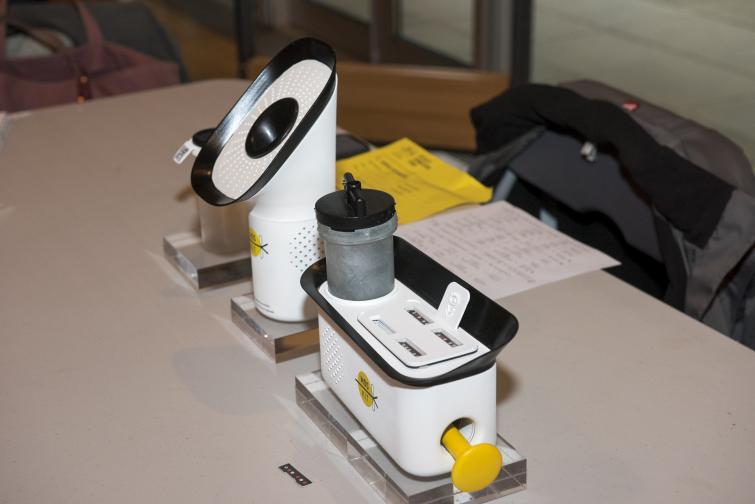 So how did they arrive at the idea for the Mos(kit)o detection kit? "From January to March, we held brainstorming meetings with the Pasteur iGEM team, also compiling reference material," explained Deshmukh Gopaul. "Several project ideas were aired, with the biosilica-based detection kit emerging as the most promising, achievable and in line with current ideals." The decision was taken in March, and work began on designing the kit, devising application scenarios, training students in intellectual property rights, biology and laboratory safety, drawing up communication documents (flyers, wiki site, etc.), fundraising and plans to present the project at the actual competition. "Fundraising is an important aspect, as we had to cover the competition registration fee as well as air fares to Boston and accommodation for twenty or so people. This part of the project alone cost nearly €40,000."
However, this investment may be considered far from excessive, given the quality of the Pasteur iGEM team's project. "Industry professionals have shown interest in our detection kit, with enquiries from the World Health Organization (WHO), the City of New Orleans, EID (the French Interdepartmental alliance for mosquito control), the Medilab Secure network and the Institut Pasteur International Network. These are serious avenues for making the kit commercially available." All of which leads Deshmukh Gopaul to place the iGEM project within a three-year time frame:
an experimental year, in which the project was created and which culminated in the Giant Jamboree in Boston;
a consolidation year, for the Institut Pasteur teams to develop the project in association with industrial partners and so on;
and an innovation year, for seeking a commercial outlet for the technology.
This final month of 2016 sees the students receive their awards and entries open for the Pasteur iGEM 2017 team. Within a few months, another innovative and high-quality synthetic biology project will emerge. Perhaps it will receive support from the Pasteur Fab Lab – a new Institut Pasteur department aimed at assisting scientists in designing and building their projects using prototyping facilities (3D printer, CNC, CAD).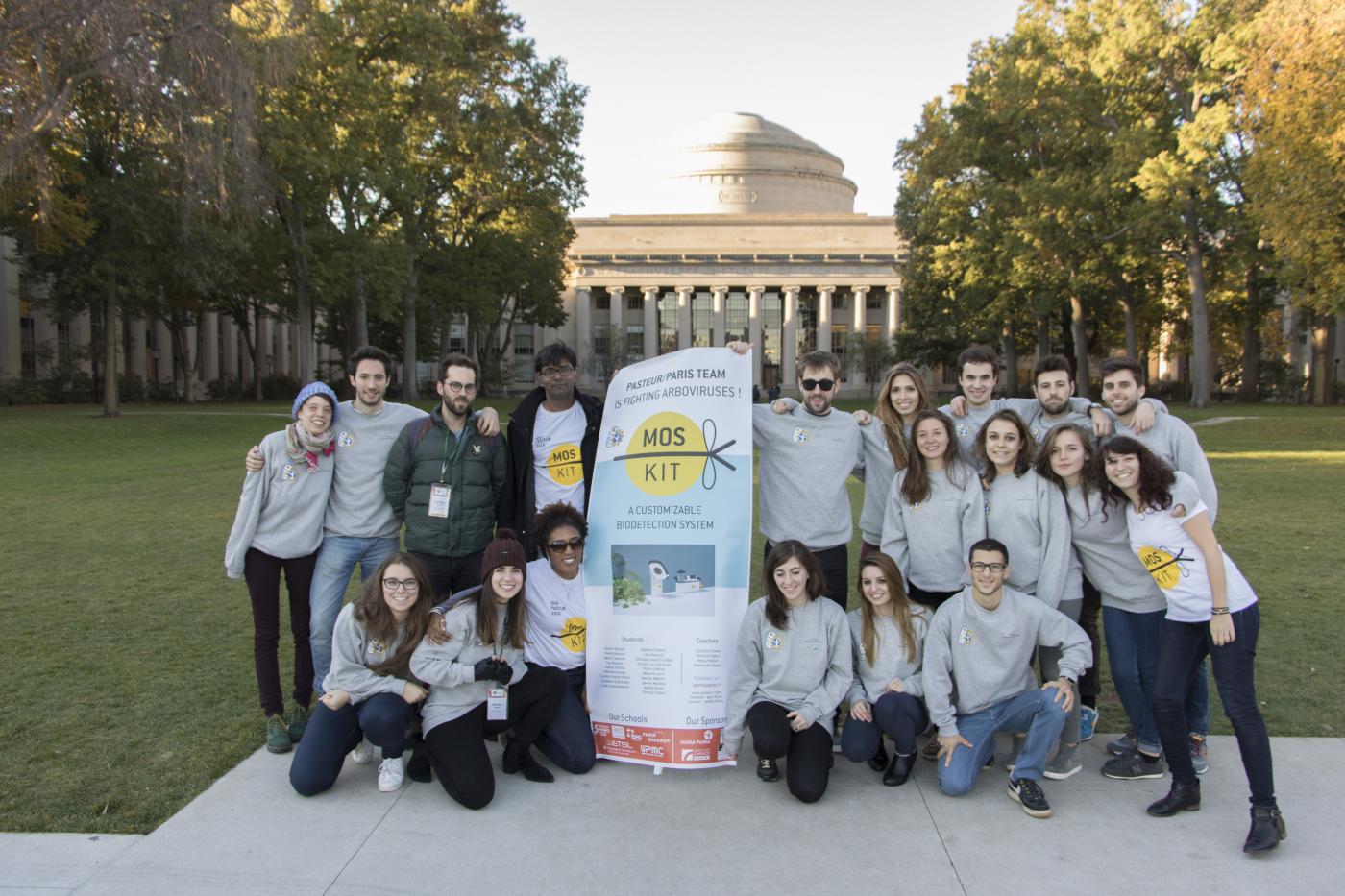 Row 1 (bottom, left to right): Svetlana Ivanoff-Colleu, Marina Maletic, Patsy Polston, Claudia Gestin-Vilion, Audrey Delots, Mathieu Hubert, row 2: (right) (center, left to right): Charlène Guillaume, Marie Camman, Victoire Le Chevallier, Hannifa Bouziri, row 3: (top, left to right) Lisa Dehove, Xavier Montoy, Guillian Graves, Deshmukh Gopaul, Vincent Legros, Lise Hunault, Thomas Vialon, Victor Lépine, Mehdi Morel.
Missing: Benoit Béliard, Cindy Hamamouche, Mélanie Lorin, and Mélanie Dumay.
For more information, please visit