By formally identifying the main player in the fusion between male and female sex cells, researchers from the Institut Pasteur, the CNRS and Paris Descartes University, together with American and German teams, have revealed the probable viral origin of this fusion process, which is common to a vast number of living organisms on Earth. In addition, the study provides new lines of research for therapeutic possibilities, aiming to block sexual reproduction in certain pathogens, such as the malaria agent. These findings were published in the Cell journal on February 23, 2017.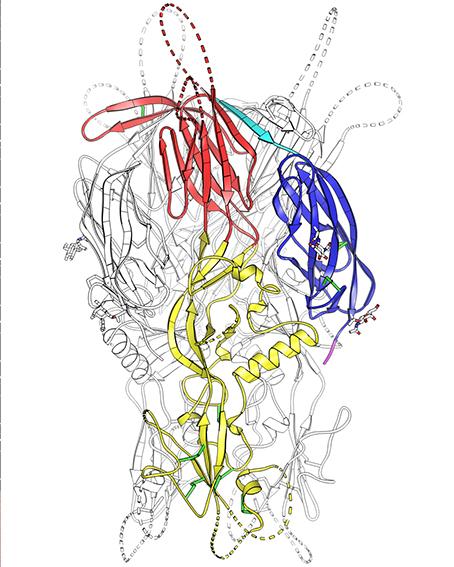 It was known since the early 20th century that fusion between a male and a female gamete constitutes the first essential step in the formation of a fertilized egg cell, whose successive divisions result in the creation of a whole living organism. This reproduction process is common to most eukaryotes, i.e. living organisms made up of cells with a nucleus — animals, plants and also some parasites like Plasmodium, the malaria agent — as opposed to prokaryotes (like bacteria), which do not have nuclei. Although essential, this process and the underlying molecular mechanisms were little understood until now
The HAP2 protein, which is present on the surface of the male gamete membrane and can be found in almost all branches of the eukaryotic phylogenetic tree, had already been suspected of being involved in the sexual cell fusion process. Under the supervision of Felix Rey (Structural Virology Unit), researchers from the Institut Pasteur, the CNRS and Paris Descartes University, together with teams from the University of Texas[1] and Hannover Medical School[2] set about investigating this protein.
By determining the three-dimensional structure of the HAP2 protein of the unicellular alga Chlamydomonas, using crystallization and X-ray diffraction, the scientists showed that it is homologous to class II viral fusion proteins. This discovery led them to believe that HAP2 could be the legacy of an ancient viral infection, which is thought to have been produced in an ancestor common to all eukaryotes.
The researchers therefore carried out an in-depth functional study, based on prior knowledge of the virus fusion mechanism and the identified homolog. This study was used to characterize the specific structure of HAP2 that enables it to trigger fusion. It concerns a region that forms a loop on the outside of the cell. They showed that when this loop is altered or otherwise blocked, fusion of gametes is directly prevented. This "fusion" loop — like the one presented by viral proteins which are homologous to HAP2 — is therefore a key region for fusion between gametes.
By clearly identifying a protein — derived from the same ancestral gene as proteins used by certain viruses (dengue or Zika for example) to invade a cell — as being responsible for fusion between gametes in eukaryotes, this research suggests that a virus could be behind eukaryotic reproduction on Earth. It nevertheless remains possible that, on the contrary, it was the viruses that incorporated a cell protein to enable them to perform this membrane fusion function. Now that the molecular bases — which have long been ignored for this fusion process — have been uncovered, the scientists have also highlighted HAP2 as a therapeutic target for blocking the transmission of pathogens, which, like Plasmodium (the malaria agent), use sexual reproduction via HAP2 fusion in their biological cycle.
[1] William J. Snell's team, Department of Cell Biology, University of Texas Southwestern Medical Center, Dallas (USA), and currently the Department of Cell Biology and Molecular Genetics, University of Maryland, College Park, MD 20742, USA.
[2] Thomas Krey's team, Institute of Virology, Hannover Medical School (Germany), and Deutsches Zentrum für Infektionsforschung (German Center for Infection Research).
Iconographie : structure de la protéine HAP2 de l'algue verte Chlamydomonas reinhardtii. La double boucle projetée à la pointe du domaine II de HAP2 (domaine jaune) est responsable de son interaction directe avec la membrane de l'ovule. Des anticorps dirigés contre cette boucle de fusion de HAP2 sont capables de bloquer la fusion des gamètes de l'algue in vivo. ©Thomas Krey
---
Source
The ancient gamete fusogen HAP2 is a eukaryotic class II fusion protein, Cell, 23 février 2017.
Juliette Fedry1,2,3,4,11, Yanjie Liu5,11, Gerard Péhau-Arnaudet6, Jimin Pei7, Wenhao Li5, M. Alejandra Tortorici1,2, Francois Traincard8, Annalisa Meola1,2, Gerard Bricogne9, Nick Grishin7, William J. Snell5, †,*, Félix A. Rey1,2,12,* and Thomas Krey 1,2,4,10*
(1) Institut Pasteur, Unité de Virologie Structurale, 25-28 Rue du Docteur Roux, 75724 Paris Cedex 15, France
(2) CNRS UMR 3569, 25-28 Rue du Docteur Roux, 75724 Paris Cedex 15, France
(3) Université Paris Descartes Sorbonne Paris Cité, Institut Pasteur, Rue du Docteur Roux, 75015 Paris, France
(4) Institute of Virology, Hannover Medical School, 30625 Hannover, Germany
(5) Department of Cell Biology, University of Texas Southwestern Medical Center, 6000 Harry Hines Boulevard, Dallas, TX 75390-9039, USA
(6) Institut Pasteur, PFMU, UMR 3528, CNRS, Institut Pasteur, 25-28 rue du Docteur Roux, 75015
Paris, France
(7) Departments of Biophysics and Biochemistry and Howard Hughes Medical Institute, University of Texas Southwestern Medical Center, 6000 Harry Hines Boulevard, Dallas, TX 75390-9039, USA
(8) Institut Pasteur, Plateforme Ingenierie des Anticorps, Department Biologie Structurale et Chimie, Paris, France
(9) Global Phasing Ltd., Sheraton House, Castle Park, Cambridge CB3 0AX, UK
(10) German Center for Infection Research (DZIF)
(11) Co-first author
(12) Lead Contact
†Present address: Department of Cell Biology and Molecular Genetics, University of Maryland, College Park, MD 20742, USA