Perception, emotions, behavior, decision-making, memory, good mental health, depression – these are some of the research topics that interest Pierre-Marie Lledo. With his team of biologists, physicians, mathematicians, biophysicists and biochemists, he is working to uncover some of the most intimate mechanisms in the brain.
Pierre-Marie Lledo is a determined neuro-optimist and is always willing to put the lessons learned from his discoveries into practice in his everyday life. Failures and good and bad surprises are all ultimately positive – they help us to bounce back stronger and identify future topics for experimentation.
Although he has won a host of prizes and awards in the field of neuroscience, he remains an educator. With an infectious passion for his work and a unique way with words, the scientist looks back on the highlights of his research career to date and some of the mysteries that are yet to be solved.
If you want to develop your brain plasticity, avoid routine!
Pierre-Marie Lledo joined the Institut Pasteur in 2002 to lead his own research unit. So this year he is celebrating his 20th year on campus! Back in 2005, scientists identified regions in the adult brain that produce new neurons, such as the hippocampus – a brain region that is crucial for memory formation and processing emotions. This discovery challenged the theory that our brain loses its neurons once we hit the age of 20. The team then proved that this new neuron production can be stimulated in certain conditions – through exposure to new information, physical exercise, social interactions, etc. But it can also be inhibited, especially by the chronic stress hormone (cortisol).
« We tried to stimulate the brain activity of a rodent. These animals mainly familiarize themselves with their environment through their olfactory system. So we bought a whole range of spices from a supermarket. Every day for a month, we hung a tea ball inside the cage with a new olfactory discovery: sweet mint, cumin, cinnamon, etc. The results showed that we could "boost" the production of new neurons in an adult brain.»
We then tested other stimuli: physical stimulation and social stimulation.
Studying these factors that are good for our brain raised new questions about brain aging. What if brain aging could be significantly slowed down by providing the brain with favorable factors?
Based on blood data, we made comparisons to understand what distinguishes a "young" brain from an "older" brain. The team is trying to elucidate which blood factors accumulate and which disappear with age. In a similar vein, we have also launched new research in collaboration with neurologists at Pitié-Salpêtrière Hospital in Paris to try to improve our understanding of Parkinson's disease.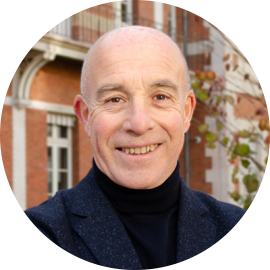 Social isolation, chronic stress and repetitive tasks harm our brain's regenerative capacity. We must not forget that the brain is just as complex as the world that we have built.
Pierre-Marie is always keen to apply what he has discovered through his research to his daily life.
"We need to break away from habits. For example, I regularly change my route when cycling to work. There is no one recipe – everyone can stimulate their brain in the way that works best for them. When it comes to social activity, let's develop closer links between each other! And in terms of physical activity, walking or cycling is better than driving. Sleep and diet are also two essential factors for good mental health."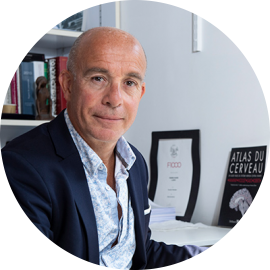 I like meeting a diverse range of different people, whether punks or academics – I find it fascinating to talk to them and hear their viewpoints! As Socrates said, wisdom begins in wonder, so it is logical to want to be constantly surprised and amazed.
Look after your bacteria – they send you positive signals!
On the topic of food, another important research project carried out in collaboration with the team led by Gérard Eberl, an immunologist in the Institut Pasteur's Microenvironment and Immunity Unit, proved that our brain is directly connected with our gut microbiota. Our digestive system is home to 100,000 billion bacteria and around 1,000 different species. Chemical messages containing information are relayed from this biodiverse ecosystem to the brain, via the bloodstream or the nervous system. What is remarkable is that the quality of these messages from the microbiota has a direct impact on our mental health and our immune system.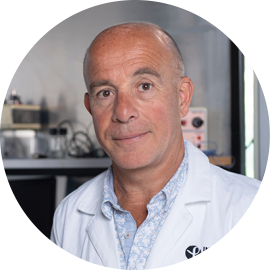 To boost our optimism, it can sometimes be better to eat a chunk of blue cheese than to take antidepressants, because 85% of the serotonin that runs through our veins comes from our microbes.
"Fermented food is an excellent source of probiotics: beer, sauerkraut and kefir can be found all over the world. I'm fascinated by different cultures, and on a trip to Japan I was lucky enough to share dishes made with natto (fermented soybeans) with friends. The taste is difficult to describe – it's somewhere between yeast and cheese!"
When we eat well, the brain receives positive messages from the microbiota. There are three ways of influencing the brain in this respect:
prebiotics – nutrients that are necessary for the survival of the microbiota.
probiotics – foods containing yeast or ferments.
postbiotics – chemical compounds produced by bacteria. Work is still ongoing to establish a full list of postbiotics.
But if we eat too much fat or sugar, the biodiversity of our gut is depleted because only one family of bacteria proliferates. This weakens the immune system and can lead to inflammatory diseases, allergies or other autoimmune diseases. Once we reach 70, the diversity of our microbiota decreases, and this is the age at which various health problems start to emerge.
In 2022, Pierre-Marie's team demonstrated the importance of the gut/brain connection in people with Alzheimer's disease, whose microbiota is particularly damaged. The scientists observed that stimulating the vagus nerve, which connects the digestive system and the brain, can restore cognitive functions and especially strengthen memory.
Mysteries yet to be solved
Our brain is extremely social. By measuring the brain activity of an individual, scientists determined that approximately 70% of the brain's activity is spent managing interactions with other people.
Complex connections are established between individuals. We all know that optimism can be contagious. A good mood can be passed on through language or by sharing an activity, or more mysteriously simply by a person's presence.
A study in collaboration with Jean-Marc Ghigo, Head of the Institut Pasteur's Genetics of Biofilms Unit, set out to demonstrate that in infected mice, bacteria secrete volatile substances to attract other mice. It is thought that bacteria send volatile signals from an infected host to exert an attraction on other mice, who then also become contaminated. We can see that this gives bacteria a better chance of survival, since they can easily spread from host to host multiple times.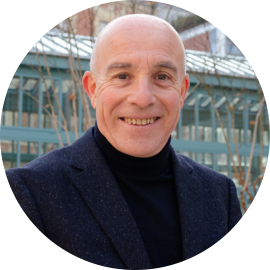 We are part of an ecosystem, which means that our brain does not function in isolation in our body or in a crowd. This is what neuroscience has taught us in recent decades. We are the result of multiple complex interactions. This is a view that could be described as holistic, reflecting the "One Health" concept, which holds that health should be seen as being at the interface between humans, animals and their environments. Everything is linked, and neuroscience still has much to reveal about the mysteries of the brain, which is connected to our body but also to our environment.
Long COVID and anosmia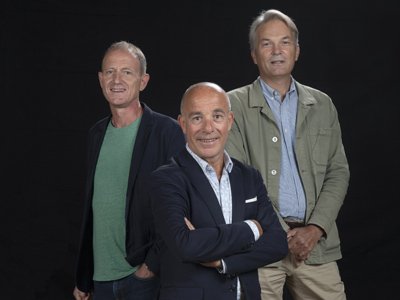 (Photo - Left to right: Hervé Bourhy, Pierre-Marie Lledo and Marc Lecuit)
In 2021, during the COVID-19 pandemic, Pierre-Marie and his colleagues developed a diagnostic method aimed at ENT specialists for cases of patients with long COVID who had lost their sense of smell but strangely still returned a negative PCR test.
In collaboration with Marc Lecuit, Head of the Biology of Infection Unit, and Hervé Bourhy, Head of the Lyssavirus Epidemiology and Neuropathy Unit, they demonstrated that the loss of smell is associated with prolonged epithelial and olfactory nervous system inflammation because of the chronic presence of SARS-CoV-2 in the olfactory neurons in the nasal cavity.
Key dates in Pierre-Marie Lledo's career
Education / Training
1998 – Accreditation to supervise research (Paris XI University, School of Medicine)
1991 – PhD in Neuroscience (summa cum laude, University of Bordeaux)
1986 – Degree in Life Sciences (Ecole Normale Supérieure, Cachan)
Current Positions
Director of the Department of Neuroscience at the Institut Pasteur
Head of the Perception and Memory Unit at the Institut Pasteur
Head of the Genes, Synapses and Cognition Unit at the French National Center for Scientific Research (CNRS)
Director of the Neuroscience Graduate Teaching Program at the Institut Pasteur
Awards and honors
1995: CNRS Bronze Medal
2002: Prize from the Schlumberger Foundation for Education and Research
2004: Prize from the French National Academy of Medicine
2005: Prize from the NRJ/Institut de France Foundation
2006: Member of Academia Europaea
2007: Jaffé Prize from the Institut de France
2010: Camille Woringer Prize from the French Foundation for Medical Research (FRM)
2012: Mémain-Pelletier Prize (Biology/Medical Science) from the Institut de France
2013: Grand Prix from the Prince Louis de Polignac Foundation
2015: Special Jury Prize from the International Roger de Spoelberch Foundation
2018: "X-Philo" Prize from the students of the École Polytechnique
2020: Medal of Honor from the Cercle de Paris