Fabrice Chrétien knew at a very early age that he would become a scientist. He currently heads the Neuropathology Department at Sainte-Anne Hospital in Paris and leads his own research unit at the Institut Pasteur. His research is directly inspired by the health problems experienced by his patients.
It all began back in primary school for Fabrice. He was passionate about natural sciences and had already begun to dream about becoming a scientist himself one day. He made the most of any opportunity to attend open days at Paris' top research institutes, including the Institut Pasteur. When he was coming to the end of high school and had to choose how to orient his future studies, his mathematics teacher strongly advised him to opt for medicine, which would open the door for a career as a scientist.
First experience in a research laboratory
In 1990, Fabrice began his studies at the Faculty of Medicine of University Paris-Est Créteil. He immediately sent out a batch of letters to the heads of the Institut Pasteur's units with the aim of securing a summer internship. It was Daisy Roulland Dussoix, head of a bacteriology unit, who gave him his first opportunity in a research laboratory, where he was given the task of performing tests to measure the efficacy of antibiotics using the antibiogram approach. Although he didn't find the work particularly exciting, it was still a first experience, and one that he would repeat every summer while he was at university.
A second encounter proved more decisive for his future career: at Henri-Mondor Hospital, he met Françoise Gray, then a professor of neuropathology. Doctors refer to this period as the "dark days" of AIDS, when there were no treatment options for the condition. HIV attacked the immune system, leaving the door wide open for any number of opportunistic diseases. Countless autopsies and analyses were carried out, and Fabrice was a willing volunteer. In the lab, he was given the task of examining brain sections under the microscope, describing his observations and diagnosing any diseases. He loved spending time at the microscope; he learned how to "read samples" and memorized a wealth of information about diseased cells and tissues – vital skills for a histopathologist, who diagnoses disease by studying tissues under a microscope.
At the end of that same year (1990), he wrote and published his first article.
On the ground
In 2000, Fabrice graduated in medicine and became chief resident. He was now a qualified doctor and was able to devote half of his working hours to the research he was carrying out in the Histology Department at Henri-Mondor Hospital. The rest of his time was spent practicing medicine in the Pontoise branch of the SMUR (French ambulance service), then as a senior physician in the Pontoise SAMU (French emergency medical service).
"Those years made a big impression on me. Even now, when I hear an ambulance siren, my heart starts pounding! It's a huge responsibility – you need to be able to make quick decisions, whether you're actually in the ambulance or managing the teams and resources. And of course, some days you inevitably have to face the reality of death."
Applied research
In April 2010, Fabrice Chrétien became head of the Human Histopathology and Animal Models Unit at the Institut Pasteur. The twenty-member team is composed of specialists in different fields – psychiatrists, neurologists, intensive care specialists and anesthetists –, all of whom divide their time between hospital work and research, as well as technicians and PhD students.
His team currently focuses on two areas. The first is damage to the central nervous system during severe infections (septicemia), and the second is the ability of nerve and muscle tissue to repair itself from lesions. This research, carried out in direct connection with the hospital, is vital for improving characterization of damage to tissues and developing treatments to protect and repair them.
"Some molecules are currently being tested with the aim of finding treatments and curative therapies. That's why we need doctors in our laboratories. Their proximity with patients and diseases, as well as their clinical expertise, are invaluable for identifying applicable therapeutic solutions."
For Fabrice, being a scientist can be a difficult, even thankless task. "When you don't obtain the results you expect, you need to be curious, to ask questions," he explains.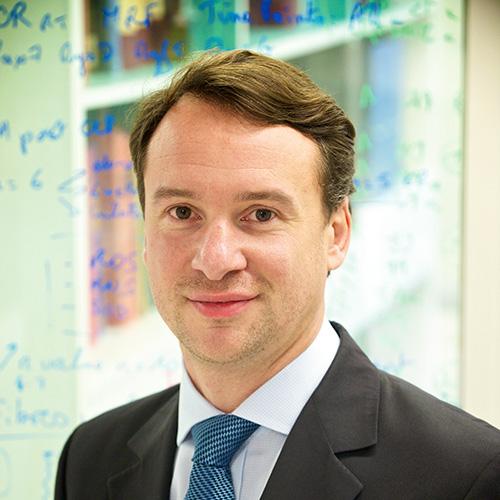 When you don't obtain the results you expect, you need to be curious, to ask questions, he explainshe explains. "That requires time and perseverance – you often need to repeat experiments several times without being sure that they will work. But when you manage to reveal and understand an unexplained phenomenon, it's the most satisfying feeling.
Septicemia, also known as sepsis, claims six million lives worldwide each year. Sepsis tends to affect either the very young (neonatal sepsis in newborns) or the elderly (Pope John Paul II died of sepsis in 2005). However, it can also affect adults in their prime. Notable examples include Agnès Souret, the first Miss France, who died at the age of 26, and the actor Guillaume Depardieu who died aged 37.
Key dates in Fabrice Chrétien's career:
2018: Director of the Program Assessment and Follow-up Department at Inserm
Since 2013: Professor and Senior Consultant at Paris Descartes University
2011-2013: Professor and Senior Consultant in the Pathological Anatomy Department at Raymond-Poincaré Hospital in Garches/Versailles Saint-Quentin-en-Yvelines University
2010: Head of the Human Histopathology and Animal Models Unit at the Institut Pasteur
2008: Accreditation to supervise research
2004: PhD in Neuroscience
2001: Postgraduate diploma (DEA) in Neuroscience at the "3C" (brain, cognition, behavior) doctoral school
2000: Laureate of the Faculty of Medicine at University Paris-Est Créteil
1999-2003: Senior physician at SAMU 95/SMUR in Pontoise
1999: Winner of the French National Academy of Medicine Prize