On the occasion of the high-level meeting showcasing 130 years of Science at the Institut Pasteur, the Genes & Immunity Journal published a special issue reporting the presentations that had been given. A collection of articles that highlights the Institut Pasteur's 130 years of involvement in studying infectious diseases and fighting for public health.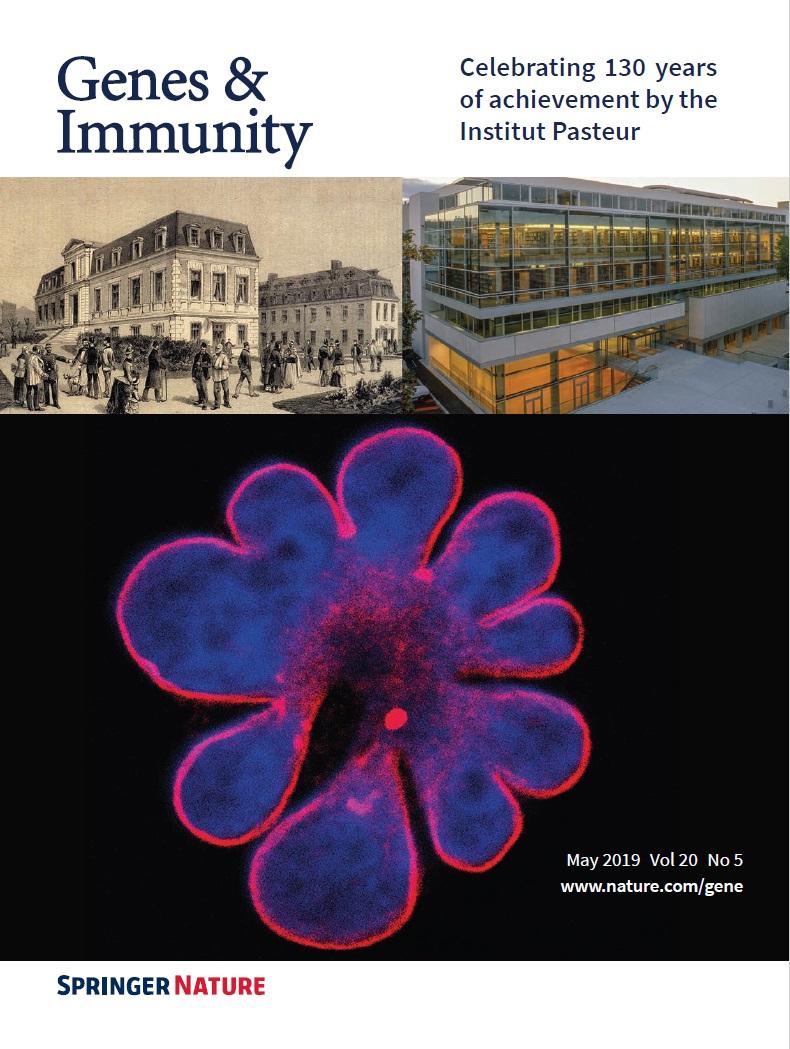 A flower-like nucleus induced by expression of the cellular protein SUN2 in human macrophage-like cells. SUN2 is stained red, while the nucleus is stained blue (immunofluorescence confocal microscope image by Daniel Aaron Donahue and Olivier Schwartz, Institut Pasteur). © 2016, American Society for Microbiology. All Rights Reserved.
The Institut Pasteur commemorated its 130th anniversary on November 13th, 2018. This celebration was the opportunity to point out the Institut Pasteur's contribution to fighting diseases worldwide and was illustrated by the speeches of distinguished guests such as the World Health Organization, the Gates Foundation and the French ministries of health and research.
From May 15-17, 2019, another meeting took place to celebrate science but, most of all, the multidisciplinarity of the scientific research currently being conducted in Paris and all over the world. Genes and Immunity took this opportunity not only to provide some of the work carried out at the Institut Pasteur but also to show that the Pasteurian tradition initiated 130 years ago is alive and well today. This journal emphasizes studies investigating how genetic, genomic and functional variations affect immune cells and the immune system, and associated processes in the regulation of health and disease. Genes and Immunity has therefore highlighted several publications.
Some emphasize the historical importance of the Institut Pasteur and its pioneers' researchers in several scientific fields such as sepsis or the fight against plague. Others deal with more up-to-date topics, from the diversity of fungal infections to genetic evolution of Legionella, from therapeutic approaches in chronic inflammatory diseases to the remarkable cure of viral hepatitis.
A special edition that gives credit to the Institut Pasteur as a center of excellence in biomedical research. "Like me, Louis Pasteur would be proud of the various contributions of "Team Pasteur" to improving the quality of human life be it directly through targeted interventions or indirectly in the form of advanced knowledge" concludes Stewart Cole, President of the Institut Pasteur. "I would like to thank my colleagues, our friends, allies and donors for their creativity, commitment and support. Together, we will ensure that the Pasteur tradition of excellence in biomedical science is maintained for at least another 130 years!"

The table of contents of the Genes and Immunity's special issue is as following:
Celebrating 130 years of achievement by the Institut Pasteur by Stewart T. Cole, President of the Institut Pasteur
Editorial by Marie-Lise Gougeon, Maxime Schwartz, Thomas Brunner, David M. Ojcius
Duclaux, Chamberland, Roux, Grancher, and Metchnikoff: the five musketeers of Louis Pasteur by Jean-Marc Cavaillon and Sandra Legout,
Yersinia pestis and plague: an updated view on evolution, virulence determinants, immune subversion, vaccination and diagnostics by Christian Demeure, Olivier Dussurget, Guillem Mas Fiol, Anne-Sophie Le Guern, Cyril Savin and Javier Pizarro-Cerdá
From septicemia to sepsis 3.0 - from Ignaz Semmelweis to Louis Pasteur by Jean-Marc Cavaillon and Fabrice Chrétien
Novel mechanistic insights into physiological signaling pathways mediated by mycobacterial Ser/Thr protein kinases by Marco Bellinzoni, Anne Marie Wehenkel, Rosario Durán and Pedro M. Alzari
Intracellular parasitism, the driving force of evolution of Legionella pneumophila and the genus Legionella by Laure Gomez-Valero and Carmen Buchrieser
Studying fungal pathogens of humans and fungal infections: fungal diversity and diversity of approaches by Guilhem Janbon, Jessica Quintin, Fanny Lanternier, and Christophe d'Enfert
The IL-23/IL-17 pathway in human chronic inflammatory diseases – new insight from genetics and targeted therapies by Elisabetta Bianchi and Lars Rogge
The Best of Both Worlds- Bringing together Cell Biology and Infection at the Institut Pasteur by Chiara Zurzolo and Jost Enninga
The remarkable history of the hepatitis C virus by Stanislas Pol and Sylvie Lagaye
For more information, please visit