Legionellosis is a disease caused by the bacterium Legionella pneumophila. Scientists from the Institut Pasteur have described for the first time, the process used by these bacteria to modify epigenetic marks in the host cell. This mechanism enables L. pneumophila to evade the immune response and to trigger infection.
Legionella pneumophila is found in natural freshwater environments from which they can contaminate man-made water systems such as air-conditioning systems. In their natural environment, they multiply in protozoa – such as amoebae –, single-celled organisms that are abundant in soil and fresh water. But L. pneumophila also causes a disease known as legionellosis, a severe form of pneumonia (see the Legionellosis fact sheet). In affected individuals, Legionella replicates in certain body cells, including the immune cells in the lungs (or alveolar macrophages). To replicate successfully, the bacteria suppress the defense genes of the cells they infect. They evade the immune system and survive in human cells. This mechanism was observed in 2013 by the Biology of Intracellular Bacteria Unit at Institut Pasteur, led by Carmen Buchrieser.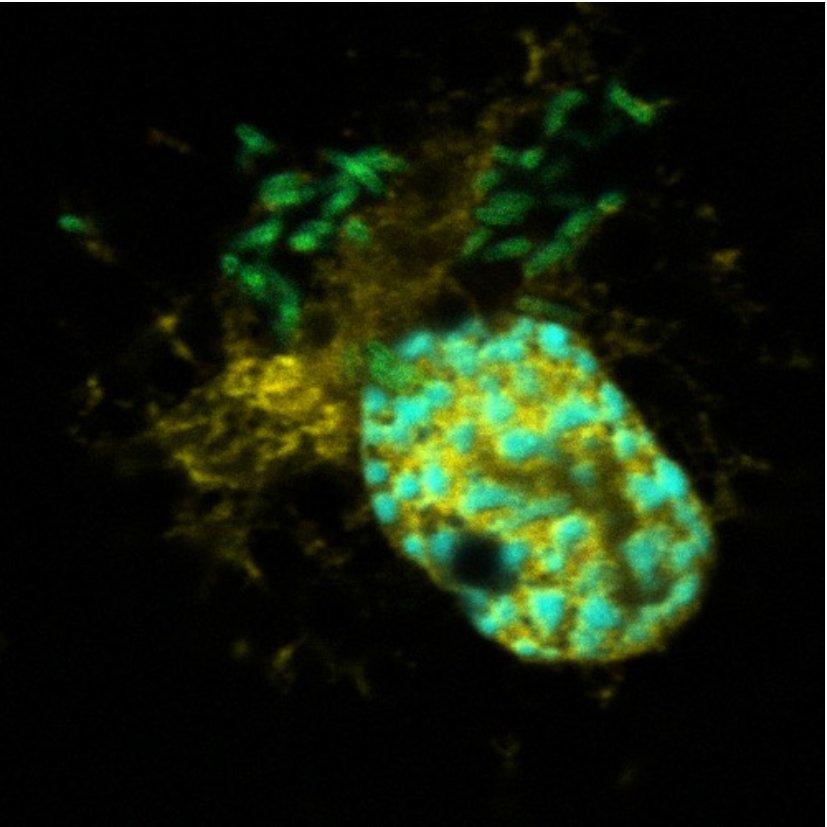 Immunofluorescence analysis of the Legionella deacetylase during infection of THP-1 cells. Legionella: green; deacetylase: yellow; host cell nucleus: cyan  © Monica Rolando
The "epigenetic" mechanism employed by Legionella finally revealed
In a recent study, Carmen Buchrieser and team member Monica Rolando explain the molecular mechanism used by the bacteria for the first time. "What's extraordinary is that L. pneumophila secretes two proteins that are normally absent from the bacteria but present in host cells. These two Legionella proteins work together to manipulate the host cell gene expression directly in its nucleus," explains Carmen. The two proteins trigger epigenetic changes: specialized enzymes leave biochemical marks on DNA or on the proteins that structure it.
In this new study, the novel bacterial enzyme identified is marking proteins in the host cell nucleus, known as "histones." This involves removing a group of atoms (the acetyl group) from these proteins – scientists refer to "deacetylating histones." "It is remarkable that the new protein recently discovered works in concert with the protein discovered in 2013 (known as RomA) to manipulate the same histone mark. It enables RomA to act on immune response genes," concludes the scientist.
Hopes for a treatment using epigenetic inhibitors
This discovery raises hopes for the development of new treatments for bacterial infections, especially those caused by antibiotic-resistant bacteria. Teams at the Institut Pasteur (for example the team led by Paola Arimondo) are working on the synthesis of epigenetic inhibitors. These treatments, already used for certain types of cancer, inhibit molecular processes that modulate gene expression.
--------------------------------------------------
Source:
Legionella para-effectors target chromatin and promote bacterial replication, Nature communications, April 14, 2023.
DOI: 10.1038/s41467-023-37885-z