How is it that embryonic stem cells are able to divide over and over again without ever losing their identity? Scientists from the Institut Pasteur have recently answered this question with their discovery that a transcription factor, Esrrb, is directly involved in controlling the transfer of information that enables stem cells to continue expressing the same genes as the initial stem cell even after several generations of division.
Stem cells are able to divide indefinitely while maintaining their identity. Daughter cells are identical to the mother cell they are derived from, with each successive generation expressing exactly the same genes. How can we explain this phenomenon? What information is passed on, other than genetic information, to tell each daughter cell which genes it needs to express?
"When a cell divides [mitosis], the chromosomes condense such that they can be equally distributed between the two daughter cells. During this process, DNA is not really accessible to the transcription factors, the molecules that decide when and how a gene is expressed," explained Pablo Navarro Gil, Head of the Institut Pasteur's Epigenetics of Stem Cells laboratory*. The main challenge in the field of epigenetics is understanding what type of information is passed on by a mother cell to its daughter cells so that the transcription factors know whether to switch the same gene repertoire on or off.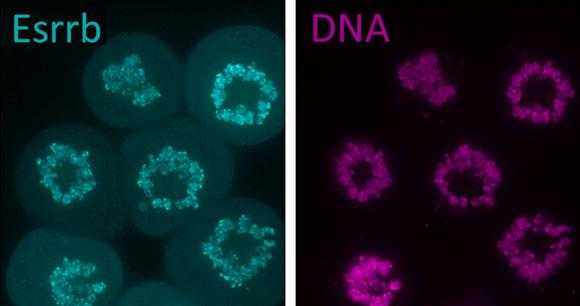 Cells stopped during mitosis and marked to show DNA and Esrrb. We can see condensed chromosomes in the center, ready to be divided into two batches. © Institut Pasteur
Recent progress in molecular biology suggests that epigenetic marks are passed on. Paradoxically, however, it was thought that stem cells were only dependent on traditional epigenetic mechanisms to a very limited extent. "But we have recently identified such a mechanism! And a rather unusual one at that," continued Pablo Navarro Gil. Using sophisticated imaging techniques and a series of biochemical analyses, his team observed that a transcription factor known as Esrrb remained bound to the chromatin during mitosis – something that only a handful of transcription factors appear to do. By remaining bound to DNA during mitosis, Esrrb seems to be able to directly tell the daughter cells which genes they need to express. The scientist pointed out that "other transcription factors must also have this property of remaining active during mitosis to pass on the list of genes that need to be activated to the daughter cells. In my view these transcription factors play a key role." Through its fundamental research, the Institut Pasteur has therefore identified one of these epigenetic factors, solving the mystery of how stem cell identity is passed on.
This finding provides scientists with a vital new piece of information that can help speed up research in several areas.
• In cancer research, especially: the uninterrupted proliferation of cancer cells suggests that this type of mechanism could play an important role. "If we can discover the factors involved, probably oncogenic factors, we may be able to block them and prevent the multiplication of tumor cells," explained Pablo Navarro Gil. "We may even be able to specifically destroy cancer stem cells, the cells in tumors that cause patients to relapse."
• In regenerative medicine, stem cells are being explored as a way of producing tissues or even organs for transplants. This requires making stem cells multiply as quickly as possible (transplants are often urgent) to obtain a pool of cells that can be guided into becoming a specific tissue to be transplanted. But "with their capacity for infinite division, stem cells can become cancerous," pointed out Pablo Navarro Gil. Understanding the mechanisms that enable stem cells to maintain their identity can help scientists control their multiplication and make sure they multiply quickly and properly.
* Ce laboratoire est un « Groupe à cinq ans », c'est-à-dire une équipe de recherche destinée à de jeunes scientifiques à fort potentiel.
Source
Mitotic binding of Esrrb marks key regulatory regions of the pluripotency network, Nature Cell Biology, 10 octobre.
Nicola Festuccia1, Agnès Dubois1, Sandrine Vandormael-Pournin2, Elena Gallego Tejeda1, Adrien Mouren1, Sylvain Bessonnard2, Florian Mueller3, Caroline Proux4, Michel Cohen-Tannoudji2 and Pablo Navarro1*
1: Epigenetics of Stem Cells, Department of Developmental & Stem Cell Biology, Institut Pasteur, CNRS UMR 3738, 25 rue du docteur Roux, 75015 Paris, France
2: Mouse Functional Genetics, Department of Developmental & Stem Cell Biology, Institut Pasteur, CNRS UMR 3738, 25 rue du docteur Roux, 75015 Paris, France
3: Imaging and Modelling, Department of Cell Biology & Infections, Institut Pasteur, CNRS UMR 3691, 25 rue du docteur Roux, Paris 75015, France
4: Transcriptome and EpiGenome, BioMics, Center for Innovation and Technological Research, Institut Pasteur, 28 rue du docteur Roux, 75015 Paris, France
*Corresponding author.
Mis à jour le 17/10/2016