This year, the Association for Research in Otolaryngology (ARO) chose to recognize the research of Prof. Christine Petit by selecting her as the recipient of its highly prestigious Award of Merit. This international prize, set up in 1978, is awarded to those who have made an outstanding scientific and/or medical contribution in the field of hearing.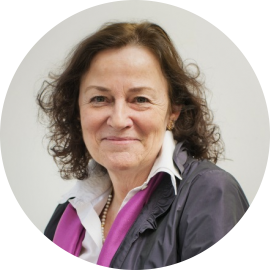 Prof. Christine Petit, Head of Genetics & Physiology of Hearing Unit. © William Beaucardet
Christine Petit, MD, PhD, has dedicated her career to elucidating biological processes by exploring their genetic basis: cell differentiation, sex determinism and the development and function of sensory systems (smell, hearing and, to a lesser extent, sight). She began working as a researcher in the mid-1980s, drawing on the latest advances in genomics to explore the genetic dysfunctions affecting these processes in humans.
The scientist soon developed international partnerships, paving the way for an elucidation of the genetic basis of hearing and deafness. In 2002, Christine Petit was appointed as a Professor at the Collège de France and holder of the Chair in Genetics and Cell Physiology.
In the early 1990s, she overcame the obstacles that had been preventing the genetic analysis of hereditary deafness. At the Institut Pasteur, she discovered several dozen genes responsible for deafness. Based on these genes, she unraveled how the auditory sensory organ, the cochlea, functions at molecular level, while at the same time revealing the defective cellular and molecular mechanisms responsible for many forms of deafness. This was followed by a period of unprecedented progress in knowledge of the normal and pathological auditory system. Methods for the molecular diagnosis of deafness gradually became available for those with hearing difficulties. Therapeutic possibilities began to be explored, with a particular focus on gene therapy. This is the aim of the research that Christine Petit is currently carrying out at the Institut Pasteur with her colleague, Saaïd Safieddine.
Prof. Petit speaks at conferences worldwide as an expert in sensory neuroscience and human molecular genetics. At EU level she set up the EuroHear consortium, composed not only of geneticists but also of biophysicists, electrophysiologists, biochemists and cellular biologists. The consortium has elevated Europe to the status of world leader in this research field.
More recently, Christine Petit spearheaded a major project to set up an interdisciplinary research structure for auditory neuroscience in France, together with a center for clinical research and innovation in audiology. Her passion and enthusiasm garnered the support of a generous donor, enabling this ambitious project to get off the ground. The Hearing Institute in Paris, of which she will be the Director, is due to open in 2019.
Christine Petit, a distinguished and widely recognized member of the international scientific community
L'Oréal-UNESCO "For Women in Science" Award; European award (2004)
Inserm "Research and Medicine" Prize (2004)
Bristol-Myers-Squibb "Freedom to Discover" Award in Neuroscience; US award (2005)
Louis-Jeantet Prize for Medicine; European award (2006)
Inserm "Grand Prix" (2007)
Pasarow Foundation Medical Research Award for Neuropsychiatry: US award (2012)
The Brain Prize – international scientific award for an outstanding contribution to neuroscience; co-recipient with Karen Steel (2012)
Hugh Knowles Prize; US award (2015)
Elected as a Member of the French Academy of Sciences in 2002
Elected as an International Member of the US National Academy of Medicine in 2011
Elected as a Foreign Associate of the US National Academy of Sciences in 2016
For more information, please visit