After completing high school, Eliette chose to study science, and when she experienced the realities of life as a scientist she decided to pursue a career in research.
Eliette began her academic career with a Master's (DEA) in the Biochemistry Department at CEA Saclay. She was keen to continue with the research project she had started and to go on to do a PhD. Although in a stroke of bad timing her laboratory director decided to leave for the United States, she was determined to complete her PhD, come what may. So it was at the Institut Pasteur that she carried out her doctoral studies, in the unit directed by Prof. Antoine Danchin. And when the young scientist discovered the historical Institut Pasteur site and the atmosphere of mutual scientific inspiration that pervades the campus, she decided to stay. Her first contract was for a research engineering position in the Molecular Programming and Genetic Toxicology Unit, directed by Professor Maurice Hofnung. It was at this time that she began to take an interest in chemical agents and their mutagenic and carcinogenic properties.
Research, step by step​
She then completed the key career stages that would enable her to choose her own research topics from then on. In 2001, she obtained her accreditation to supervise research at Paris 7 University, then in 2002 she was promoted to the status of research associate. Eliette then decided to give her research a more medical slant. She joined the Pathogenesis of Mucosal Bacteria Unit directed by Professor Agnès Labigne and began working on Helicobacter pylori and its role in the development of gastric cancer. H. pylori is a bacterium that lives and survives in a hostile environment, in the acidity of our stomachs. Although many people carry H. pylori, generally without any severe consequences, in 1 to 3% of individuals the bacterium can give rise to cancer. In some countries, gastric cancer is the leading cause of death. Eliette's research involved looking at the damage inflicted by this microorganism on the DNA in our cells. In 2003, she published an article in the scientific journal Gastroenterology proving that H. pylori damages the DNA in our gastric cells, and that this damage plays an important role in the development of cancerous lesions. So Helicobacter pylori has the unfortunate honor of being the first bacterium directly implicated in the genesis of a type of cancer.
The power to detect cancer early
Eliette is currently a member of the Helicobacter Pathogenesis Unit directed by Hilde De Reuse, where she is responsible for the Infection, Genotoxicity and Cancer Group. One of her projects involves searching for a biomarker that can be used for early diagnosis of gastric cancer. In general, gastric cancer is diagnosed at an advanced stage, making it difficult to treat. Our scientist has developed cooperation with other institutes to study samples from patients suffering from gastritis, ulcers and cancer. "I was able to set up an initial partnership with a laboratory in Mexico after attending a conference in Costa Rica." Clinical research is also under way. Eliette is working with Professor Dominique Lamarque at Ambroise Paré Hospital in Boulogne-Billancourt on a study based on blood samples from patients with the aim of characterizing a number of biomarker candidates for gastric cancer at a very early stage. For Eliette, who at one stage had considered going into medicine, this applied research is particularly close to her heart. "When you work in research you need to be patient, show perseverance and never give up."
Although Eliette is naturally quite a reserved person, this hasn't stopped her from leading a number of projects both in France and abroad. This year, she organized a course at the Institut Pasteur in Morocco, she led seminars at the University of Florence in Italy, and she also presented her research to young science students at the Victor Hugo French High School in Florence. In the group that she leads, Eliette also supervises PhD students: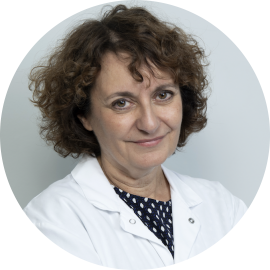 Eliette Touati, Head of the Infection, Genotoxicity and Cancer Group
It's very important for me to be able to make headway with my work in a good atmosphere, together with my students and staff. And if our former students get in touch to tell us that they have found a job, it's always a joy that we can share with them.
---
Key dates in Eliette Touati's career
Since 2018: Research Director, Institut Pasteur, Paris, France
Since 2015: Head of the Infection, Genotoxicity and Cancer Group in the Helicobacter Pathogenesis Unit, Institut Pasteur, Paris, France
2002: Presidents' Award for Scientific Excellence at the 6th International Symposium on Predictive Oncology
2001: Accredited to supervise research, Paris 7 University
1986: PhD in Science, specializing in Cellular and Molecular Biology, Paris 6 University
1983: Master's (DEA) at Paris 6 University