Can we slow down the aging process and rejuvenate an aged brain? Can we repair a brain that has been damaged by neurodegenerative disease? Neuroscience researcher Lida Katsimpardi has been investigating these questions for the past decade. She has discovered that young blood contains proteins capable of rejuvenating an aged brain, and she has identified one of these revitalizing blood factors in the laboratory. Now, as a researcher in the Perception and Memory Unit directed by Pierre-Marie Lledo, her aim is to unravel this astonishing phenomenon, which may one day pave the way for innovative therapeutic strategies to combat neurodegenerative diseases.
As a child, Lida spent a lot of time in her father's medical practice surrounded by many other children, since he was a pediatric allergist in Athens. Although she originally wanted to become a firefighter to save lives, her passion for science finally got the better of her.
The early days of a scientist
Witnessing the effects of Alzheimer's disease at first-hand within her family also spurred her on. After finishing school in Greece, she decided to head to France, to the Faculty of Science at the University of Montpellier, where her parents had completed their own doctoral studies some years earlier. During her time in Montpellier, successive fields sparked her interest. She was initially fascinated by developmental biology, in other words how complex beings can develop from a single stem cell. Then, during an Erasmus exchange in the Neurogenetics Department at Mainz University in Germany, she decided to look more closely at a key stage in development: the involvement of some genes in the development of the embryonic brain. This new knowledge helped her to choose the topic she wanted to study for her PhD, namely identifying the genes that regulate stem cells and neurogenesis in the adult brain. She carried out her research on this subject at the Hellenic Institut Pasteur, under the supervision of the University of Montpellier.
Studying aging and neurogenesis
Ever since, Lida has continued to be fascinated by the regeneration of stem cells and neurons. She decided to embark on post-doctoral studies in the Department of Stem Cell and Regenerative Biology at Harvard University in the United States. Her aim was to develop therapeutic applications for brain regeneration. She initially worked on generating pain neurons from stem cells, then on identifying new molecules that would reduce neurodegeneration. At the same time, our scientist set about finding answers to a question that still intrigued her: while we know that the number of neurons decreases with age, is it possible to reverse this process?
A surprising experiment then opened up a new research field: when transferring blood cells from a young experimental animal model to an older one, she observed rejuvenation of the tissues in the older model. Blood vessel diameter and blood flow both increased, the aged neural stem cells were rejuvenated and cognitive function improved. The molecules involved in this phenomenon were identified and include GDF11.
These findings, published in the Science journal (Science, May 9, 2014), open up new prospects for understanding rejuvenation mechanisms, including those of the brain.
Based on these results, Lida wanted to deepen her research on the neurobiology of aging. She chose the Institut Pasteur for its multidisciplinarity, its scientific partnerships at international level, and its commitment to public health. Since her arrival, she has continued to investigate rejuvenating blood factors and the mechanisms involved in the regeneration of the normal, aged or pathological brain.
Neurodegenerative diseases, especially Alzheimer's, are constantly on the rise worldwide. Aging populations and increasing longevity mean that research in this field is becoming vital – so much so that the Institut Pasteur has identified it as a strategic research area in its 2019-2023 plan.
Lida can give us some tips for how to keep our brain in good shape: we should adopt a healthy, varied diet and engage in regular physical activity, since this stimulates neurogenesis and vascularization, and therefore the possibility of developing new neurons.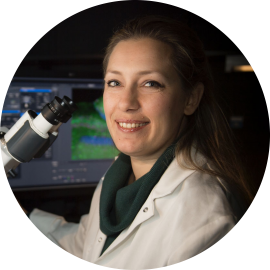 Lida Katsimpardi chercheuse dans l'unité  Perception et mémoire dirigée par Pierre-Marie Lledo
 Use your brain and avoid routine and stress as much as possible, since they have a negative effect. The brain has considerable plasticity; it is able to change throughout our lifetime depending on the experiences and environment it is exposed to. It is intimately linked to our entire body 
---
Key dates in Lida Katsimpardi's career
2016–present: researcher in the Perception and Memory Unit directed by Pierre-Marie Lledo, Institut Pasteur, Paris, France         
2008–2015: post-doctoral fellow in the Department of Stem Cell and Regenerative Biology, Harvard University, United States
2004–2008: PhD, Hellenic Institut Pasteur and University of Montpellier: Role of the molecule BM88/Cend1 in the proliferation and differentiation of neural precursors derived from the subventricular zone in adult mice