Ebola has battered the Democratic Republic of the Congo for many months, from the outbreak that ended in July 2018 to the epidemic currently raging. These are reminders that there is progress to be made in terms of controlling and understanding this deadly infectious disease. In 2018, during the epidemic in the north west of the country, Dr. Amber Kunkel, a scientist from the Institut Pasteur in Paris, went in situ to lend her epidemiological expertise to heightened surveillance efforts led by the WHO.
Dr. Kunkel, a post-doctoral fellow* and a key member of the Pasteur Outbreak Investigation Task Force (OITF) left for the Democratic Republic of the Congo on July 5, 2018 in response to the WHO's call for international help. "We offered epidemiologists, laboratory scientists, and anthropologists to deploy through WHO's Global Outbreak Alert and Response Network (GOARN) within days after they released a Request for Assistance," explains Dr. Eileen Farnon, head of the OITF, a program that has been coordinating outbreak responses by scientists across the Institut Pasteur International Network since 2015. WHO gave the green light to Dr. Kunkel's mission, "so she could provide her expertise to the final stage of the response."
Dr. Kunkel flew to Mbandaka, the capital of the Équateur Province, with a backpack, her experience in epidemiological modeling, a desire to help, and the support of her OITF colleagues back at the Institut Pasteur in Paris.
* Dr. Kunkel's post-doctoral fellowship is funded by the Pasteur Foundation (USA).

Left, Eileen Farnon and Amber Kunkel in the OITF office at the Institut Pasteur. Right, a culture of cells infected by the Ebola virus seen through a microscope. © Institut Pasteur/François Gardy, Pierre Gounon.
An expert from the Institut Pasteur on the ground
When she arrived, the outbreak had been contained and efforts were geared towards solidifying the edge being gained over the virus; the stage called "enhanced surveillance" was underway. "This phase involves intensive case-finding for 'alert' cases that might have been missed in tracing the contacts of cases during the two incubation periods (42 days) after the last known confirmed case-patient was admitted to an Ebola Treatment Center.  After that time, the outbreak can usually be declared over because human-to-human transmission has stopped, with the exception of spontaneous cases due to sexual transmission, which can occur long after the outbreak is over," says  Dr. Farnon. "This type of active surveillance, including interviewing suspected cases and tracing their contacts during the outbreak, is one of the areas where an epidemiologist has an important role to play as a 'disease detective,'" continues Dr. Farnon. (See "Field epidemiologists as "disease detectives"" below right.) This is especially true of someone with Dr. Kunkel's background in data collection and mathematical modeling.
"The DRC Ministry of Health had an impressive system of active case finding in place," says Dr. Kunkel, referring to the finding and treating of cases that might have escaped initial detection. The ministry was sending people with medical expertise into hospitals and health centers to review the records of patients who had passed through in prior weeks, looking for patients whose symptoms might have been those of Ebola. Because many Ebola symptoms are initially non-specific—they are shared with other tropical diseases, many of which are prevalent in Mbandaka—displaying these non-specific symptoms before the outbreak was announced would not have raised a red flag.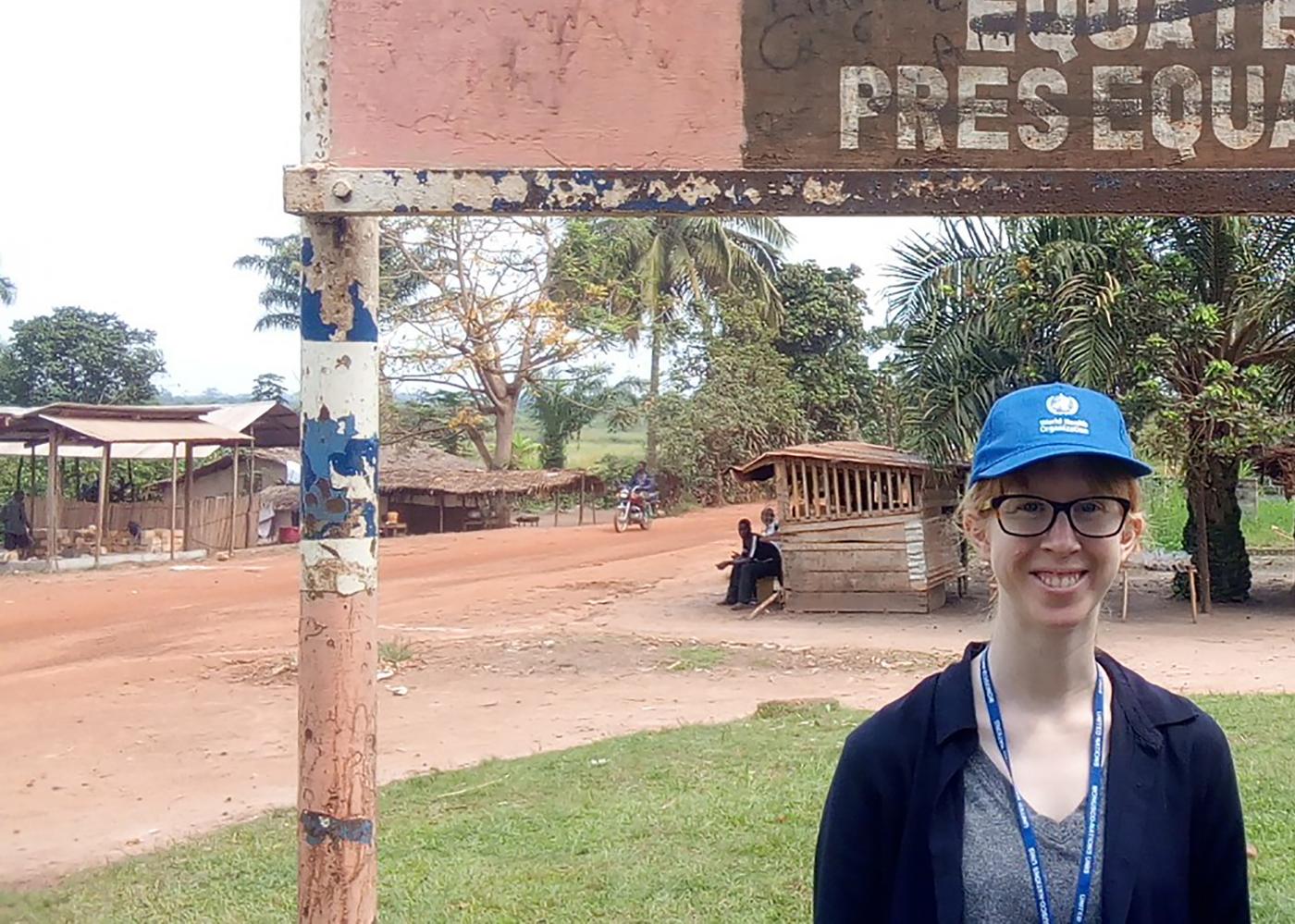 Dr. Kunkel, during a brief stop at the equator, on the way to a health center to monitor active case finding activities there. The sign above her head indicates that this is where the equator crosses. © Amber Kunkel
Between field missions, Dr. Amber Kunkel (right) with Dr. Eileen Farnon (left), head of the Outbreak Investigation Task Force on the Institut Pasteur campus in Paris, in January 2019. © Institut Pasteur/François Gardy.
A scientific paper, and a possible second mission in the Democratic Republic of the Congo, in sight
Overall the trip was a very positive experience: in addition to having contributed on the ground, Dr. Kunkel came away with plans to collaborate with DRC and WHO colleagues on a paper that will be published in the future". She cannot share details of the paper, she but is happy to share an informal observation or two: "One thing I saw was that visits to local health clinics by state health workers had the benefit of boosting Ebola-related knowledge among the clinic's staff members; in-person contact facilitated education". It is not difficult to imagine that the in-person presence of Dr. Kunkel also helped the learning curve.
"In response to the current Ebola outbreak, the OITF has nominated 8 staff members through GOARN, including Dr. Kunkel, to support preparedness and response activities in non-affected areas. (This has been deemed the most effective approach given the insecurity and travel restrictions in North Kivu, the location of the current outbreak.)" explains Dr. Farnon.  Two laboratory scientists have already deployed to Rwanda and Burundi, and other OITF volunteers are prepared for possible deployment through GOARN to other locations in support of WHO's efforts to control the outbreak.
Dr. Kunkel currently spends a good deal of time in Cambodia assisting with projects aimed at controlling malaria in forests.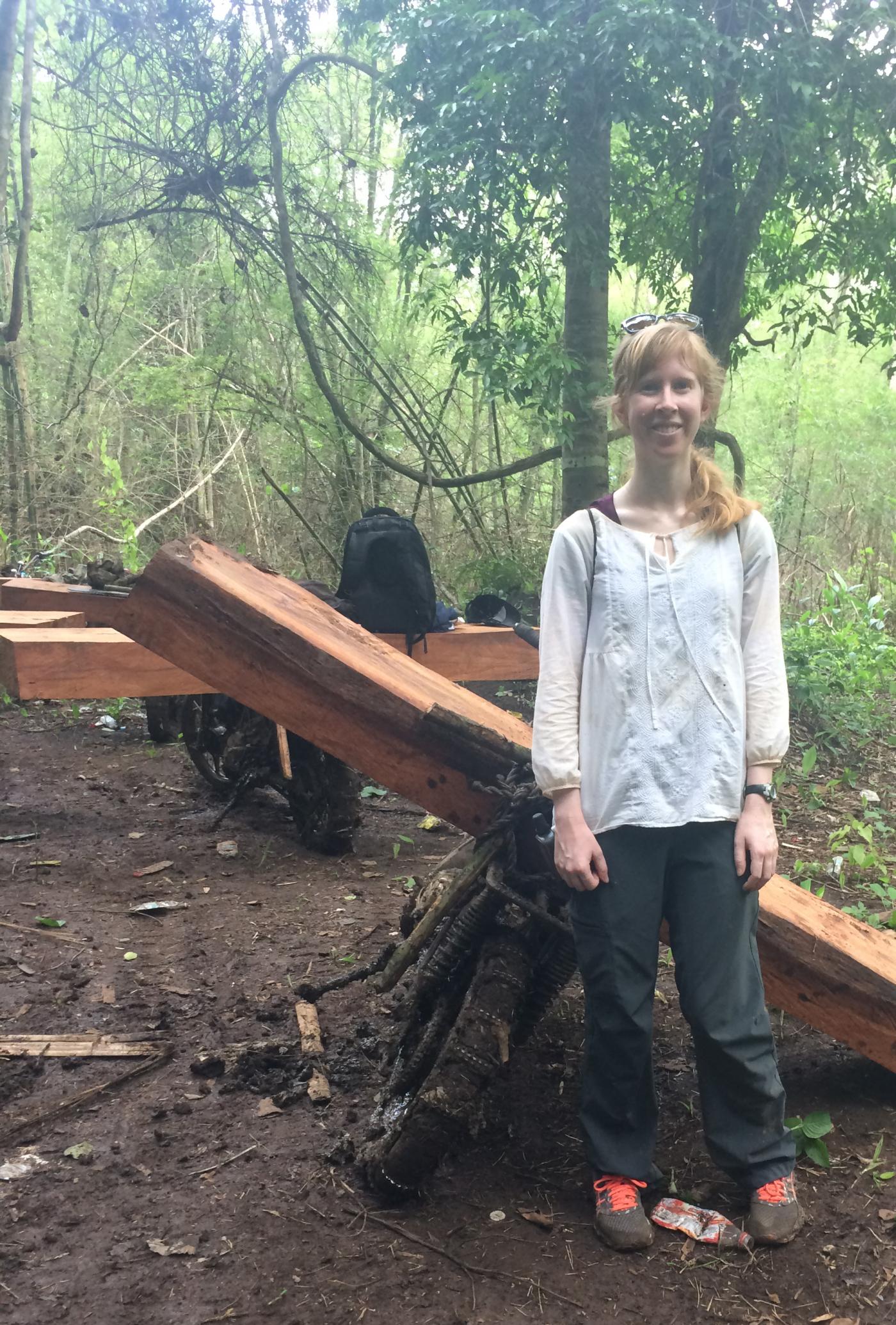 Dr. Kunkel in a forest in Mondulkiri, Cambodia in spring 2018 where she and colleagues were doing some mapping activities with the ultimate goal of detecting malaria hotspots. Behind her, there are motorbikes belonging to some wood cutters, who are a group at high risk for malaria in Cambodia.