The Center for Technological Resources and Research (C2RT) is home to four Technology and Service Units (UTechS) and 12 Technological Platforms.
Thanks to the expert staff working in these facilities, research teams can access state-of-the-art technologies, be trained in their use and keep up to date with technological and methodological developments.
Fields as varied as omics (particularly at single-cell level); design and production of biomolecules and their structural analysis; imaging; cell sorting and phenotyping; high-throughput phenotypic screening; microfluidics and 3D cell culture are covered.
Recent additions to the C2RT include the Titan Krios™ transmission electron microscope and other cryo-electron microscopes that allow studying cells and proteins at the molecular scale. Also, an Organ-on-chip center was recently launched, in collaboration with the biotech company Emulate™, that provides Institut Pasteur research groups with novel cell-based technologies that recreate organ-level function, contributing to reduce animal usage at Institut Pasteur.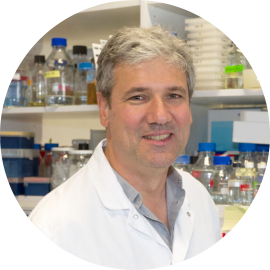 Christophe d'Enfert, Vice-President for Technology and Scientific Programs of Institut Pasteur and Director of the Center for Technological Resources and Research
Technology is at the heart of today's biological research. At the C2RT, we constantly update our technology portfolio in order to support Institut Pasteur scientists in their aim to discover innovative ways to prevent and cure diseases.