On November 14, 2012, Professor Alice Dautry, President of the Institut Pasteur, and Jean-Pierre Jouyet, Chairman of the Institut Pasteur Board of Directors, officially opened the Institut Pasteur's research center for the study of emerging diseases at a ceremony attended by French President François Hollande.
Paris, november 14, 2013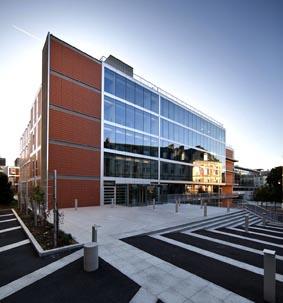 In recent decades, we have witnessed growing concern in the scientific community about the emergence of new viruses and bacteria that can lead to widespread epidemics in record time. The Institut Pasteur has decided to step up its capabilities to deal with this new threat by building one of Europe's largest research centers on its historical site in Paris.
The first stone of this new building was laid in 2008. Now complete, it has been named the "François Jacob Center" after the eminent Institut Pasteur scientist and 1965 Nobel medicine laureate, an honored guest at the inauguration ceremony, whose work with fellow scientists André Lwoff and Jacques Monod paved the way for modern molecular biology. This new center was inaugurated 124 years to the day after the Institut Pasteur was officially opened by French President Sadi Carnot.
The François Jacob Center is fitted with a wide array of state-of-the-art technological equipment and was designed to encourage open, collaborative research. It will eventually house more than 400 leading scientists who will work together in multidisciplinary teams, exploring new approaches to help combat and contain emerging and re-emerging diseases. This is the largest building ever constructed by the Institut Pasteur, with a footprint of 4,500m2 and 15,900m2 of usable floor area.
The François Jacob Center has been funded by contributions from the French government, the Greater Paris Authority and the City of Paris, sponsorship from the Total Foundation and Sanofi, and the generous gifts of a large number of donors. The total budget allocated to the building was €61 million.
  > Download the press kit (PDF - 2.4 Mo)
Press contacts
Nadine Peyrolo – + 33 (0)1 45 68 81 47 | +33 (0)6 80 18 32 89 – nadine.peyrolo@pasteur.fr
Marion Doucet – +33 (0)1 45 68 89 28 | +33 (0)6 73 06 13 73 – marion.doucet@pasteur.fr