Southeast Asia (SEA) is affected by emerging infectious diseases, and emerging outbreaks challenge the medical and scientific communities. The emergence of new diseases or their resistance to anti-microbial drugs in SEA is a complex mechanism which requires more interest on the diseases, on the condition of their emergence and on the diffusion of the causative agents. The study of infection transmitted or not by animals or arthropod vectors involves a new interdisciplinary approach with systemic and transversal collaborations between teams and institutions on priority programs integrated into a global health international strategy.
The implementation of a Regional Platform of Research-Asia (PRR-Asia) in the campus of Institute Pasteur in Cambodia (IPC) will offer a unique opportunity for research teams from the North and the South to share their regional and international expertise and to develop strong partnerships through multi-sectoral research programs complementary to ongoing research on infectious diseases in relation with IPC and its partners.
Press release
Phnom Penh, Cambodia, March 11, 2014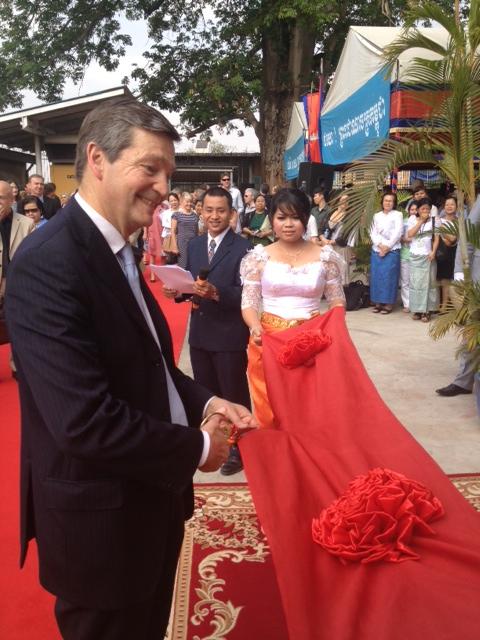 PRR-Asia has vocation to provide a platform of laboratories and epidemiology integrated into IPC to strengthen high-level research in the field of HIV/AIDS and communicable infectious diseases, especially of zoonotic origin. It will facilitate a strengthening of the capacities for researchers in SEA and will offer novel directions of research on infectious diseases, by integrating new perspectives on human and animal health in the "One Health" concept.
This research involves the acquisition and management of environmental observational data (in urban and rural natural spaces), on health and biology, and also the development of theoretical and applied models on the emergence, propagation, dissemination, virulence, resistance and control strategies. Ultimately, this project aims to improve knowledge about the emergence of systems in SEA, stimulating a scientific policy of international cooperation within the region. It will also provide opportunities for a large curriculum of training for students with Bachelor, Master and PhD degrees in cooperation with national, regional and international universities.
The PRR-Asia has been founded, under the authority of the Ministry of Health of the Kingdom of Cambodia, by partners of AVIESAN Sud: Institut Pasteur, Inserm, ANRS, Fondation Mérieux, IRD/AIRD, Cirad, which have contributed to its construction and equipment. The effective implementation of this platform has necessitated the construction, on the site of the IPC, of a building that includes a ground floor of 468 m2 topped by a terrace of 442 m2 allowing extension with additional laboratories. The platform offers over 180 m² of laboratories, including cell culture and biosafety level 2 laboratories at international standards, and laboratories for molecular biology and biobanking, and 110 m2 of offices. Costs related to the activities of scientific projects will be funded from project specific funds in each case. Costs related to use and administrative and logistical support provided by IPC, will be covered by overheads taken from the funding of the scientific project performed in the platform for each project.
The PRR-Asia has been inaugurated on March 11, 2014, under the High Presidency of His Excellency Prof. MAM Bun Heng, Minister of Health of the Kingdom of Cambodia, in the presence of Ambassadors from France and Asian countries, of representatives of AVIESAN Sud and of national and international authorities from ministries of health, sciences and education.
Contact       
Sophy NORNG, Institut Pasteur du Cambodge (nsophy@pasteur-kh.org)