The ARIA software suite developed at Institut Pasteur automates the analysis of NMR data to calculate three-dimensional structures of macromolecules. To improve the user experience for ARIA and provide a larger and easier access, tructural bioinformatics Unit has created the ARIAweb server, providing an online service for such computationally intensive calculations and offering a dedicated molecular viewer along with graphical displays of various quality scores.
The ARIAweb server (https://ariaweb.pasteur.fr) provides online access to the main ARIA software functionalities (NMR data conversion and structure calculation). In addition, structure calculation results can be easily visualized, with a dedicated molecular viewer and graphical displays of quality scores.
To improve the user experience for ARIA and provide a larger access to automated NMR structure calculation procedures, the Structural bioinformatics Unit has developed the ARIAweb server (in collaboration with Bioinformatics and Biostatistics Hub, Department of Computational Biology), with the aim of not only guiding users (from novice to expert) through the different stages required for NMR structure determination of macromolecules but also of providing an online service for computationally intensive calculations. Since 2019, ARIA is recognized as an ELIXIR-EU service (https://elixir-europe.org/).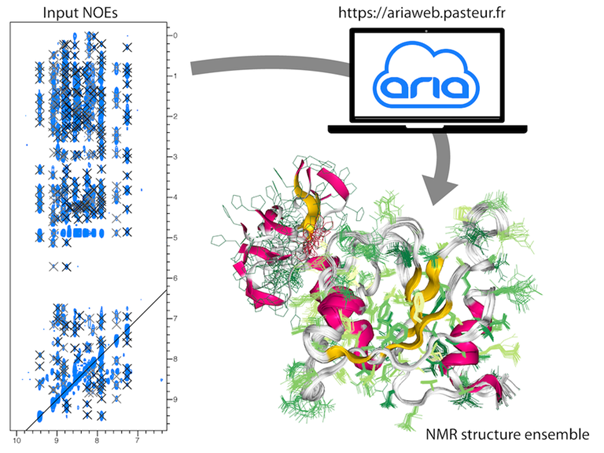 Structure calculation of macromolecules from NMR data, made easy with the ARIAweb server. From any web browser, users can upload their NMR data and seamlessly obtain, visualize and analyze the structures calculated online with the proven ARIA iterative procedure.