|
Severe acute respiratory syndrome (SARS) in 2003-2004, H1N1 influenza in 2009, and the recent outbreaks of MERS‐CoV, Ebola and Zika - there is no shortage of examples of infections that have caused international health crises in the past few decades. These crises stress the importance of implementing the International Health Regulations (2005) to strengthen global health security.
Launched in 2014, ASIDE(1) is the latest component of a vast program of capacity strengthening for epidemic preparedness and response, in place since 2006 across the Institut Pasteur International Network. It is supported by the US Department of Health and Human Services Assistant Secretary for Preparedness and Response (ASPR).
The ASIDE project is implemented in five countries in sub-Saharan Africa: Senegal, Côte d'Ivoire, Cameroon, Central African Republic and Madagascar; and in Cambodia in South-East Asia, by the local members of the Institut Pasteur International Network.
Its objectives are:
strengthening national capacities in terms of preparedness for outbreaks of influenza and other emerging and re-emerging pathogens,
reinforcing rapid detection of health threats thanks to rapid biological monitoring, detection, characterization and reporting of emerging influenza strains and emerging and re-emerging pathogens identified as priorities in each country,
the rapid and effective response to influenza or emerging and re-emerging pathogens epidemics.
Regular field missions are organized in the context of the ASIDE project in order to identify the partners' specific needs to reinforce preparedness and response capabilities and different training sessions are organized accordingly. Workshops have been held on: International Health Regulations (IHR, 2005) implementation, biological and epidemiological monitoring, epidemics investigation, crisis communication and laboratory-level epidemic management.
Collaborations are put in place between countries within the ASIDE network and with other countries in the sub-Saharan region to provide expertise and to assist in the set-up of surveillance systems and in outbreak investigations efforts.
Febrile syndromes sentinel surveillance network
In partnership with local health authorities, the institutes participating in the project(2) identify sentinel health sites that are included in the surveillance network. Health professionals in these health sites are trained to diagnose fever cases and to collect epidemiological data and biological samples. When a case is detected, samples are collected and analyzed to identify the responsible pathogen. This allows to monitor the appearance of new pathogens strains and mutations, including the ones conferring drug-resistance, and to identify an increased risk for epidemics. The results are then communicated to the health authorities and the WHO in order to decide on the appropriate public health response.

Caption: Poultry Market in Phnom Penh. Credit: Arnaud Tarantola
In Cambodia, the ASIDE project focus is the monitoring of avian influenza in live bird markets, which represent hotspots for the circulation of «bird flu» viruses. The rapid identification of highly pathogenic viruses will allow to alert the authorities to take measures to prevent the spread in animals and potentially in humans. This One Health approach is in place in Cameroon and will soon be adopted in Senegal.
Smartphones for tracking infectious diseases outbreaks
In our increasingly connected world, ASIDE has drawn on new technologies to create an innovative early risk warning system for febrile syndromes sentinel surveillance using a smartphone application.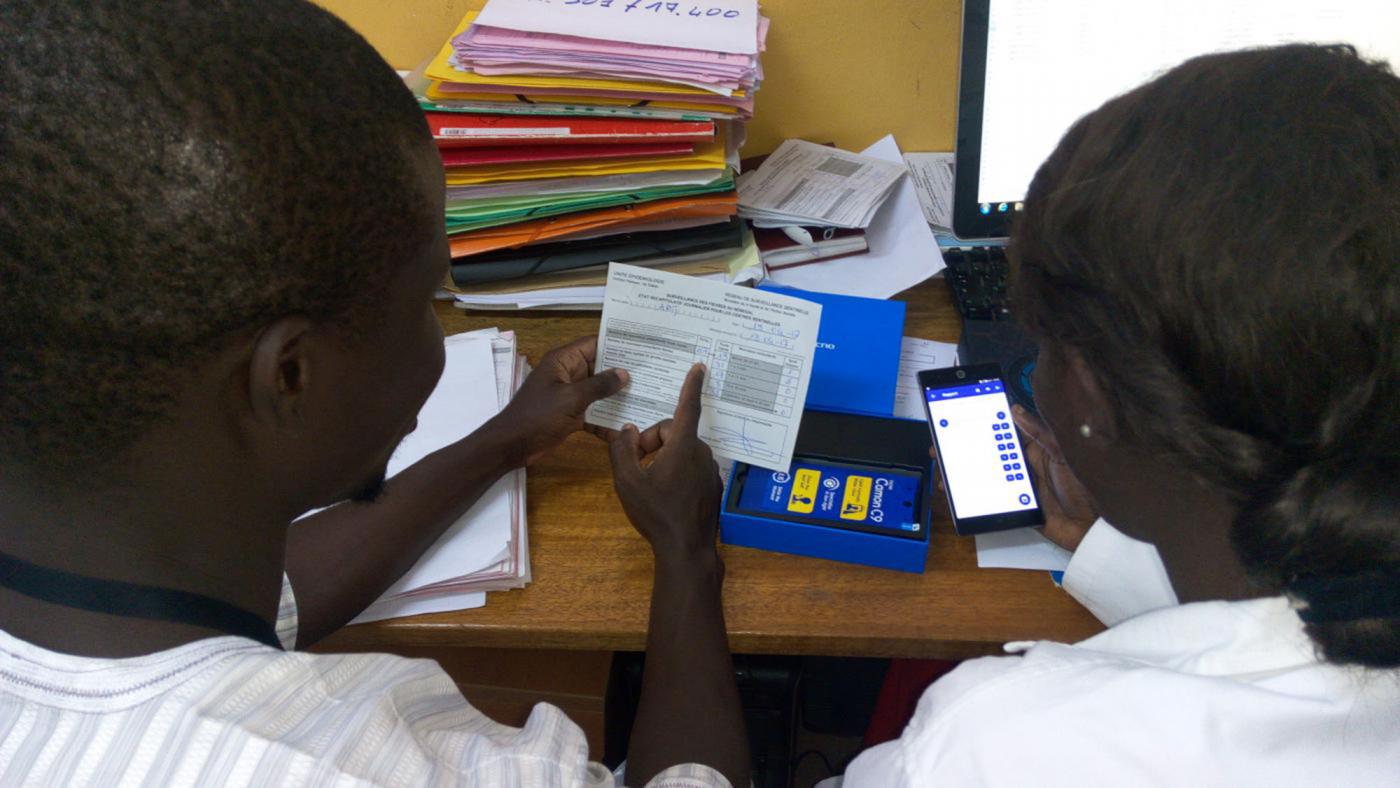 Caption: Developed as part of the ASIDE project, a smartphone application allows doctors in sentinel sites to report fever cases in real time.
Distributed in the health centers participating in the project, these smartphones allow doctors to declare suspect cases in real-time and enter the clinical data directly into the database of the local Institut Pasteur. The team of ASIDE biostatisticians and epidemiologists immediately receives this information and, unusual health occurrences, can alert the local health authorities and recommend a response strategy.
Already in place in Madagascar, Cameroon and Senegal, this application will soon be available in Central African Republic.
---
(1) Alerting and Surveillance for Infectious Disease Epidemics
The ASIDE project is supported by