Aedes albopictus (Skuse, 1894), also known as the "tiger mosquito", originated in Southeast Asia. It can be recognized by the central line of white scales on its thorax. This mosquito, common in its native areas (which include temperate Asia, China, Japan and Korea), was first described in the Indian city of Kolkata.
The invasion of Aedes albopictus
Before 1979, the geographical distribution of Ae. albopictus extended from the Pacific to the Indian Ocean (Madagascar), and it is highly likely that Ae. albopictus accompanied the successive waves of colonization of the southwestern Indian Ocean by populations of Indonesian origin. In the late 1970s, Ae. albopictus began to spread to other continents: America, Africa and Europe. The species is now established in more than 80 countries. In Europe, as of 2015, Ae. albopictus could be found in at least 20 countries, especially those bordering the Mediterranean. Each year, new territories (both new countries and new regions in countries that have already been colonized) are invaded, and the geographical distribution of Ae. albopictus is constantly being updated to reflect the findings of entomological surveillance programs.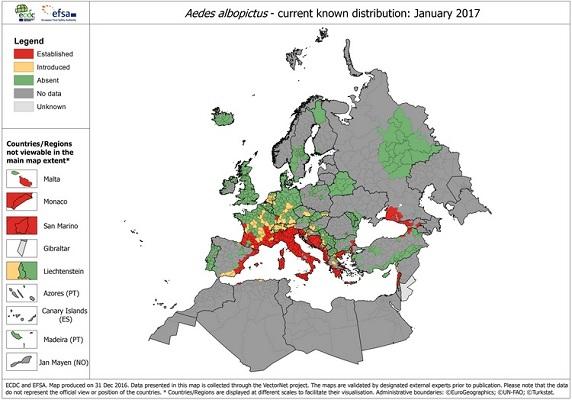 The distribution of Aedes albopictus in Europe and in France.
The successful spread of Ae. albopictus can be attributed both to its ecological and physiological plasticity, which enables it to adapt quickly to newly colonized environments, and also to the nature of its eggs. These can resist desiccation for several months, meaning that they can be transported via any number of recipients even if they no longer contain any water. This has enabled the species to spread over long distances to new continents as a result of international trade – especially the trade in used tires, which make ideal sites for egg laying (known as oviposition) and larval development. In temperate climates, the eggs can also enter a dormant state (a state of physiological arrest induced in autumn by the shorter days) during which they are resistant to winter temperatures, thereby enabling them to survive until the following spring.
Ae. Albopictus, a generalist species
Aedes albopictus is a generalist species, which means that it is capable of colonizing both natural breeding grounds (the hollow of a rock, a hole in a tree trunk, bamboo, etc.) and man-made sites (vases, barrels, tires, rainwater manholes, etc.). These mosquitoes are also "generalist" in that they are able to bite a number of different animal hosts in the absence of humans. These characteristics enable them to colonize both sylvatic [forest] and anthropic [relating to human activity] environments. In the latter, they can proliferate and become a major vector for outbreaks of arboviruses (dengue, chikungunya and Zika). Their opportunistic trophic preferences also make them a potential bridge vector capable of transferring infectious agents from (wild or domestic) animals to humans.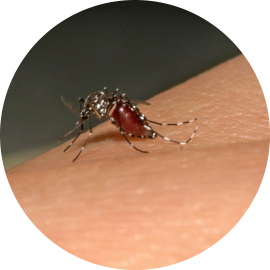 A meal of blood for 
Aedes albopictus
. This mosquito is one of the vectors of the Chikungunya virus and the Dengue virus. © Institut Pasteur
Aedes albopictus has a similar ecological niche to Ae. aegypti, so when the two species are together they enter into competition. In North and South America, Central Africa and the Indian Ocean region, Ae. albopictus demonstrates a competitive edge that gives it an advantage over Ae. aegypti. In Southeast Asia, the opposite trend is currently observed. Analyzing the genome of Ae. albopictus, a first version of which was published in 2015, should shed light on the mechanisms underpinning the invasive success of the species.
The fight against Ae. albopictus
Tackling Ae. albopictus essentially involves destroying or protecting the small breeding grounds used for oviposition and larval development. If these breeding grounds cannot be emptied of water, predators (fish or small shellfish that eat larvae) or larvicides (such as Bacillus thuringiensis, temephos and pyriproxyfen) can be used. In the event of viral transmission, measures can be taken against adult mosquitoes as well as larvae by using pyrethroid-based thermal or cold foggers. It should be noted, however, that some Ae. albopictus populations are resistant to pyrethroids.
By Didier Fontenille, IRD Director of Research and Director of the Institut Pasteur in Cambodia.
This text illustrates the report "The Geopolitics of the Mosquito" - Go further with our experts!, published to coincide with the release of Erik Orsenna's book, Géopolitique du moustique, Ed. Fayard.
Source:
Excerpt of Chapter 11 Culicinae (by Didier Fontenille, Christophe Paupy, Anna-Bella Failloux) from the book: Duvallet G., Fontenille D., Robert V., eds, 2017. Entomologie médicale et vétérinaire. Marseille-Versailles, IRD Editions- Quae, 650 pp.
For more information, please visit