The Institut Pasteur has just inaugurated the installation of a new electron microscope equipped with extraordinary capabilities: the new Titan Krios™. The equipment has been inaugurated by Frédérique Vidal, the French Minister of Higher Education, Research, and Innovation, Christian Vigouroux and Stewart Cole, Chairman of the Board of Directors of the Institut Pasteur and President of the Institut Pasteur respectively. Erik Orsenna, ambassador of the Institut Pasteur, served as commentator for the occasion, and guided the visit to premises hosting the microscope,  drawing on the explanations of Dorit Hanein, researcher at the Institut Pasteur and a world-class expert on the Titan Krios™.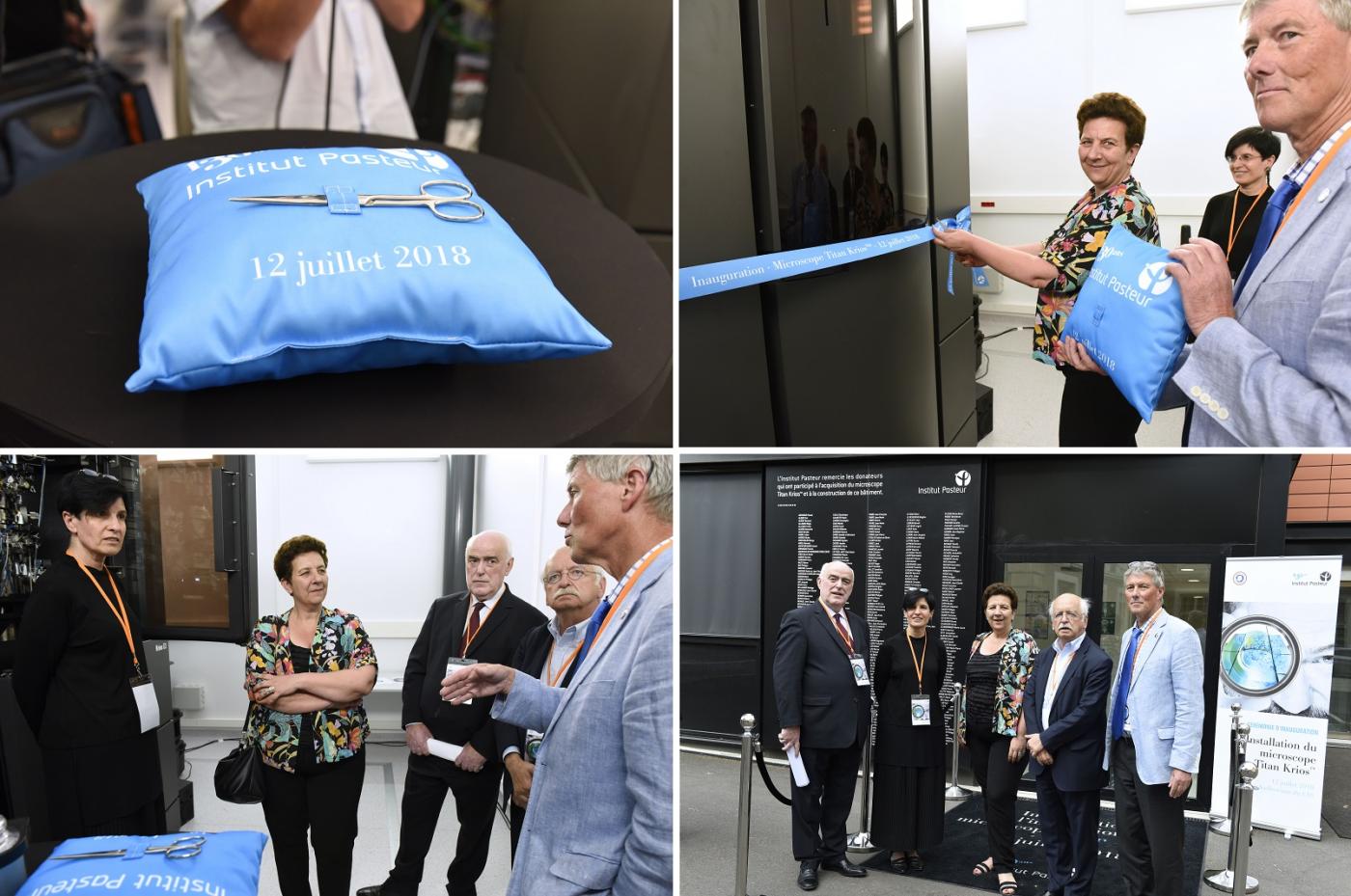 The inauguration, at the Institut Pasteur (Paris), of a new electron microscope equipped with extraordinary capabilities. July 12, 2018. Photo on the bottom right (from left to right): Christian Vigouroux, Chairman of the Board of Directors of the Institut Pasteur; Dorit Hanein, researcher at the Institut Pasteur and world-class expert on the Titan Krios™; Frédérique Vidal, French Minister of Higher Education, Research, and Innovation; Erik Orsenna, ambassador of the Institut Pasteur; Stewart Cole, President of the Institut Pasteur. © XRPICTURES/MESRI
Viruses, components of a cell, or protein complexes: with the Titan Krios™ microscope (Thermo Scientific™ Krios™ Cryo-TEM), by Thermo Fisher Scientific), all of these structures and biological phenomena can be visualized with a level of detail thus far unparalleled. This microscope facilitates the observation, at very high resolution, of the most fragile samples closer to their natural conditions, thanks in particular to the preparation of these samples using cryogenic techniques. Combined with a high-performance camera, imaging under cryogenic conditions provides three-dimensional rendering with unprecedented accuracy. With the Titan Krios™, the Institut Pasteur provides its researchers with a tool of extraordinary power to observe cells as close to life as possible.
Time-laps video of the installation of Titan Krios™ (video - subtitles in French). © Institut Pasteur.
"Following installation and extensive calibrations, we are currently carrying out a series of tests jointly with FEI for assuring optimal performance of the Titan Krios™ microscope", explains Prof Dorit Hanein, head of the Structural Studies of Macromolecular Machines in Cellula unit at the Institut Pasteur. Also a bioinformatics and structural biology researcher at the Sanford Burnham Prebys Medical Discovery Institute (San Diego), she is among the leading world experts in Titan microscopes and supervised the installation at the Institut Pasteur. "Following acceptance of the Titan Krios™ , we will further tweak and optimize its performance to allow harnessing its powerful imaging capabilities to analyze the various samples of investigators at the Institut Pasteur."
Central to Hanein's research is a critical question in cell biology: how do cells employ large, macromolecular machines in cellular processes? Taking advantage of the Titan Krios™ and ancillary hardware, Hanein and her unit will continue developing a cutting-edge technological platform for quantitative integration of scales between macroscopic cellular behavior and high-resolution structural change. "Transforming this technological platform into a robust workflow will open new vistas in our understanding of processes that cause disease at all scales."
According to the researcher, "The Titan Krios™ offers a robust technology through computational analysis that ties cellular function to structural changes." The Titan thus offers the incredible opportunity for a researcher to get a closer look at life. "Take the example of a swimmer: to understand 'why'" an athlete swims, one must observe how each part of this incredible machine – the swimmer – works, how these parts work together and critically to  'see' how this machine is working in its natural neighborhood, the overcrowded ocean. Until now, we were observing with high precision how parts, or nanomachines, work in isolation. This might be limiting our understanding, as the swimmer's movements would depend not only on his capabilities, but also on the interactions with his counterparts in the ocean. Hence the importance of emphasizing that the Titan Krios™ is above all observing living organisms in their own universe, it is visualizing and discovering behaviors and interactions that are elementary, in the truest sense of the term."
The 3D cryo-EM field
The "resolution revolution" of the 3D cryo-EM field (2017 Nobel Prize) describes the increased level of detail in images that results from more and better data provided by this kind of microscope, new cameras and powerful data mining.
Generating structural models that are capable of explaining the function of macromolecules and cellular machines is the goal in the field of structural biology.
The 3D cryo-EM microscope
The basic principle: electrons move like waves on a pre-determined path. Passage through a sample results in interactions with the sample, which leads to deviations from this path. Capturing these changes allow us the opportunity to gain structural information about the sample.
A very thin sample needs to be used because the electrons need to be able to go through the entire sample in order to "captured" (recorded) by the camera and reconstruct the path they have taken.
Fidelity of the biological samples is achieved by freezing them without forming ice crystals (vitrification at -180 °C). A biological sample contains 70% water. Expansion of the water via crystallization leads to severe structural damage. Vitrification is key to the process of maintaining the biological sample intact.  
Three-dimensional images: employing computer analysis allows generating back the three-dimensional picture of the sample from the raw two-dimensional images obtained with the microscope. This is a key part of the microscope's functionality.
The Titan Krios™
The Institut Pasteur's new Titan Krios™, from Thermo Fisher Scientific, is an industry-leading electron microscope with advanced capabilities. Biological structures and phenomena such as viruses, cell components and protein complexes can be visualized with an unprecedented level of detail (video in French).
1/ A new generation of high-resolution transmission electron microscopes – such as the Titan Krios™  – with stable optics, high throughput, and amenable to robust automation and sample handling.
A powerful source of energy is required: 300 thousand electron volts.
A disturbance-free environment is mandatory (temperature gradients, vibrations, acoustic, or Electro-Magnetic Interferences – EMIs – are all detrimental to performance).
2/ A new generation of very powerful cameras – Direct Detectors – allows direct and near real-time detection of single electron signals, and vastly improved resolution through movement correction.
3/ Powerful phase imaging technology boosts the contrast in the images significantly and allows an even wider range of structures to be resolved successfully.
4/ Platform for automation and software development leading to high success rate for data acquisition, real-time monitoring, and powerful developments for image analysis
5/ Outstanding productivity:
Loading of multiple samples allows choosing better samples to collect data with: the ability to screen 12 high-quality samples at the same time and decide which sample is best to collect, without compromising. This leads to more and better data.
Stability of the microscope vacuum enables launching data collections of images for several days while the microscope keeps all samples vitrified.
Fully digital and automated data collection allows data collection over nights and weekends. 
6/ Optimal sample preparation is a major factor for the quality of the achievable structural information. Thus, screening microscopes are necessary to allow the timely determination and optimization of the best sample preparation protocols possible. Specialized, newly developed microscopes allow handling samples that would otherwise be too thick for imaging – for example certain cells or tissue – by accurately thinning regions of interest out of frozen samples with surgical precision.
7/ The ability to study samples in their natural environment. The combination of:
efficient automation,
very stable sample stages and vacuum,
high electron-penetrating power,
increased contrast through phase imaging technology
and the ability to detect and fully exploit single electron signals in the Titan Krios™,
… allows generating structural information of exquisite quality not achievable by other instruments for a wide variety of samples ranging from proteins like hemoglobin to tissue sections of entire organisms including humans.
8/ The collection of about 2 terabyte of data a day requires a back-end infrastructure of high-end computational equipment for handling of the large data volume, data storage and archiving, and on-the-fly real-time feedback for data quality to optimize the microscope's usage.