Controlling the proliferation of cardiac cells would provide new treatment options for conditions such as heart failure, which can currently only be treated with an organ or artificial heart implant. The Heart Morphogenesis Unit, directed by Sigolène Meilhac at the Institut Pasteur and Imagine Institute, has discovered a new signaling pathway in the proliferation of cardiac cells, involving two proteins known to scientists: Fat4 and Amotl1. The use of these proteins represents a promising approach in the search for methods that might one day make it possible to repair the heart.
We know that as living beings develop, their hearts grow at the same time as their bodies. The heart needs to grow and become larger so that it can pump blood further round the body. In developing fetuses, the multiplication of cardiac cells increases the size of the heart. After birth, cardiac cells no longer proliferate in humans, but the existing cells can sometimes get bigger – for example in athletes or pregnant women, whose blood flow needs are greater. "Investigating how the size of the heart is regulated can help us understand how we might be able to restore the ability of heart cells to multiply and therefore to repair the heart," explains Sigolène Meilhac, Head of the Heart Morphogenesis Unit. "At present, if damage to the heart is too extensive, for example after a heart attack, the patient is diagnosed with heart failure and the only treatment option is a transplant or the use of an artificial heart [currently in clinical trials]. These therapeutic possibilities are very cumbersome. If we were able to keep the patient's heart and enable it to produce new cells, it would revolutionize treatment."  
This is the basis for Sigolène Meilhac's research into the "Hippo" signaling pathway, known to control organ size, and especially the heart. In 2011, a US laboratory demonstrated that although in adults the proliferation of cardiomyocytes (heart muscle cells) is virtually non-existent, for a limited time in young mice these cells retain some of their ability to multiply. "We already knew that factor Yap1, an effector of the Hippo signaling pathway, was able to regulate heart growth. Membrane proteins such as the Fat4 protein were also known to modulate the activity of Yap1, but only in flies," explains the scientist. A mutant Fat4 results in a thick myocardium with more contractile cells and a larger heart. "By exploring signaling pathways, we discovered that Fat4 sequesters a protein called Amotl1, known to act on the proliferation of liver cells. Amotl1 is a partner of Yap – so by blocking Fat4, we release Amotl1 and Yap1 and boost heart growth." The French team has therefore discovered a new signaling pathway in the proliferation of cardiac cells. Since the adult heart is unable to repair itself alone, this raises the question of how the Amotl1 protein can be guided so that it can stimulate targeted growth of the myocardium. This will be the next stage in the research carried out by Sigolène Meilhac's team at the Institut Pasteur.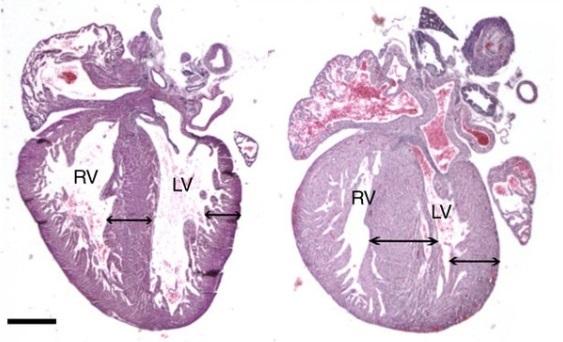 Left: restricted heart growth, when Fat4 is present. Right: cell proliferation and cardiac muscle thickening, when Fat4 is absent.
Source
Amotl1 mediates sequestration of the Hippo effector Yap1 downstream of Fat4 to restrict heart growth, Nat Commun. February 27, 2017.
Chiara V. Ragni,1,2,3,* Nicolas Diguet,1,2,* Jean-François Le Garrec,1,2,† Marta Novotova,4 Tatiana P. Resende,5,6 Sorin Pop,7,8 Nicolas Charon,9,10 Laurent Guillemot,1,† Lisa Kitasato,† Caroline Badouel,11 Alexandre Dufour,7,8 Jean-Christophe Olivo-Marin,7,8 Alain Trouvé,9,10 Helen McNeill,11 and Sigolène M Meilhac a,1,2,†
1 Institut Pasteur, Department of Developmental and Stem Cell Biology, 75015 Paris, France.
2 CNRS URA2578, 75015 Paris, France.
3 Sorbonne Universite´s, UPMC Universite´ Paris 06, IFD, 4 Place Jussieu, 75005 Paris, France.
4 Institute of Molecular Physiology and Genetics, Centre of Biosciences, Slovak Academy of Sciences, Du´bravska´ cesta 9, 84005 Bratislava, Slovak Republic.
5 Instituto de Investigac¸a˜o e Inovac¸a˜o em Sau´de (i3S), Universidade do Porto, 4200-135 Porto, Portugal.
6 Instituto de Engenharia Biome´dica (INEB), Universidade do Porto, 4200-135 Porto, Portugal.
7 Institut Pasteur, Quantitative Image Analysis Unit, 75015 Paris, France.
8 CNRS URA 2582, 75015 Paris, France.
9 ENS Cachan, Center of Mathematics and Their Applications, 94235 Cachan, France.
10 CNRS UMR 8536, 94235 Cachan, France.
11 Samuel Lunenfeld Research Institute, Mt Sinai Hospital, Toronto, Ontario, Canada M5G 1X5.
* These authors contributed equally to this work.