On October 15, 2018 the National Academy of Medicine (NAM) announced the election of 75 regular members and 10 international members during its annual meeting. Election to the Academy is considered one of the highest honors in the fields of health and medicine and recognizes individuals who have demonstrated outstanding professional achievement and commitment to service.
New members are elected by current members through a process that recognizes individuals who have made major contributions to the advancement of the medical sciences, health care, and public health. A diversity of talent among NAM's membership is assured by its Articles of Organization, which stipulate that at least one-quarter of the membership is selected from fields outside the health professions — for example, from such fields as law, engineering, social sciences, and the humanities. The newly elected members bring NAM's total membership to 2,178 and the number of international members to 159.
These new members include Françoise Barré-Sinoussi, a retrovirologist, Honorary President of the Virology Department at the Institut Pasteur and of the Institut Pasteur International Network, and President of the French AIDS charity Sidaction. Françoise Barré-Sinoussi's election to the prestigious institution comes on the 10th anniversary of her Nobel Prize for Medecine for co-discovering the HIV retrovirus at the Institut Pasteur in 1983.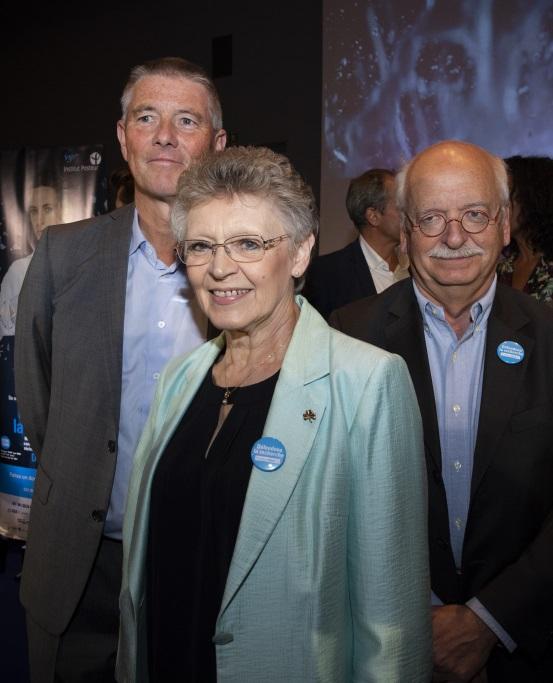 Françoise Barré-Sinoussi, with Stewart Cole, President of the Institut Pasteur, and Erik Orsenna, ambassador of the Institut, on October 10, the launch day for the annual awareness-building campaign for the Institut Pasteur, Pasteurdon (press document in French). Credit: Institut Pasteur - photo François Gardy.
For more information, please visit